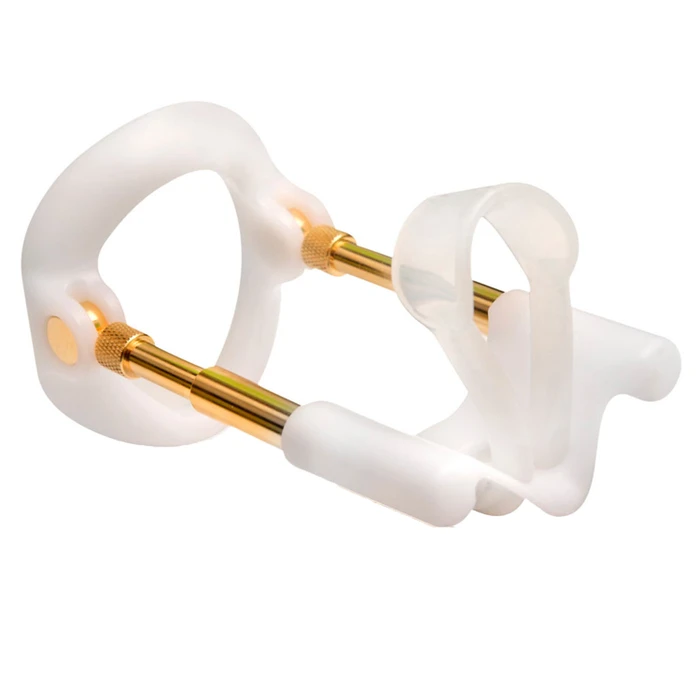 Andropenis Gold Penis Extender
In stock
Delivery 3-6 days

Sinful Aqua Water-based Lube 100 ml

Sinful Clean Sex Toy Cleaner 100 ml
Overview
Andropenis Gold Penis Extender is a medical penis enlarger developed specifically for pleasure seekers who wish to achieve a sustained penis enlargement.
The gold-plated Andropenis Gold is the most popular penis enlargement device from Andromedical. It works with the help of an traction system which causes the body to produce new cells that then extend your penis. 
The penis enlargement process happens over a period of time, so the longer you persist, the better the results will be. Andromedical, that produces Andropenis Gold, recommends that you use the apparatus 4 - 9 hours every day, for 6 to 9 months, depending on how large you wish to go.
If you follow the recommendation of daily use, you can expect an enlargement of up to 0.5 cm per month. Overall, Andropenis Gold can achieve an enlargement of up to 4 cm in length, in both an erect and relaxed state, as well as an enlargement of up to 1.5 cm in width.
The Andropenis Gold is easy to put on, and because of the number of hours you need to wear it, it is designed with comfort in mind. You can use the penis enlarger both while standing or laying down.
When you purchase The Andropenis Gold Penis Extender, you receive: 1 penis extender, of which the rod is plated with 24 carat gold. 2 Androcomfort bands 2 Andro-rings  2 Androtop foam cushions for the comfort bands 2 Androsilicone bands which fastens the penis to the device 1 Instruction CD in 27 languages 1 Instruction book Quick-start guide 1 E-book with 100 sex-tips Medical support from Andromedical throughout the whole process.
Brand
Andromedical
Inner Diameter (cm)
4.2
Stretchable Inner Diameter
No
Primary Material
Aluminium
Colour
Gold
Language
Russian, Spanish, Japanese, English, Swedish, German, Danish, Italian, Arabic, Dutch, French
SKU
14362
No one has reviewed this product yet.
Benefits