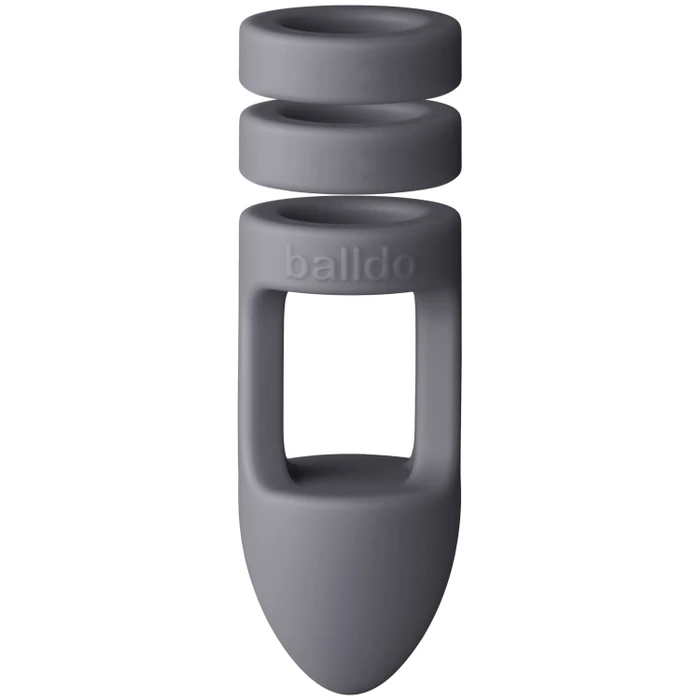 Balldo Starter Kit Ball Dildo Set
In stock
Delivery 3-6 days

Sinful Aqua Water-based Lube 100 ml

Sinful Clean Sex Toy Cleaner 100 ml
Overview
Let your low-hanging fruits be the main star of the show with the Balldo starter set ball dildo. Encapsulating the balls in a silicone cage with a pointed head, the dildo allows you to enjoy a different type of penetrative sex to reach a ballgasm like no other.
Before you start, a manscaping session of your nuts is essential to avoid any painful tugging of your pubes during play. Complete your trimming at least a day before use.
Apply a water-based lube to your sack and the inside of the Balldo to help squish your bits inside. Tug at your balls to pull them down from your stomach, then use both hands to stretch the cage wide open and slide it over your marbles. The ring should reach the base of your scrotum while evenly dividing each ball to pop out of either side of the Balldo chamber.
Pull the spacer rings over the Balldo to secure them as close to the root of your penis as possible. Use one or both depending on the looseness of your sack. The rings are essential for extra rigidity and to lengthen your balls to prepare for penetration.
Now the fun begins! Penetrate the vagina or anus of your partner and let them play with your dong during. You can even try double penetration.
Keep your Balldo clean with warm water and mild soap or sex toy cleaner.
Brand
balldo
Product Weight (g)
146
Primary Material
Silicone
Colour
Grey
Recommended Lube
Water based
Language
English
SKU
26445
No one has reviewed this product yet.
Benefits