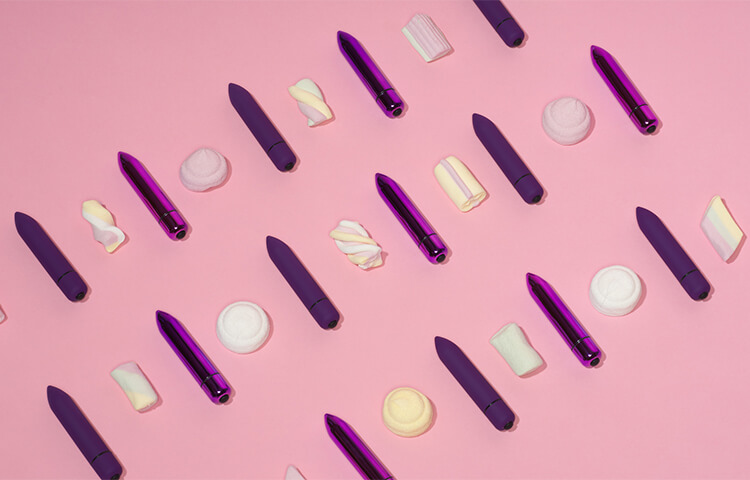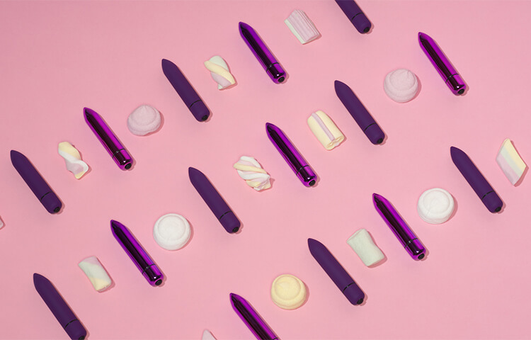 Cheap Sextoys — The Ultimate Guide
Sextoys are available in all price ranges, and if you are a beginner, you will probably start by looking for the lowest price. We can understand that!
The good thing about cheap sextoys is that you can afford to experiment and try different things without it breaking your budget. The price of the things we have selected is approximately between £5 and £25.
By spending a few pounds on different cheap sextoys, you will in turn find out what does the right thing for you and what things you need to upgrade for next time.
You can easily buy sextoys cheaply and in proper quality, but there are some things that you need to be aware of. We will go into details about that later on.
We can already now reveal that you do not get fewer orgasms from cheap sextoys.
Look at it as pick & mix candy: You can try a little of it all without having to buy the big box of handmade chocolate.
On the other hand, it has a bit of the same effect: You quickly feel like taking one of each, because what if there was an unknown favourite among them.
In this blog post, we will also tell you everything there is to know about cheap sextoys, and of course we will provide our best recommendations.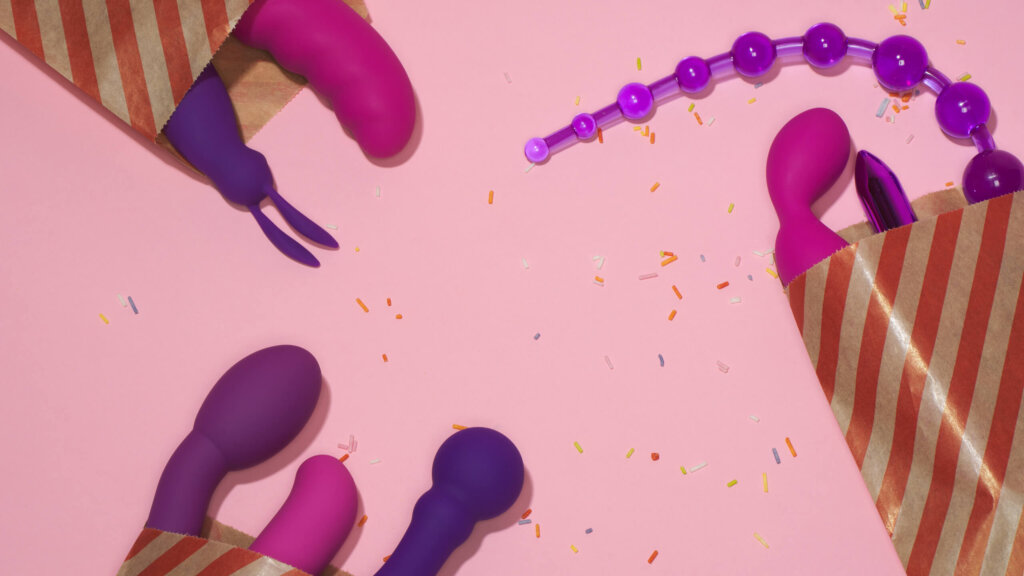 What you need to know about cheap sextoys
Where to start and what to know? We have the answers to that. We have 3 guidelines for you that are ready to use when looking for cheap sextoys.
1. You get what you pay for.
Price and quality are often linked, and this is also the case here.
Cheap sextoys are meant to give you an idea of whether it is something for you.
Its lifespan is usually shorter (there are of course exceptions), and it is therefore an investment into trying something out, not into finding new favourite products. It is important to keep this in mind when buying sextoys in that price range.
2. When to choose cheap sextoys?
If you are a beginner or want to try new things, you can start by buying cheap sextoys.
Once you find what you like best, you can upgrade to a higher quality.
That way, you have not thrown away an entire month's budget on products that are not for you anyway. Instead, you have tried and tested sextoys cheaply, so you have a better insight when you need to find the right one.
3. What materials can I choose from?
As a rule, cheap sextoys are made from TPE and TPR, which have a jelly-like consistency. This is especially true for dildos, cock rings and butt plugs.
The materials require extra care in the form of a renewing powder to prolong their life and maintain their suppleness. The powder gives a matte surface and it sticks less.
It is also possible to find products made from silicone, PVC, or small vibrators in ABS plastic that require less care.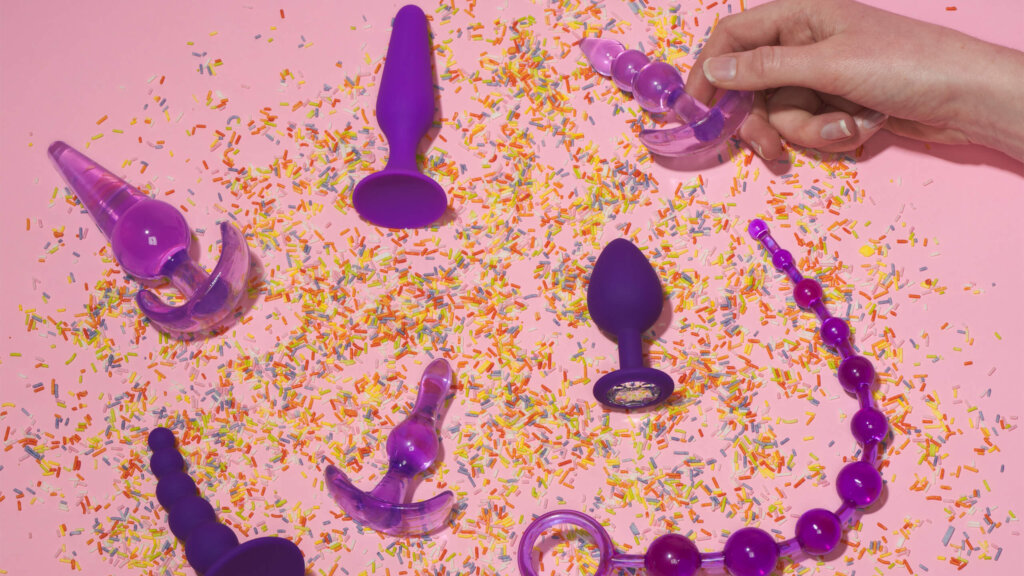 Cheap sextoys that you can trust
Now you have the basic knowledge on the topic, and we'll move on to which brands to look for. Later we divide them into categories where we tell you about our favourites.
Baseks (him, her and couple)
The largest and most obvious candy store to explore when looking for cheap sextoys is baseks. Here you will find something for everyone, almost no matter what taste you have. The colours range from purple and pink shades to black and clear.
You will find products that vibrate, titillate, and massage, which can help you find the places on your body that give you the best experience.
It's all user-friendly and battery-powered, so you don't have to worry about plugs and charging time, but can get started the second your package lands.
Mr. Membr (him)
If you are the owner of a penis, you should also take a look at MR.MEMBR.
Here you will find cheap sextoys designed to stimulate the penis in the form of masturbators, sleeves, penis pumps and much more.
You will find both masturbators with a lifelike design and some with a neutral expression, if you prefer.
We'll return to that brand later in the post.
Cheap sextoys for women
We have selected three of our favourite products to stimulate the vulva, which we think is a really good place to start if you are new and curious about cheap sextoys.
Bullet vibrator
A bullet vibrator is always good to have on hand, especially if you are getting to know your body.
In addition, the price of these products is rarely sky high, so if you are looking for cheap sextoys, you will often find good quality bullet vibrators at low prices.
They come in a myriad of colours, and the design of the tip varies between pointed, round, and flat. The amount and types of vibrations a bullet vibrator has vary.
With a single vibration level, you will quickly find out if it is for you. Use it on your body's erogenous zones such as nipples, neck, or clitoris.
Our recommendation: baseks Glamour Shine Bullet Vibrator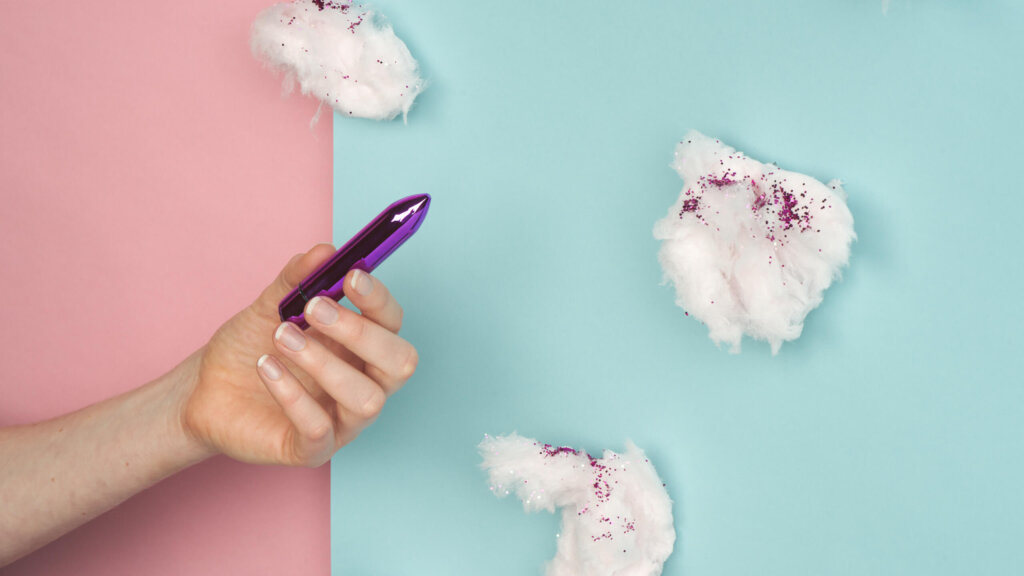 Dildo
Dildos come in many sizes and types. You can get some that look and feel realistic, some with vibrations, and then there are those where, for example, the veins are clearly highlighted, or grooves and knobs have been added for the sake of stimulation.
We have many different cheap dildos, but we have selected the model that is extremely popular among our customers.
It's bang on for beginners, because the size is quite average with an insertable length of 6.5 inches and a diameter of 1.5 inch.
It's equipped with balls at the end of the shaft and a suction cup that can be attached to smooth surfaces, so you can enjoy hands-free play.
Our recommendation: baseks Jellies Suction Cup Dildo 7.5 inches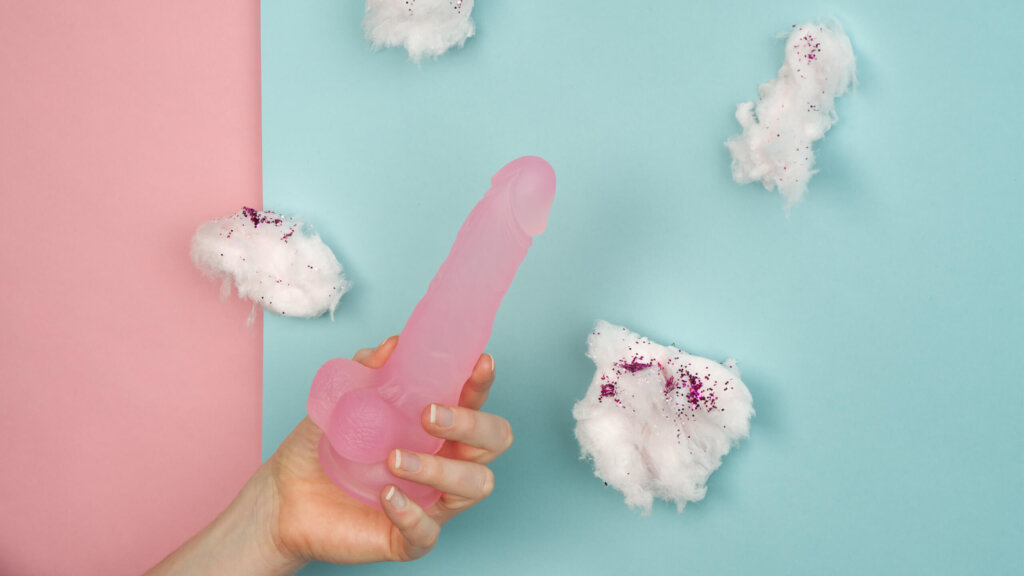 Air pressure vibrator
There are today many different models of clitoral stimulators, and the one that is always highlighted is Satisfyer Pro 2.
The clitoris is stimulated thanks to pulsating air pressure waves, and with 11 different levels, you can build the pleasure at your own pace.
The price is extremely beginner friendly, which is definitely an advantage when you have to test if clitoral stimulators are for you.
If this is your first time experimenting with sextoys, or if you're still exploring your body, a clitoral stimulator can be an overwhelming first-time experience. We therefore recommend starting with a bullet vibrator.
If, on the other hand, you have experience with stimulation of the clitoris and vulva, we can warmly recommend a clitoral stimulator.
Our recommendation: Satisfyer Pro 2 Next Generation Clitoral Stimulator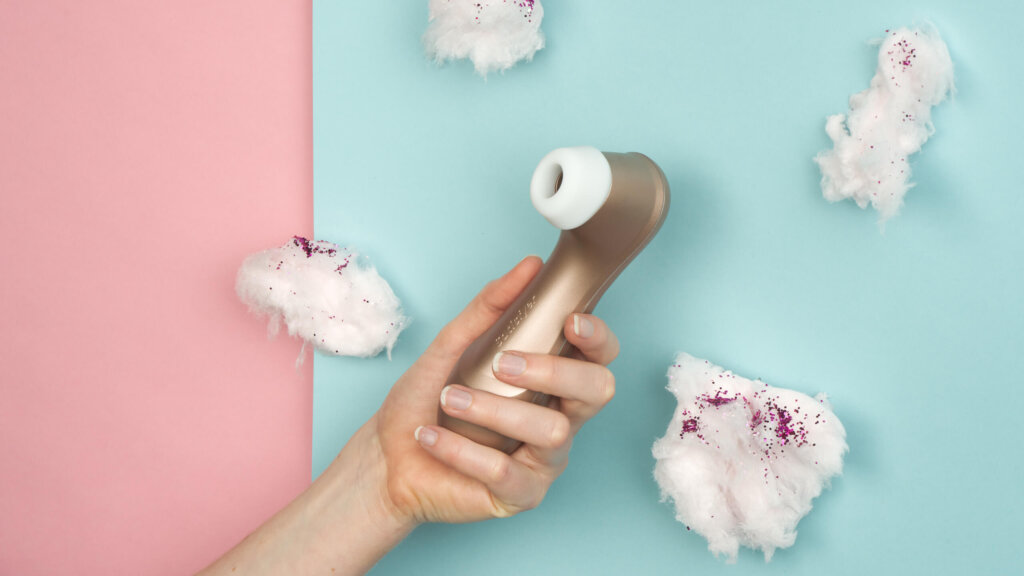 Cheap sextoys for men
There are many options for stimulating the penis, and here we have presented 3 options so you can find the methods that give you the best pleasure.
We mentioned it earlier, but we'd like to say it again: If you're looking for cheap sextoys for men, Mr. Membr is the brand you need to look for. You get a wide selection of products at a good price.
Handjob Masturbators
The obvious place to start is with a 'handjob masturbator', which is also called a sleeve.
A sleeve is pulled down over the penis and moved back and forth, just like with a hand job. With a sleeve, the stimulation becomes extra intense.
All sleeves are flexible in both length and diameter and can be worn by just about anyone.
Choose from different structures to get the stimulation that works best for you.
The low price of sleeves is due to the fact that most of them are designed for single use. But even though they are extremely cheap sextoys, they can be used more than once if they are cleaned with a sextoy cleaner or with water and soap and stored in the shell they come in.
Our recommendation: MR.MEMBR Wild Handjob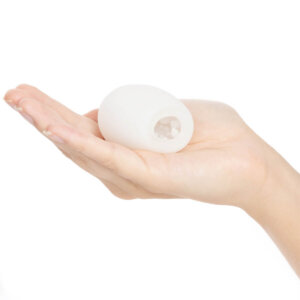 Pocket Pussy
Do you want to try a more powerful structure than sleeves, but still with different, internal stimulation? Then there is another branch of cheap sextoys to reach for, namely pocket pussies.
The entrance is a realistic design of a vagina, anus, or mouth, and the feeling you get when you penetrate is reminiscent of the real thing.
It's a piece of sextoy that you can use again and again, as long as you clean it properly, use renewing powder, and store it properly.
They are available both with and without a casing. If you want to control the vacuum feeling yourself, choose one with a casing where it is possible to turn the lid at the bottom or by removing a sticker.
If you are more into squeezing around the shaft yourself, you must choose one without a casing, so it is your own efforts that take care of the pressure.
Our recommendation: MR.MEMBR Cassandra Realistic Pocket Pussy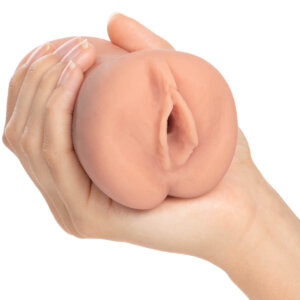 Cheap sextoys for couples
If you are a couple that needs to explore together and each other, we of course also have some ideas for how you do this best with cheap sextoys.
Lube
An important element in (cheap) sextoys that is often forgotten is lube. You can use a water-based lubricant with all sex toys and with each other.
Use it as an element that adds something extra to your intimate moments and makes sure that everything slides as it should.
Our recommendation: Sinful Aqua Water-based Lubricant 50 ml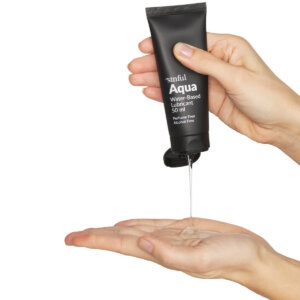 Vibrating cock rings
A cock ring is a good place to start when you need to get to know each other.
They are a regular part of the cheap sextoy range, as the price is often relatively low and you get great value for money.
Cock rings help both strengthen and provide a longer lasting erection.
The one we have selected has a removable bullet vibrator, which stimulates both parties along the way.
You therefore get two-in-one, as you can take out the bullet vibrator and find the erogenous zone on each other's bodies using the 7 vibration levels.
Our recommendation: Sinful Happy Rabbit Vibrating Penis Ring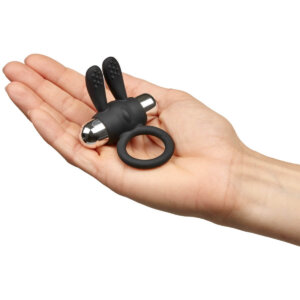 Bondage
Once you have gotten to know each other better and there is trust between you, you can start involving gentle bondage play.
Bondage equipment doesn't have to be an expensive affair—it can be a part of your cheap sextoy range.
The first time you try things out in bondage, the most important thing is to find out what you like and how you like it.
You can therefore buy cheap sextoys where it's about trying something different before you select the things that you need to explore further.
Place the recommended restraints or a pair of cuffs loosely around the wrists or ankles, so you get a sense of how it feels and how it works best for you.
Take your time and focus on each other along the way.
Our recommendation: Sinful Deluxe Satin Restraint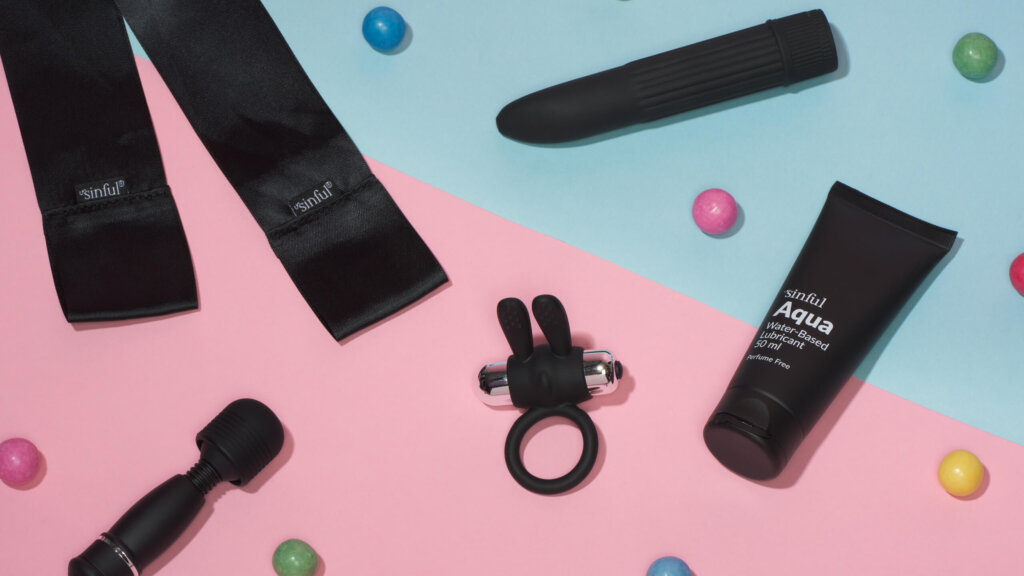 Are you ready to go exploring?
Now you have gained a broad insight into cheap sextoys and therefore know that it's a really good place to start when there is something you would like to explore but are unsure if it's something for you.
As with pick & mix candy, you can try a little of it all without it destroying the budget. In return, you get to try out a lot of different things, and who knows, maybe a positive surprise awaits among your bargains.
Have fun with your cheap sextoys!