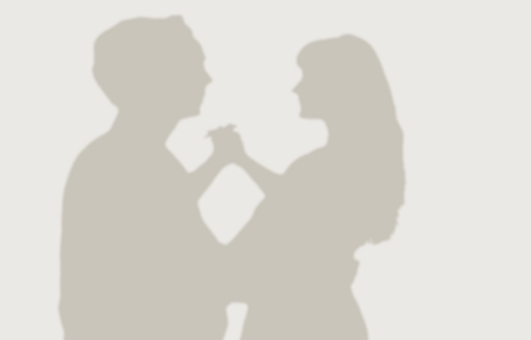 Ditte Jensen
Sexual Wellness Specialist
Date night - cool or cliché?
When you close your eyes and think of the words 'date night', a rather clichéd image is guaranteed to pop up in your mind's eye. A nicely set dining table, a good bottle of red wine, lit candles and "The Most Romantic Songs in the World" on your Spotify playlist.
I'm actually quite fond of the above (apart from the music, but only a few people care to caress someone to the Foo Fighters), and yet I feel a little bit… well, I'm just saying. Nauseated.
And I'm even relatively romantically inclined.
So is romance dead?
Romance is alive and there is a need for it like never before.
In a time when the vast majority of us pursue our careers in order to pay our rent and place our children in private schools and expensive institutions, where we are constantly on the move, on the phone, just 'on' and preferably in constant development, we need the soft tones of romance.
When was the last time you pressed stop just to ask your partner: "Hey - you want to have a snog?".
I said I was romantically inclined.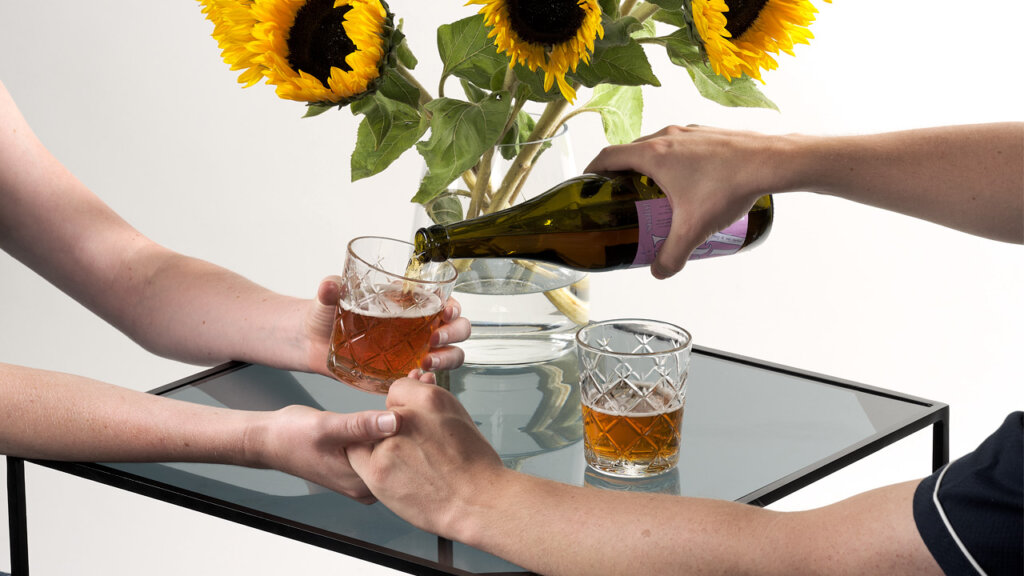 A sure winner?
Most of us in relationships (at least those where the first crush has worn off a little) have become familiar with the concept of date nights.
You've looked your partner deep in the eyes during breakfast, while your offspring litters the kitchen floor with milk and oatmeal, and you say: I miss us! I miss being sweethearts. Just the two of us. Alone. Without offspring. I need a date night.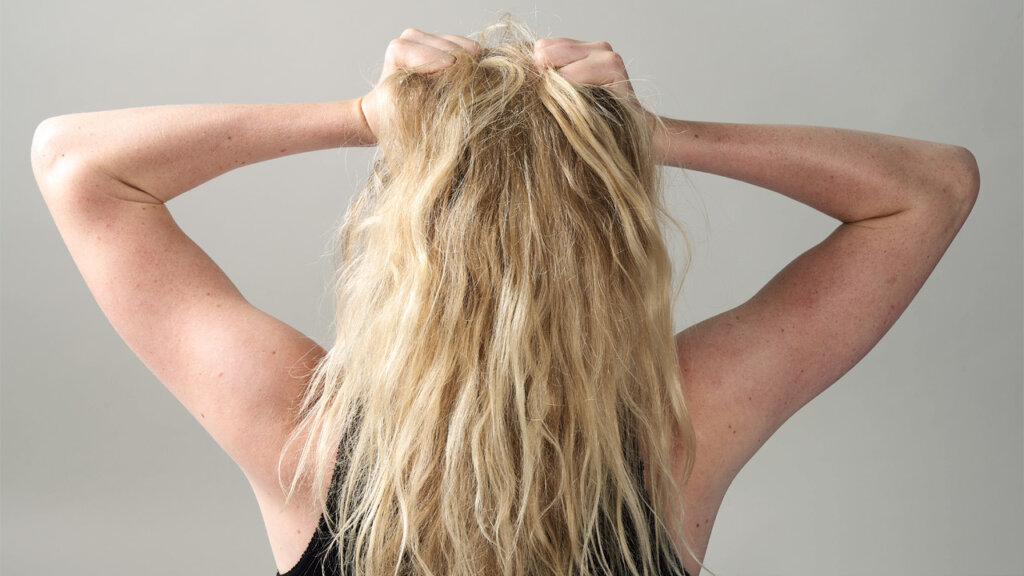 And a date night can be an absolutely fantastic tool (unsexy choice of words, I know) to nurture that spark, that connection, that twosomeness and that love that can drown in dirty socks and flow-TV.
But before you start organising a date night or ask your partner to do it, it might be a good idea to check in with each other to find out what each of you actually misses and wants.
Maybe you crave dinner by candlelight. Maybe your partner, like me, gets a little nauseous at the thought. And then it quickly becomes a dinner that neither one of you wants to be a part of.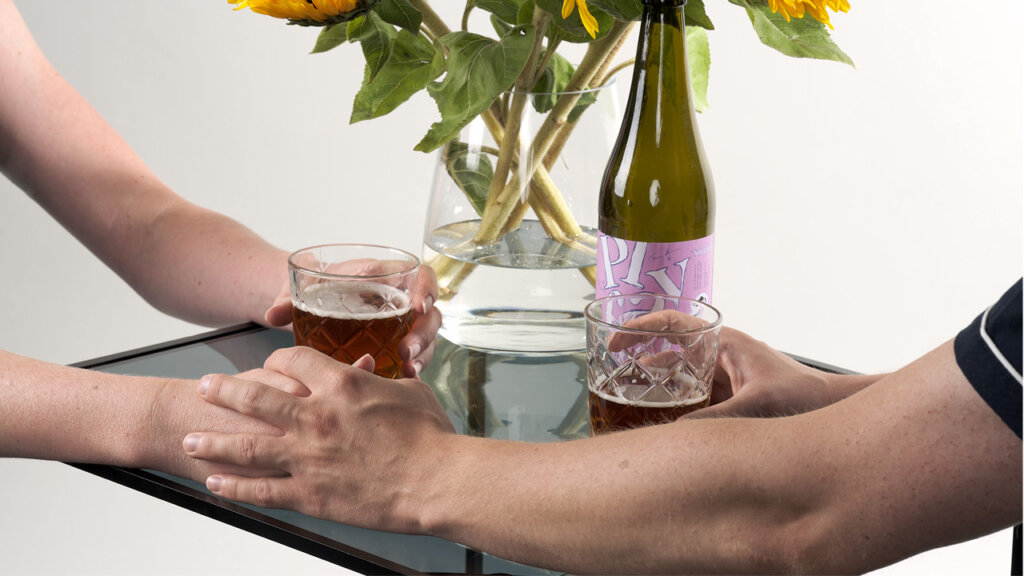 Reconciliation of expectations
Some more sexy words.
But they have to be included, because the idea works. It's as simple as that. And that doesn't mean that you shouldn't surprise each other or that you, as a partner, shouldn't support doing things that the other needs, wants or misses.
It just means that having a chat is a good idea. Incidentally, also about everything else other than date nights.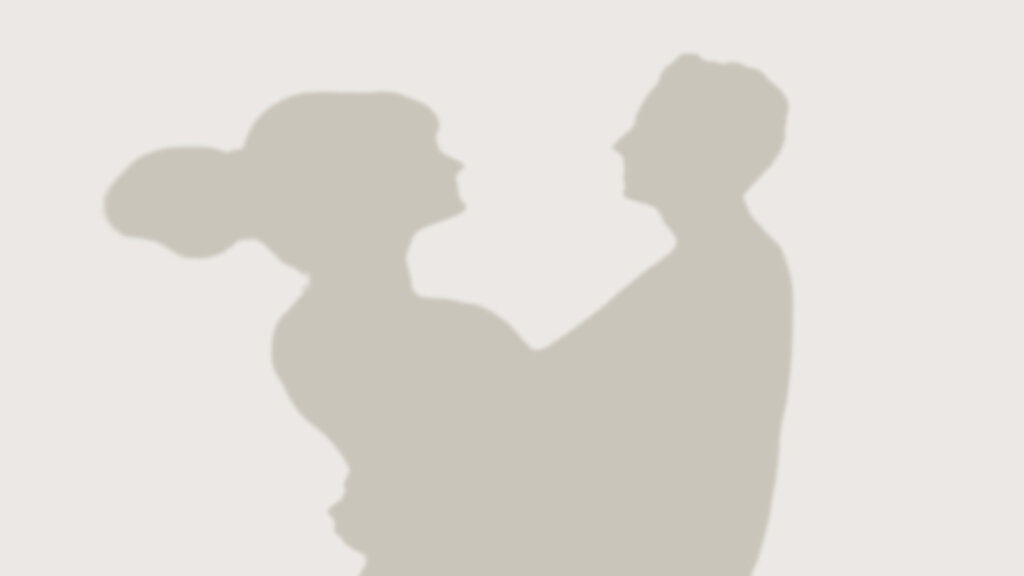 Being able to put into words what you need and want makes it much easier for your partner to satisfy you. And this applies to both inside and outside the bedroom.
According to figures from Sinful, a whopping 47% of us find it difficult to communicate with our partner about sex because it's awkward. Let's get back to that in a bit.
Steak, cinema or bungee jump
Whether you eat some good food, watch a movie or bungee jump over a bridge is irrelevant as such - as long as you both think it's cool and it benefits your relationship.
A healthy, safe and loving relationship is quite important to how we thrive as human beings, and therefore it is also essential (and also totally selfless, in case you feel bad about planning childcare, again) that we prioritise it.
Fortunately, a date night occasionally also involves time for the kind of intimacy that most people prefer to practise in the bedroom. You can easily have a successful date without having sex, just as you can have a date that consists of nothing else.
If you and your partner are also fans of the latter, there are lots of different sex toys that can spice up your usual routines or that can inspire even more fantasy and closeness.In fact, the popular brand We-Vibe has created a Date Night Special Edition set, which is perfect as entertainment or to finish off a great date. The set consists of two app-controlled products, namely a vibrating penis ring and a curved rabbit vibrator.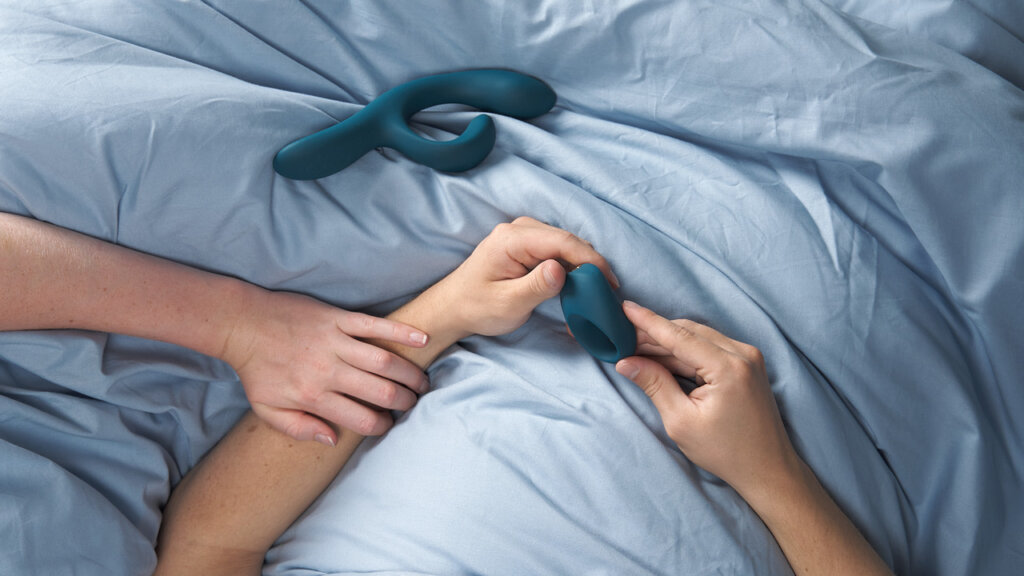 The latter is called Nova 2 and naturally focuses mostly on stimulating the vulva and vagina. A rabbit offers double stimulation when it vibrates against both the clitoris and the G-spot area. You can play your way through the vibrations on the vibrator's shaft or design your own in the free We-Vibe Connect app. Its ergonomic design ensures that both pleasure points are constantly stimulated, making it absolutely perfect for wonderful, mixed orgasms.
The penis ring is called Pivot, and it is particularly suitable for use when you are ready to have intercourse. When the ring is on his shaft, the vibrations will stimulate both the penis and her clitoral area every time he penetrates.
We-Vibe has hit the spot pretty well with the two products. They provide many hours of enjoyment spread over one or more date nights.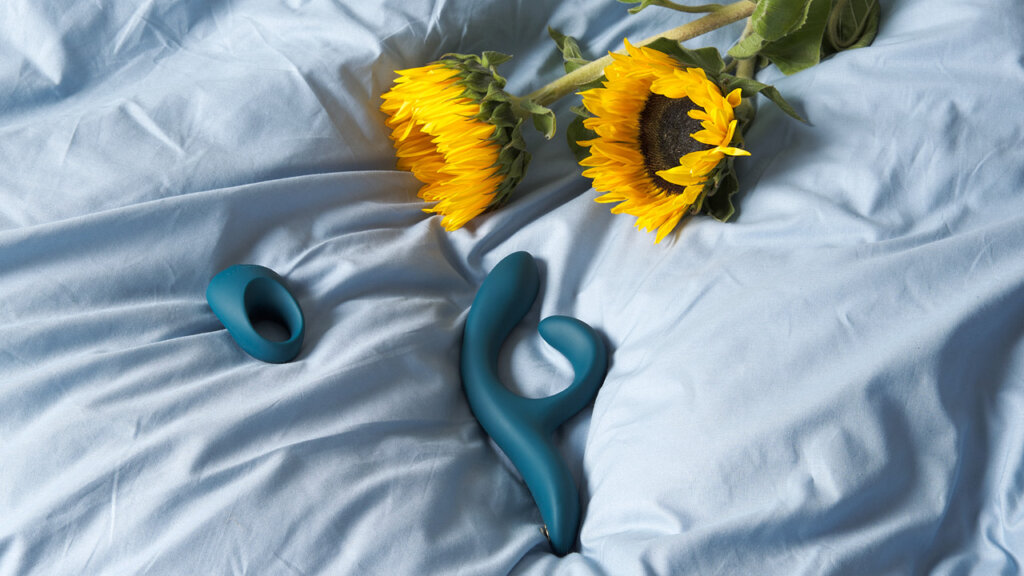 Sex toys can do more than you think
Yes, it all sounds good. So wonderful vibrations, more play, more orgasms.
But sex toys actually have an extra quite awesome feature, which is especially significant in relation to the aforementioned statistics about our relationship with communication in the bedroom.
It can give us a language for what feels nice and what we want more of.
For many people, guiding a physical object around one's own or your partner's body or finding the right angle and setting, is less transgressive than having to guide a hand, a tongue or a movement.
"Try changing the vibrational pattern" is easier for us to say because it is not a direct criticism of our energetic partner.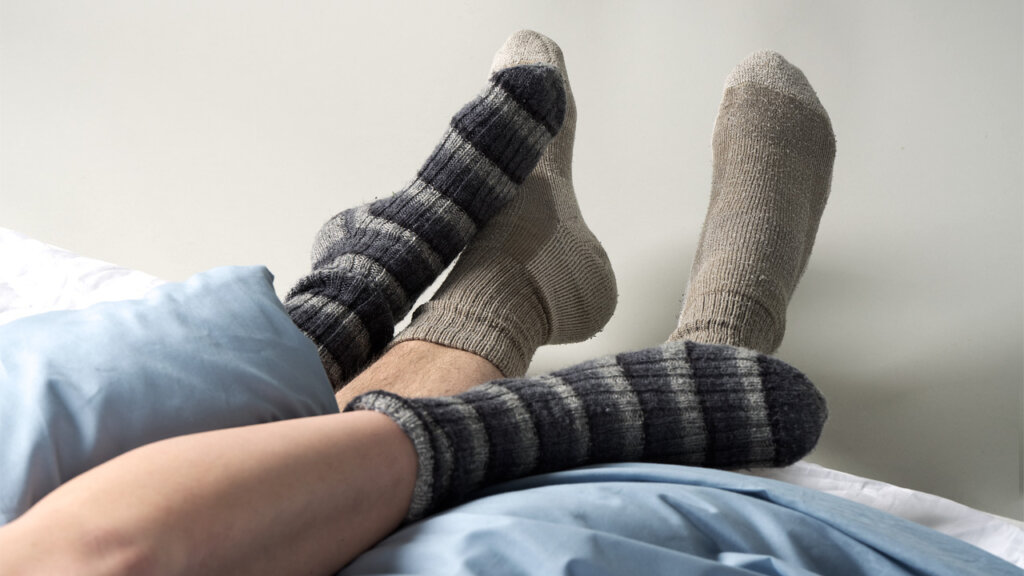 Get to know each other (again)
One of the coolest things about date nights is that you get time to get to know each other even better - through experiences, conversation and erotica. All aspects are equally valuable, but which part you miss the most can be different and fluctuate from time to time.
I hope that you find the time and desire to create the date nights that suit you best. That makes them still cool!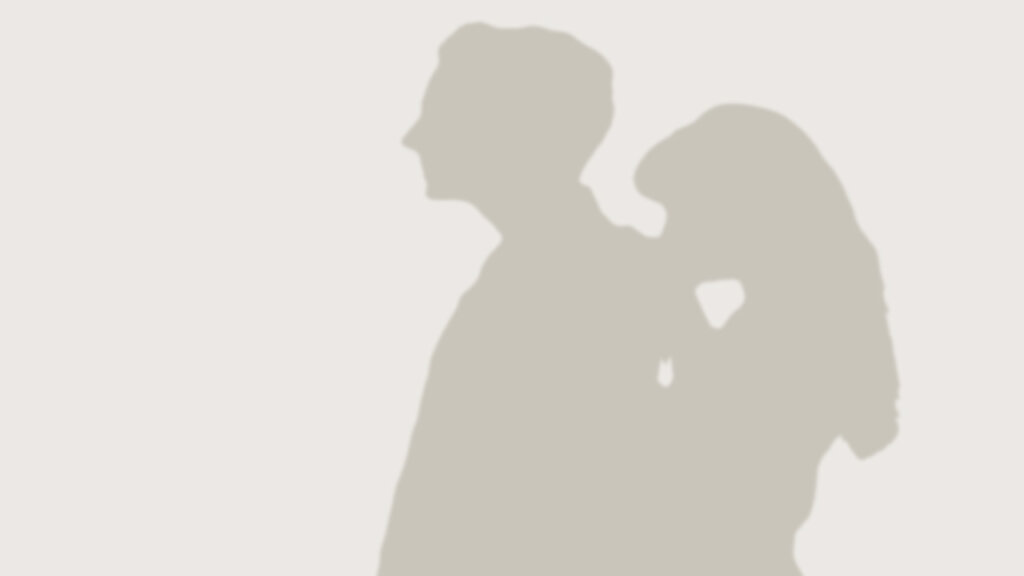 Related blog posts