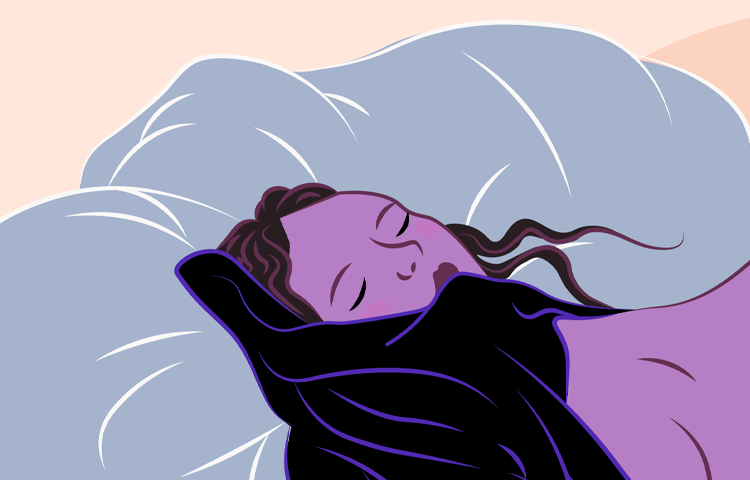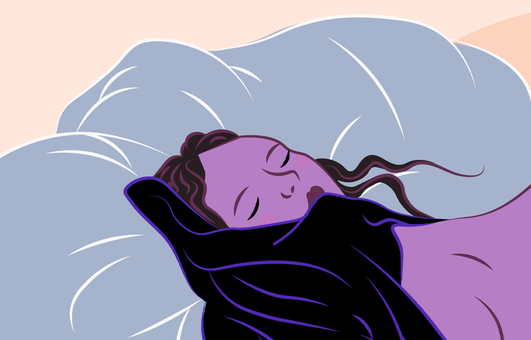 This story is written by AVA Stories
As I get in from dinner, I dim the lights, kicking my shoes off and lighting the rose-scented candles on my bedside table.
I undress in front of the mirror, watching my body move as I slip the straps of my silk dress off my shoulders. It falls to the floor.
I look at myself in the flickering candlelight, and all I can think of is one thing:
The man across from me at the restaurant. The man with the full lips and icy blue eyes, eyes that took in every inch of me as if I was art.
I can't help but think of his hands slipping around my naked body, grabbing my breasts. Of his lips on my inner thighs and his tongue between my legs.
I retreat to the bed, arch my back, and move my hips, a slow dance of grinding as if he were right there behind me, his crotch against my ass and his hands on my hips.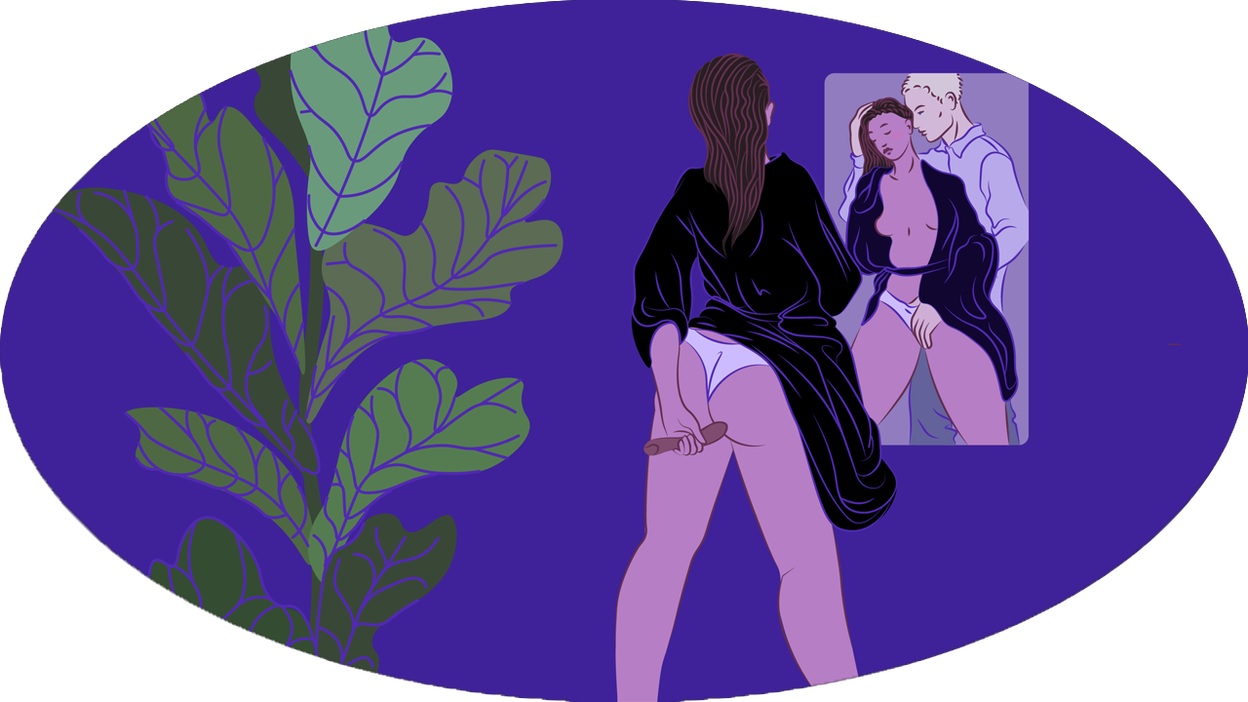 Pulling out my vibrator from under the bed, I run my hands over the long, smooth silicone shaft, following the curve up to the tip that will hit my g-spot. My body yearns with longing.
The vibrator gently hums as I turn it on and withdraw into my imagination.
We've just got back from dinner, we've had too much red wine, and we're in the white marble kitchen, looking for a nightcap. He comes up behind me as I reach under the counter for a bottle opener.
Moving my hair away from my shoulders, he begins to kiss my neck, his lips hot against my skin.
He spins me around, his hand sliding up my back until he's pulling my hair, guiding my face towards his. He kisses me hard. His tongue coaxes my lips open, slipping inside my mouth.
I think of him pulling away, his hand resting against my face, thumb gently tugging on my bottom lip. He looks at me with those piercing blue eyes.
I picture his hands under my ass, lifting me onto the kitchen counter while my hands are slipping under his shirt. His skin is hot under my touch and I can't help but dig my nails into his back.
I slip the vibrator between my legs and imagine him kissing me on that counter. I run it over my panties, feeling its pressure glide over my skin.
I'm already desperate for the moment where I can pull the fabric aside and feel its full intensity. Running it slowly up and down my pussy, I increase the speed so that it ripples through my nerve endings.
I move the vibrator to my throbbing clit. I push hard against the fabric and move it in circles as I arch my back into the pillows. A moan escapes my lips.
I think of him pulling my top off, and I run the vibrating end over my nipples, watching them harden.
I'm thinking about him taking them between his lips, teasing them with his tongue just like he'd done to my mouth. His tongue slowly traces over one nipple while the other is caressed by his hand.
I picture his hand moving over my panties, teasing me, moaning about how wet I am. They're slick against my vibrator; I've thoroughly soaked through them.
I pull them off and toss them aside, grabbing my lube and squeezing it on the tip. It's water-based and silky to mimic my own wetness.
I play with my opening, the vibrator sending waves of pleasure over me as I gush against the lubed tip.
I imagine his rock-hard cock, his icy blue eyes looking into mine as he slowly edges into me. I move the vibrator in time with my imagination, slowly, inch by inch.
"God, you feel so good. Open your legs wider", He would say.
I change the setting so that it's vibrating in long rhythms, pausing and doubling its speed.
I feel myself getting close.
I've reached the base, and with the whole thing inside me, I start to thrust. Its curvature perfectly hitting my g-spot; I let out a gasp as I feel the orgasm building in me.
"Come on, baby. I want to feel you cum."
I start thrusting the vibrator harder and deeper. Then I hold its tapered tip against my g-spot for a few agonising seconds before quickly removing it, teasing me just like he would. Edging me.
"Please", I gasp. "Please."
And, as my toes curl, and my back arches, the pleasure erupts from my body, sending gooseflesh down my body.
A muffled scream escapes my lips, and I cum hard, feeling my pussy tighten and contract against that perfect silicone.
Related blog posts