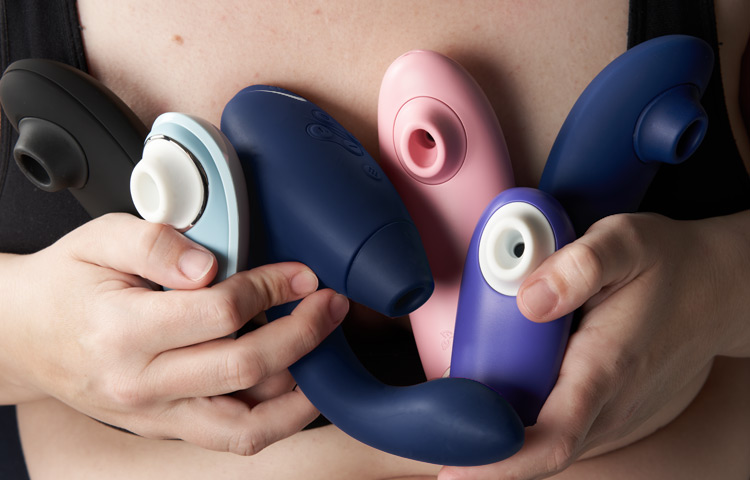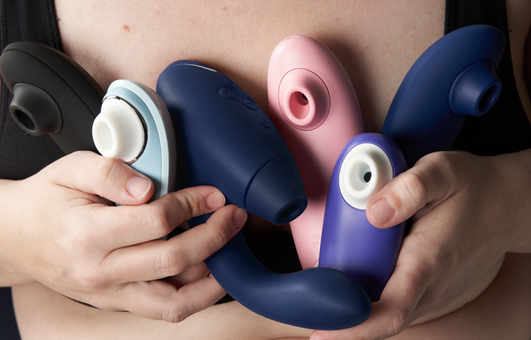 Womanizer – The Ultimate Guide
Have you heard the whispers at the office or the colourful stories from your friends about a fantastic little marvel that delivers orgasm after orgasm after orgasm? Then you've already heard about the Womanizer! Woman-what-now? No, no, not that early 2000s hit from Britney Spears, but the kind of hit you keep in your nightstand.
A Womanizer is namely a clitoral stimulator. It features an exclusive design and a patented form of stimulation known as Pleasure Air Technology, which has already taken thousands of women by storm the world over.
What Can a Womanizer do?
The Womanizer stimulates the clitoris via titillating and pulsating pressure waves that never come into direct contact with your skin. Its soft suction head encloses your clitoris and pulsates around it rather than directly onto it.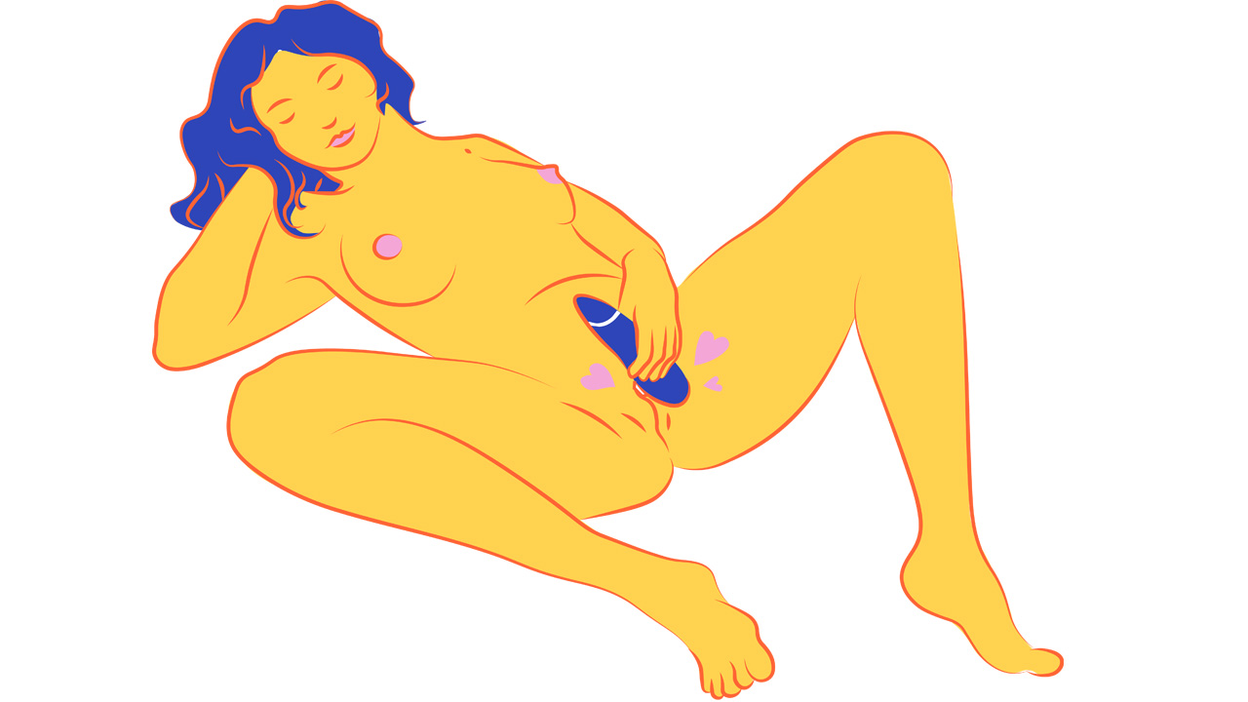 Most classic vibrators stimulate the clitoris in a more superficial way, which can of course feel completely fantastic and give rise to a whole string of orgasmic experiences. A clitoral stimulator, however, provides a deeper form of stimulation to the whole of the clitoris, lavishing attention on every nerve ending and pleasure point.
Imagine a drop of rain hitting a pool of water, creating rings of little waves in the water surface. That is a pretty good illustration of how the pulsating pressure waves feel as they move over your entire clitoris.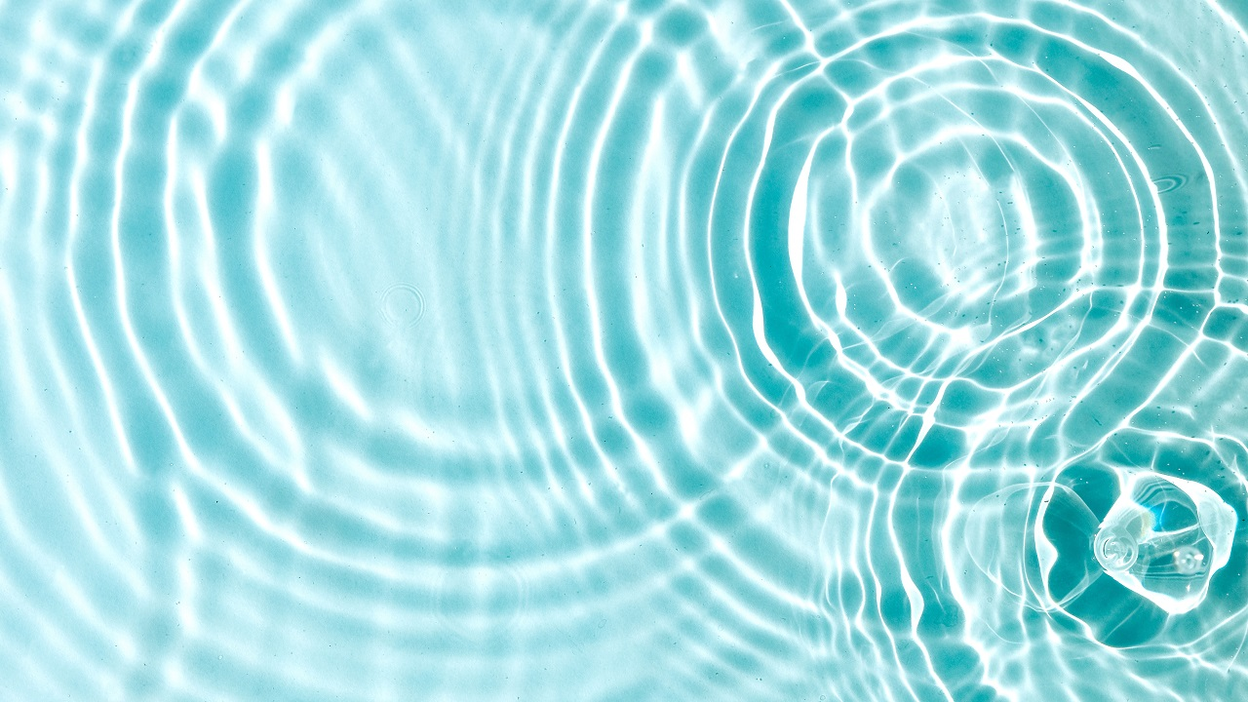 Besides its more intense and deep-reaching form of stimulation, using a stimulator has other advantages as well. Because the stimulator does not come into direct contact with your skin, it won't reduce your sensitivity. Perhaps you may have noticed you need to apply more finger pressure or stronger vibrations each time in order to climax? Well, you won't have that problem with a Womanizer – you can use it over and over without losing any sensitivity to its delicious stimulation.
Some women find the sensation to be very similar to oral sex. The feeling you get when a partner sucks gently on your clitoris in between caresses of the tongue is not entirely unlike the sensation of using a Womanizer, and this is just one more reason as to why they are so popular.
If you have difficulty getting an orgasm, or if you suffer from reduced sensitivity in the clitoris, then a clitoral stimulator may just be the answer to all your prayers.
Here at Sinful, we have received countless messages from women who tell us that the Womanizer has helped them achieve their first orgasm, their first female ejaculation or even their first experience of multiple orgasms in a row. So don't give up your quest for orgasmic satisfaction, and especially not if you have yet to try out a clitoral stimulator.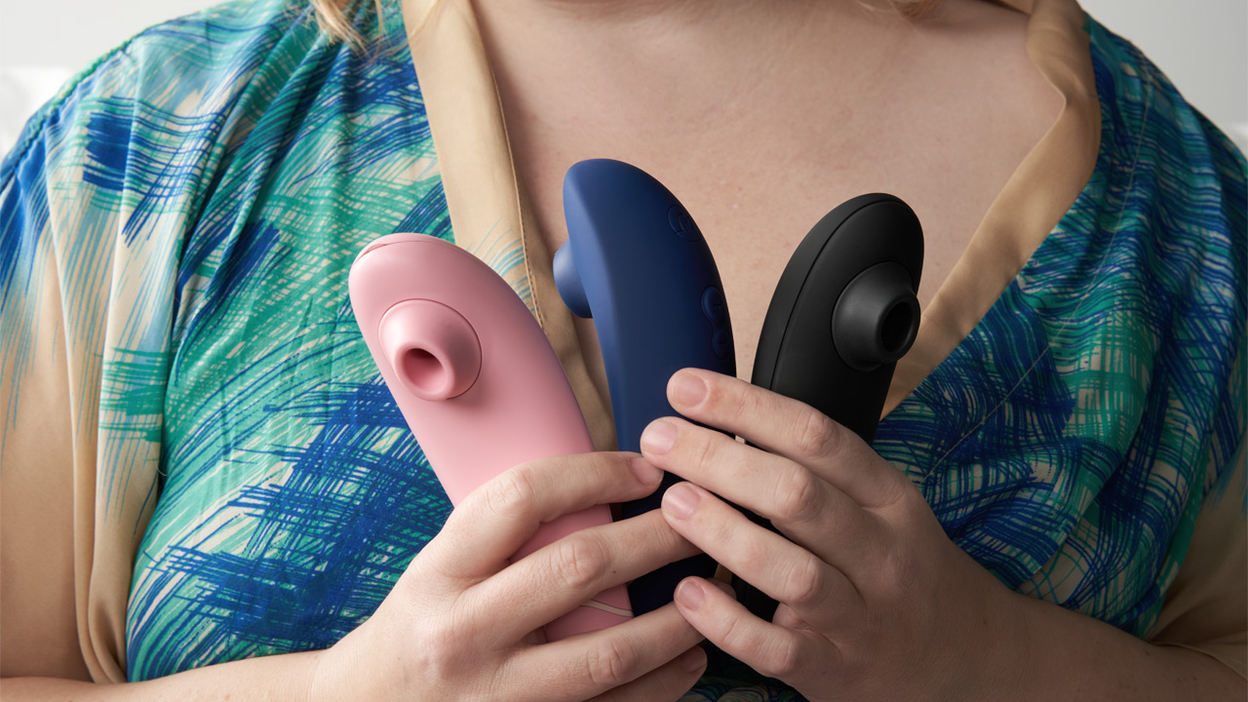 Meet Your Womanizer
There are many different models out there and it can be difficult to tell them apart, especially when their primary function and purpose is always the same: to service you. Here we present you with our run-through of the different models, so take a look and discover the one for you.
Womanizer Premium 2
The Womanizer Premium 2 model is close to being the ultimate luxury product for women. It has a silky soft surface texture made from sumptuous silicone and is a sure-fire choice for those who want only the very best! The Womanizer Premium 2 boasts two extra functions: a Smart Silence function, which means stimulation only begins once the suction head comes into contact with the skin, and an AutoPilot mode, which switches between the different intensities automatically, meaning all you need to do is lie back and submit to the pleasure.
Intensities: 14

Smart Silence: Yes

AutoPilot: Yes

Waterproof: Yes

Rechargeable: Yes (Charge time: 120 minutes. Play time: 240 minutes)

Sound level:

Not available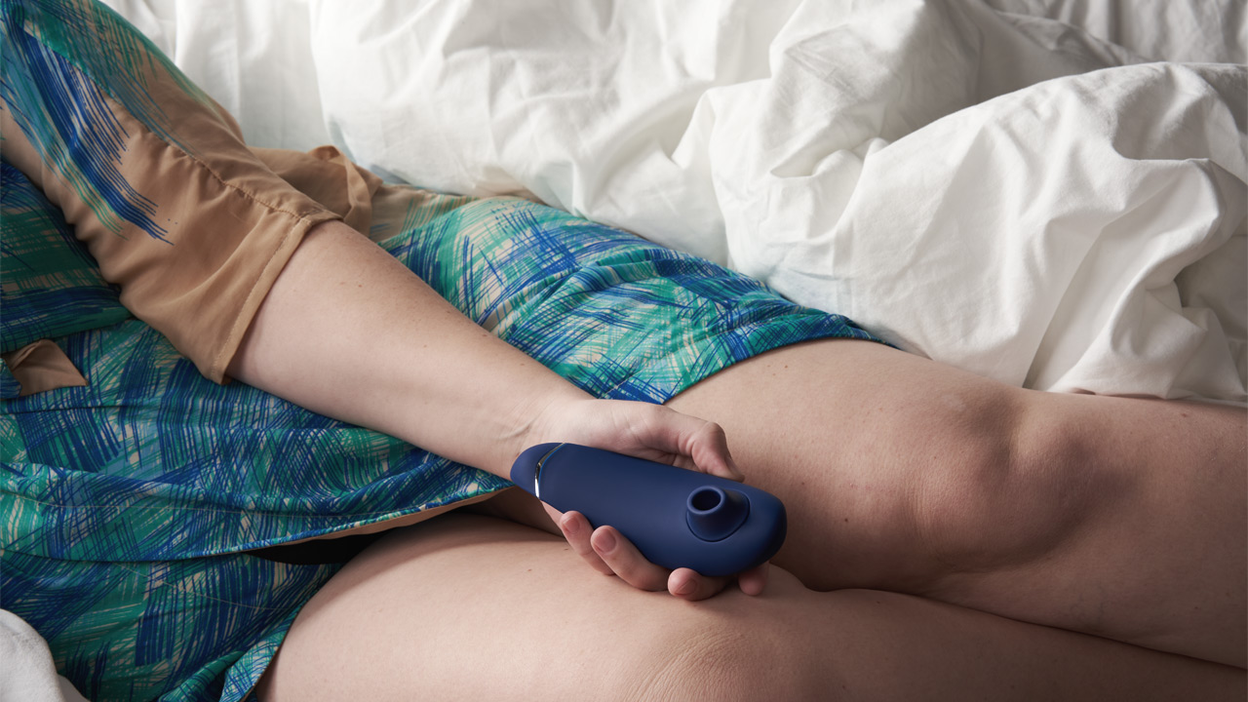 Womanizer Liberty
Liberty is the perfect model to take on the go. It is smaller than many of the other variants but just as exclusive, plus it comes with a practical, magnetic cover for simple and discreet storage. Simply pop the
Womanizer Liberty in your handbag before you head off on your next romantic weekend getaway and enjoy its sleek, feminine design.
Intensities: 6

Smart Silence: No

AutoPilot: No

Waterproof: Yes

Rechargeable: Yes (Charge time: 60 minutes. Play time: 120 minutes)

Sound level: <40 dB
Womanizer Classic
The Classic 2 boasts largely the same design as the Premium 2 model. It features the same soft silicone surface but without the additional features. This makes the Womanizer Classic 2 perfect for women who like plenty of variation when it comes to intensity as well as an exclusive design without too many added frills.
Intensities: 10

Smart Silence: No

AutoPilot: No

Waterproof: Yes

Rechargeable: Yes (Charge time: 180 minutes. Play time: 120 minutes)

Sound level:

Not available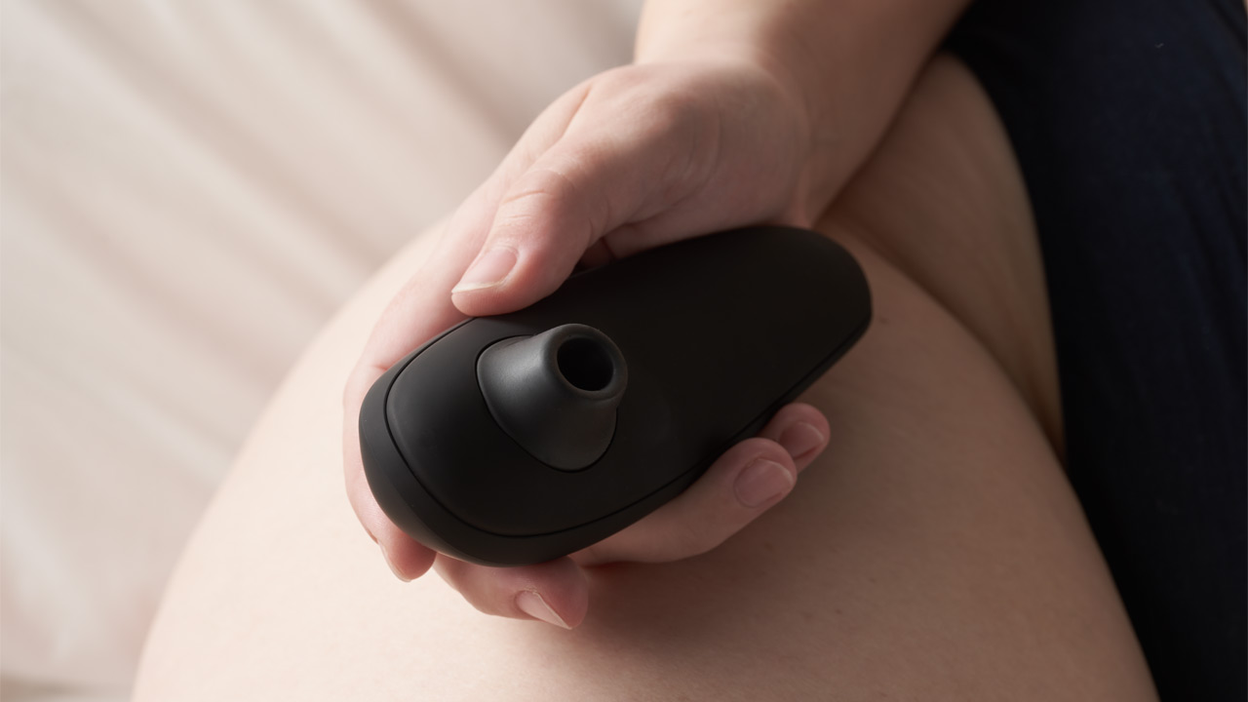 Womanizer Duo
The Womanizer Duo takes your pleasure to the next level, namely by stimulating you both on the outside and on the inside at the same time. The upper part is a clitoral stimulator that performs the same function we know (and love) from the Premium model. Sitting below is a curved dildo vibrator that goes right for the G spot. In other words, this model stimulates you in two different erogenous zones at once, giving you ample opportunity to indulge in tons of blended orgasms.
Intensities: 12

Vibrations: 12 levels and 10 patterns.

Smart Silence: Yes

AutoPilot: No

Waterproof: Yes

Rechargeable: Yes (Charge time: 120 minutes. Play time: 120 minutes)

Sound level: Not available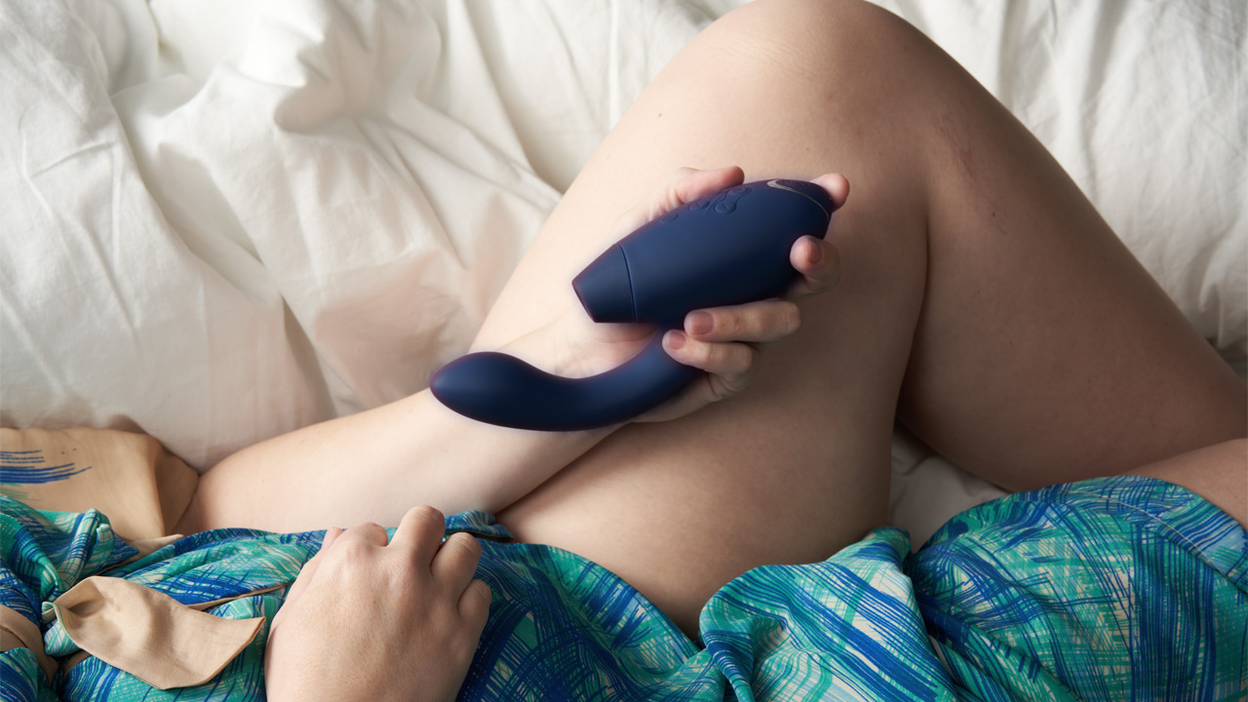 Womanizer Starlet 3
This model is for women who want to find out just what this pressure-wave business is all about. The
Womanizer Starlet 3 is perfect for beginners who want to experiment with clitoral stimulation. What's more, it also boasts a sleek and compact design which makes it both discreet and travel-friendly.
Intensities: 6

Smart Silence: No

AutoPilot: No

Waterproof: Yes

Rechargeable: Yes (Charge time: 30 minutes. Play time: 30 minutes)

Sound level: Not available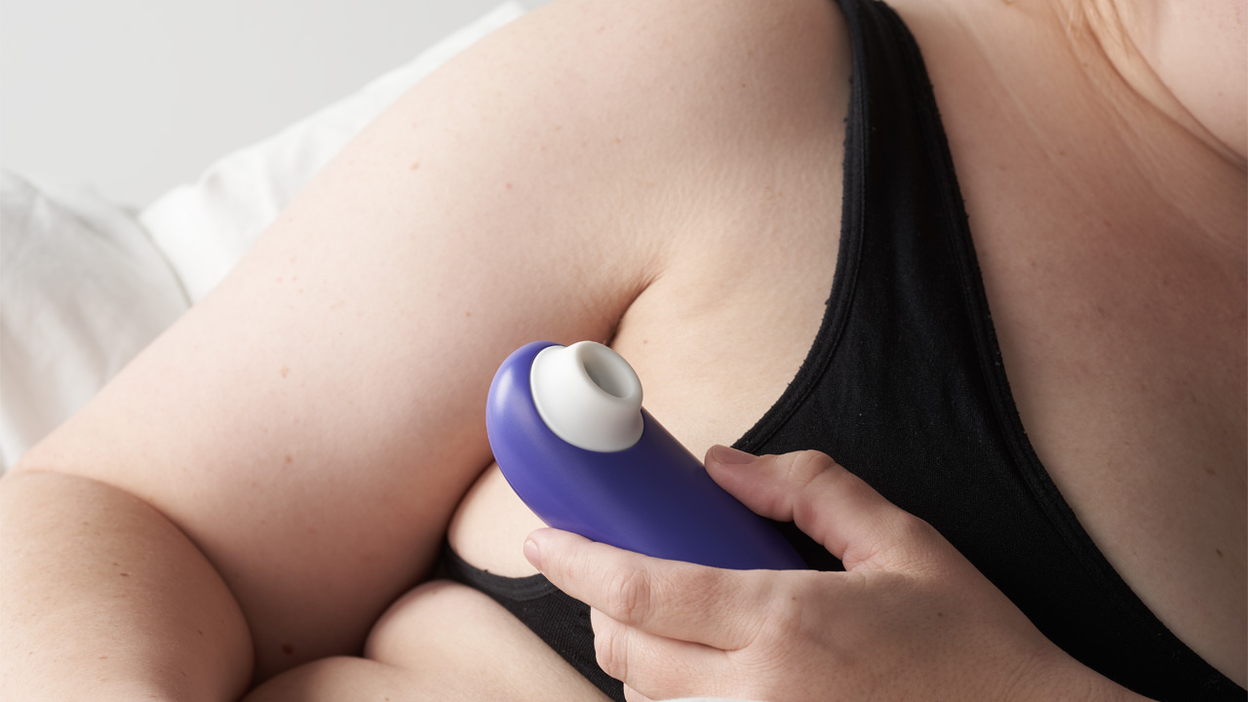 Womanizer Premium Eco
This latest branch in the Womanizer family tree is a new eco-friendly edition of the famous Premium model. With its whopping 12 intensity levels, you can enjoy that magical, toe-curling sensation as the orgasms pulse through your body, all while safe in the knowledge that you're doing your bit for the planet as well.
Intensities: 12

Smart Silence: Yes

AutoPilot: No

Waterproof: Yes

Rechargeable: Yes (Charge time: 120 minutes. Play time: 240 minutes)

Sound level: Not available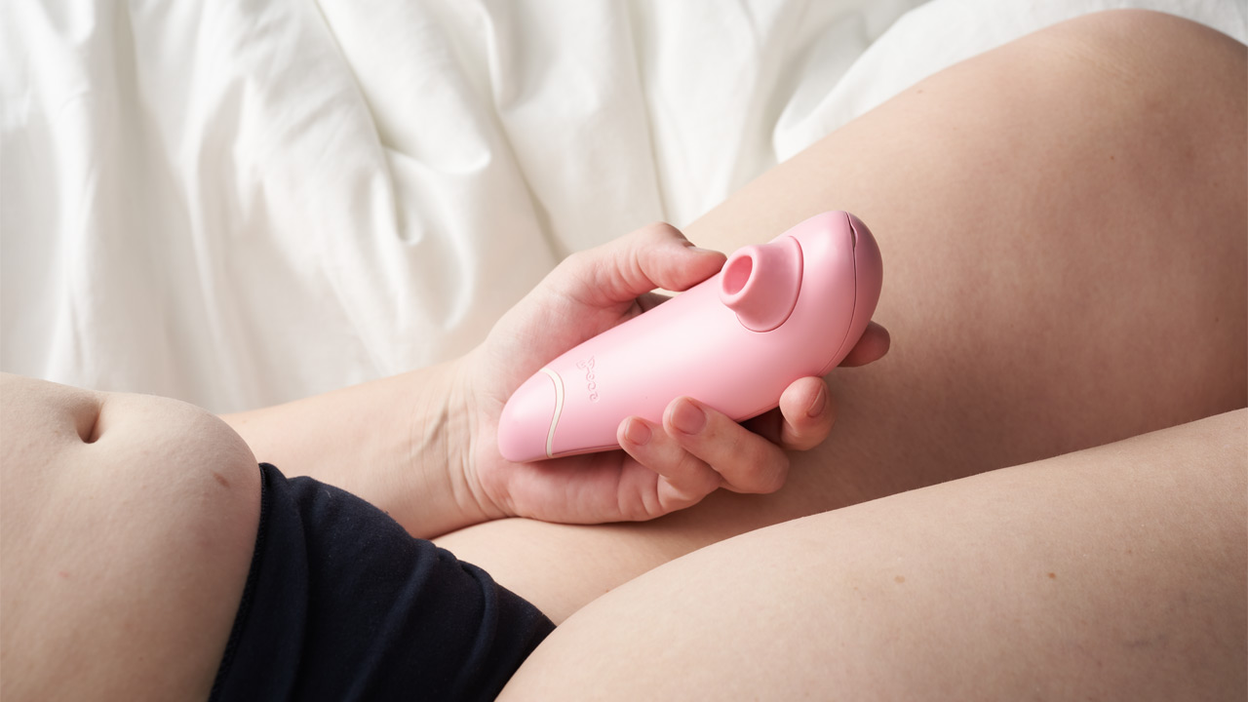 Guide: How to Orgasm with Your Womanizer
The Womanzier stimulates in whole new ways, and it may take some time before you get your first orgasm from it. Many women experience powerful and incredible orgasms right away, while others require a bit more practice to make the magic happen. But don't worry, both are completely normal.
Know Your Clitoris
How well do you know your clitoris? Do you know if it's big or small? Super sensitive or just a bit? Does it peak out or is it hiding behind a little fold of skin?
It's a great idea to warm up your fingers before you begin and to use a water-based lube when using your Womanizer.
For example, try using an organic lube from a trusted brand like Kaerlig. Be curious and explore with your fingers to locate and start caressing your clitoris.
Once you have found the lay of the land, it will be much easier to position your Womanizer correctly and get the most out of its powerful stimulation.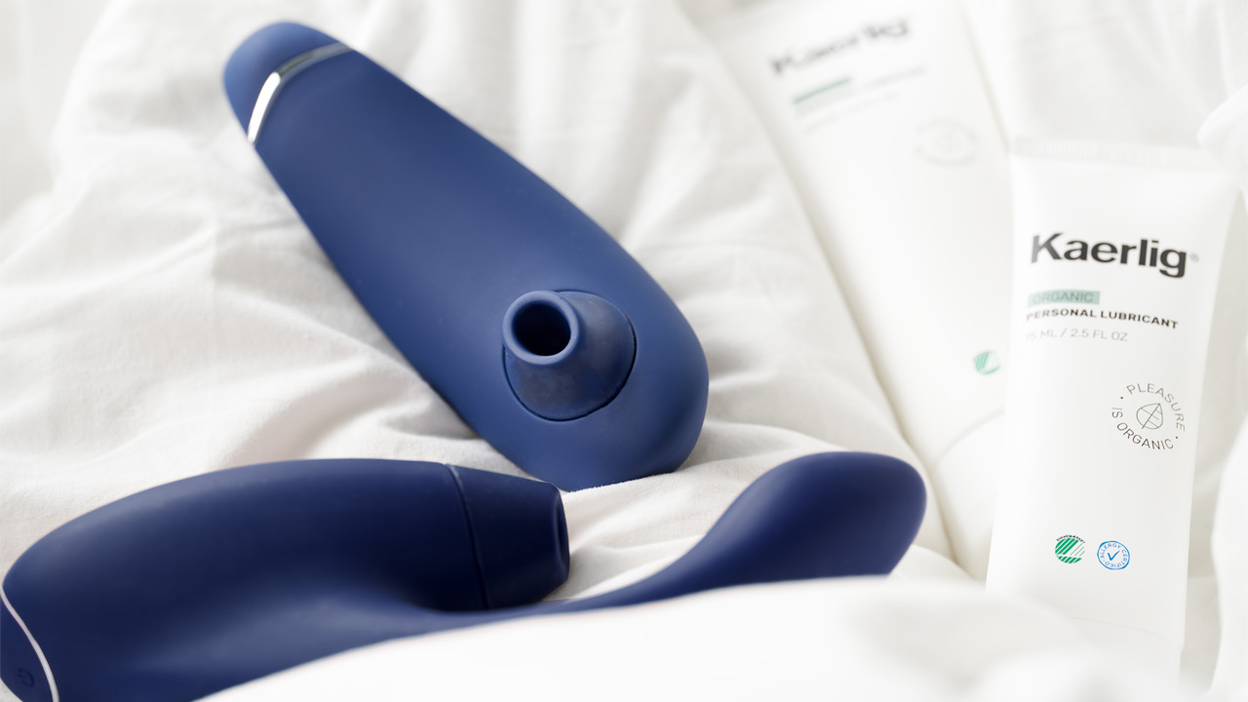 Psst! Did you know that the clitoris is made up of a whole 8,000 sensitive nerve endings? It swells when you are sexually aroused – in exactly the same way as a man's penis.
When you are ready to use your Womanizer, hold it in one hand while you use your other hand to spread the labia and expose your clitoris. Then place the suction head over the area and turn on its stimulation.
We recommend starting at the lowest level so you can get used to the stimulation. It's up to you whether you want the suction head to enclose your clitoris or whether you want a little pressure – it depends entirely on how sensitive you are and how intense you want the stimulation to be. Try it out and experiment with the different intensities as you build towards orgasm.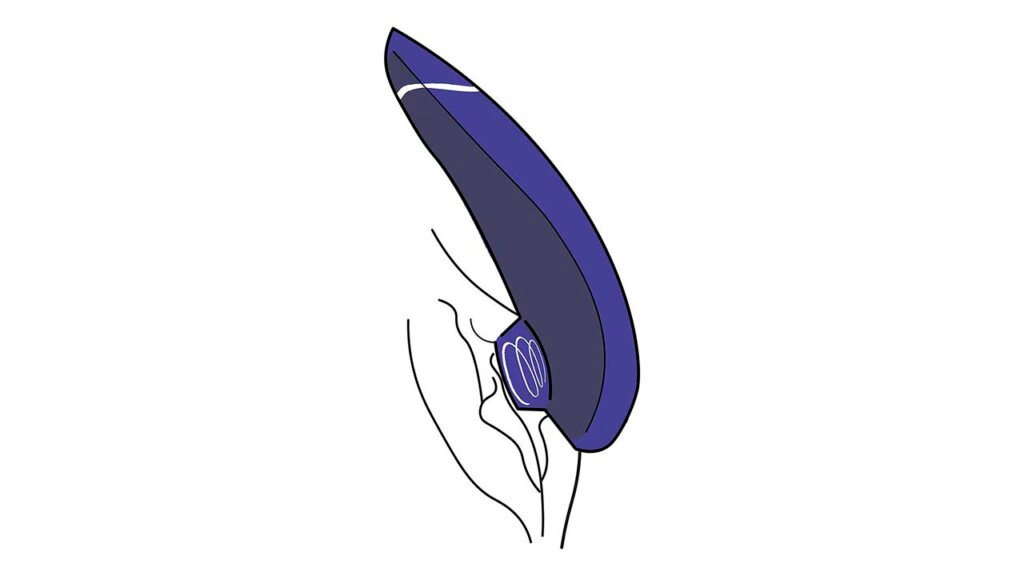 The Power of Lube
If you have trouble positioning the suction head just right, then lube is likely the answer. Using lube will make it much easier to guide the suction head over your sensitive skin until you hit the sweet spot. Remember to use a water-based lube that is safe for use with sex toys.
Suck It to Me!
Most Womanizer stimulators give you the option to change the suction head. A new suction head will give your stimulator a whole new lease of life hygienically speaking, but it can also have an impact on the stimulation itself. Try a small head if you want extra intensity or a medium-sized one if you find the lower levels to be stimulating enough.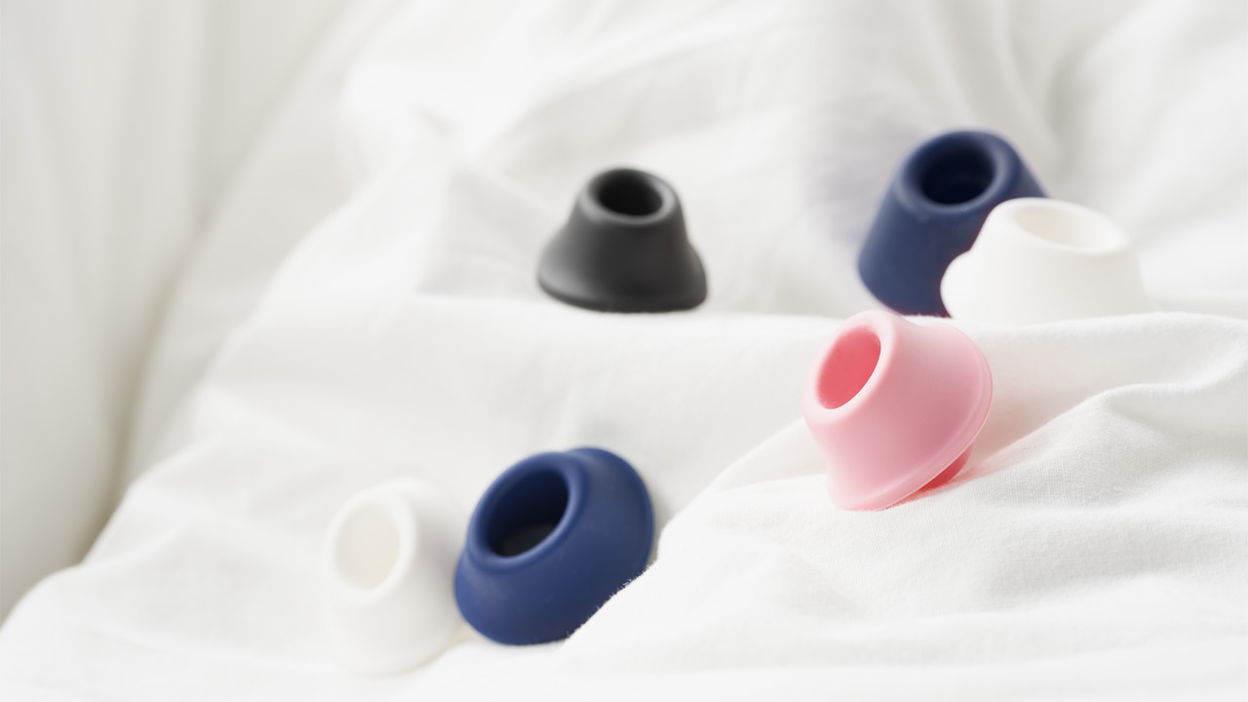 Treat Yourself in the Bath
Many women find it easier to attain orgasms when they are completely relaxed, which is why bath time offers the perfect chance to indulge in a little extra self-care.
Fortunately, most Womanizer models are waterproof, so there is no excuse for not taking it for a spin at least once under the shower or in the tub.
Try putting on some gentle music, lighting a scented candle and pampering yourself with an exquisite body scrub before switching on your clitoral stimulator. Allow your body and your senses to drift with the mood and shut out all thoughts of nosey neighbours or rising water bills.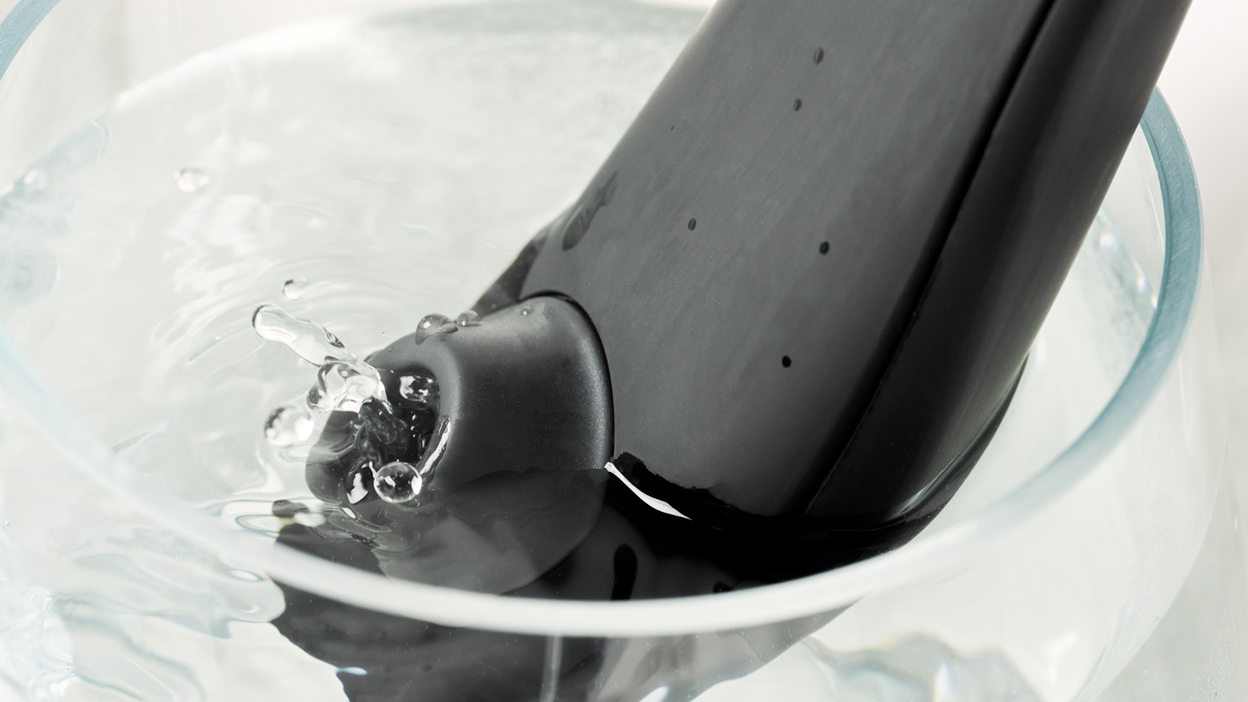 Patience, My Dear
Exactly how long it takes to become fully aroused and to reach orgasm is something that differs from woman to woman. Moreover, using a new sex toy can take a bit of training and getting used to. Luckily though, it's a much more enjoyable form of training than what you're used to doing down at the gym.
Orgasms in a Tube
If you feel like you need just a little push to get you over the finish line, then try reaching for a tube of orgasm cream or gel. For example, one that we would recommend is Kaerlig Organic Orgasm Gel. This type of product increases the blood supply to the clitoris, making you extra sensitive to touch. This can make it easier to achieve orgasms and even increase intensity, too – especially when used together with a clitoral stimulator.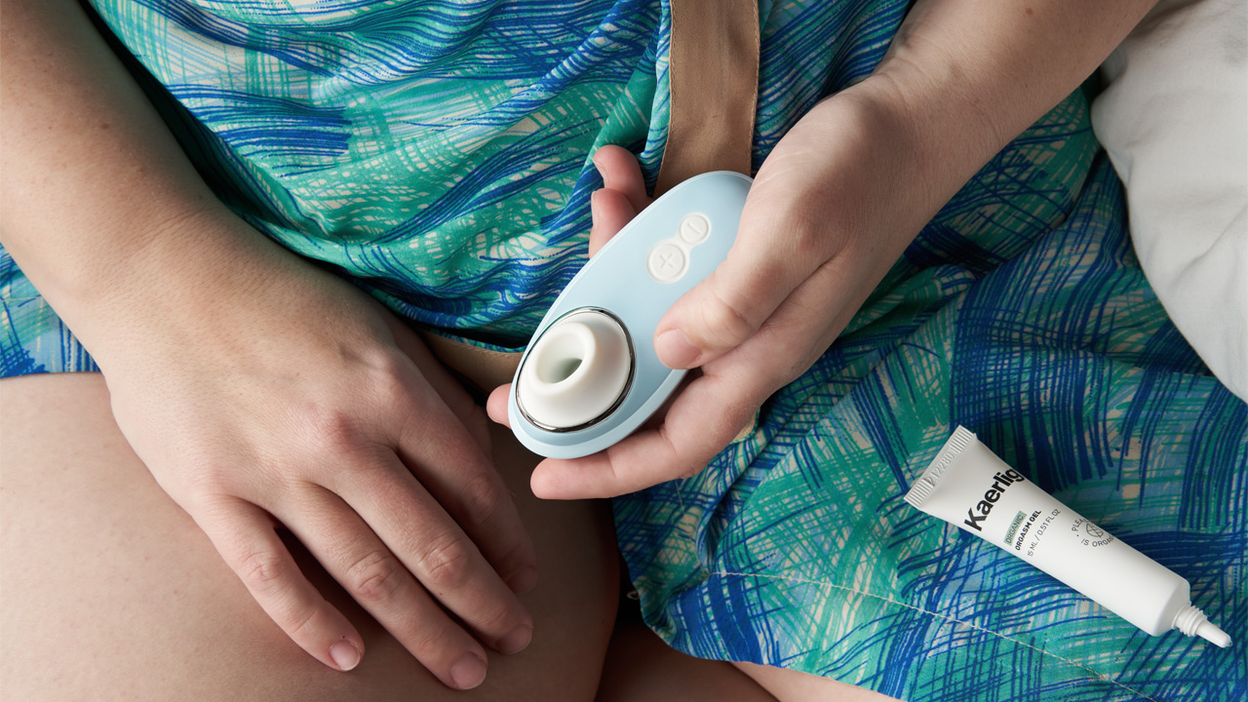 Guide: Using a Womanizer Together with Your Partner
Even though there is not (yet) a dedicated Womanizer for couples (or men, for that matter, although there has to be a Manizer in development somewhere), you can still definitely introduce your partner to your new best friend. They will most likely be thrilled to see you enjoy it again and again. And so why not bring all that pleasure into your lovemaking as a couple?
Oral Heaven!
If you want a one-way ticket straight to seventh heaven, try using a clitoral stimulator during oral sex. The Womanizer Premium is particularly well-suited for this because of its Smart Silence function, which means there is no need to switch the stimulator on and off during use and you won't be distracted by any irritating rumbles or noises.
Get your partner to alternate between using their tongue and the Womanizer so you can enjoy both oral pleasure and intense stimulation at once. This is an effective and highly pleasurable way to build up to orgasms and a great form of foreplay.
The Womanizer is also a great toy to experiment with during intercourse. Your chances of experiencing an orgasm during penetration will be much greater when the clitoris is stimulated as well, so there is no excuse for not giving it a shot. Simply dive in and try it out in your favourite positions or check the positions below for some inspiration.
Spooning
This position just so happens to be a great place to start. If you lie on your side with your legs together and bent, then your legs will actually help you to hold the clitoral stimulator in place. At the same time, your partner can penetrate you from behind and even hold the stimulator for you if you want your hands free to explore elsewhere.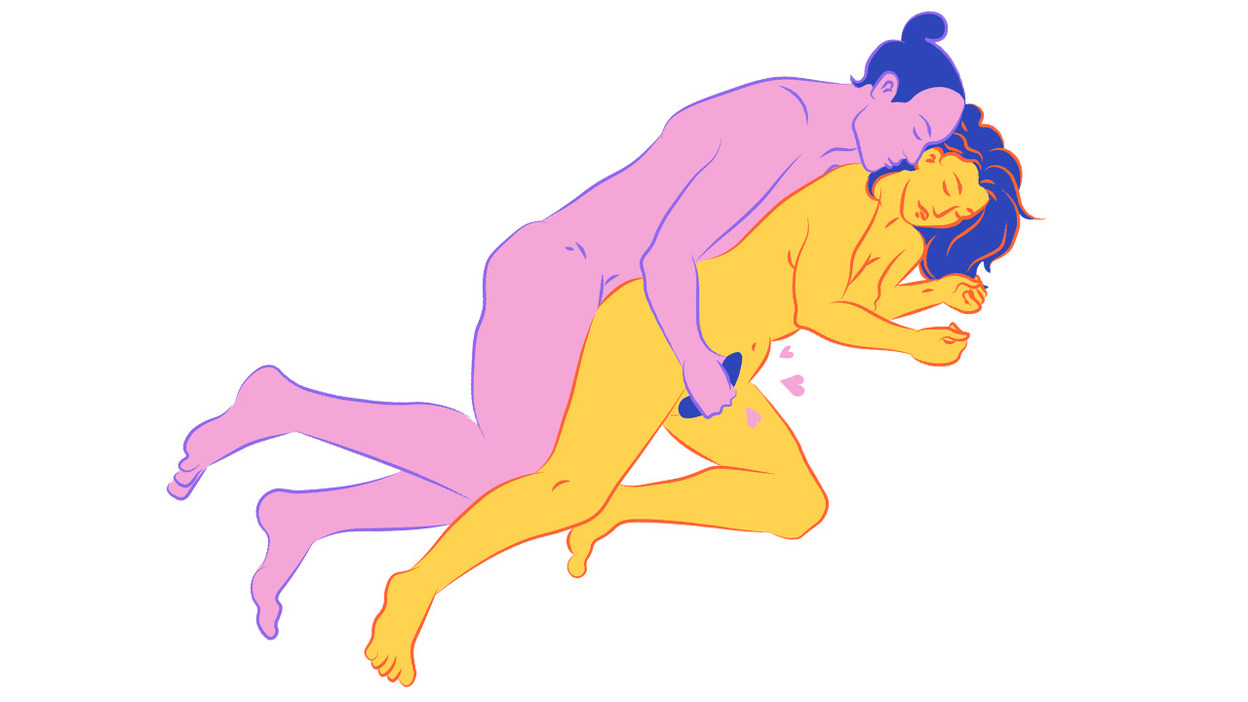 Doggy style
The classic doggy style is another good position to try. Get your partner to penetrate you from behind so you have free reign round the front to position the Womanizer just right.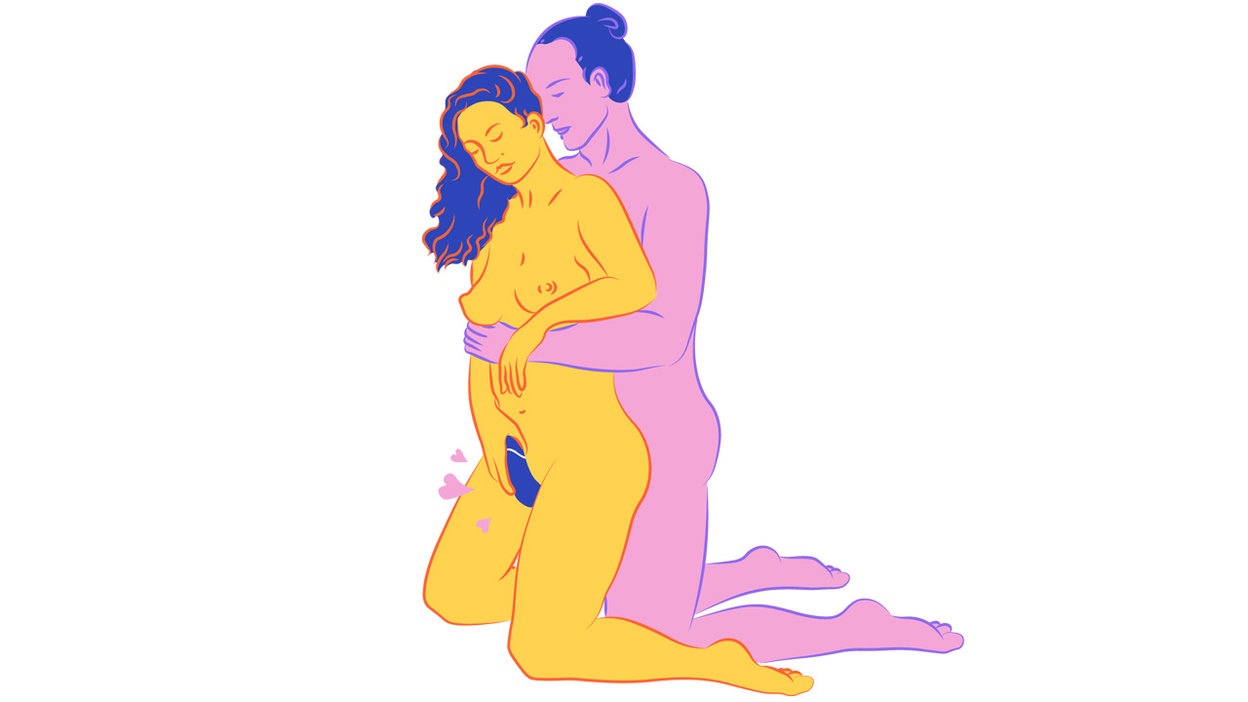 Flat on your tummy
When lying on your stomach, your weight will help to hold the Womanizer in position. With a little practice, it may even stay in place all by itself so you can use your hands for other things. This position gives your partner free access to your bum, so they probably won't even notice your Womanizer, except of course for when you start moaning loudly.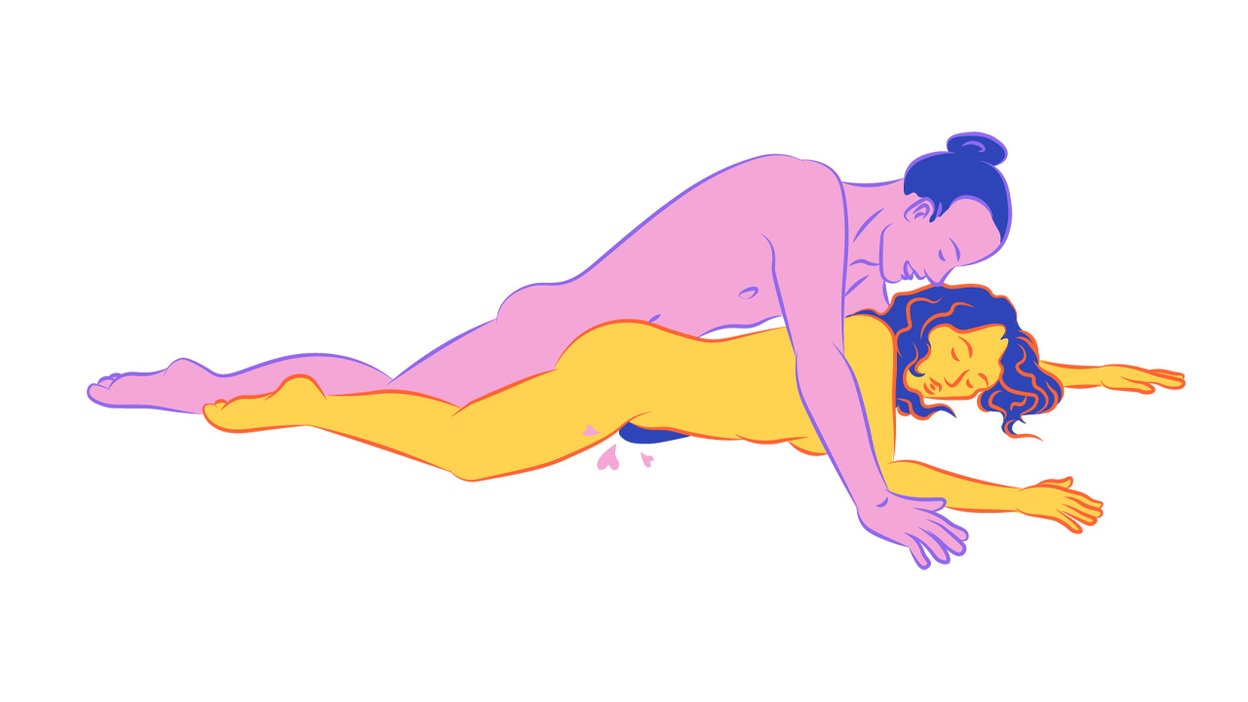 Get inspired to try new sex positions with our guide.
Have fun!