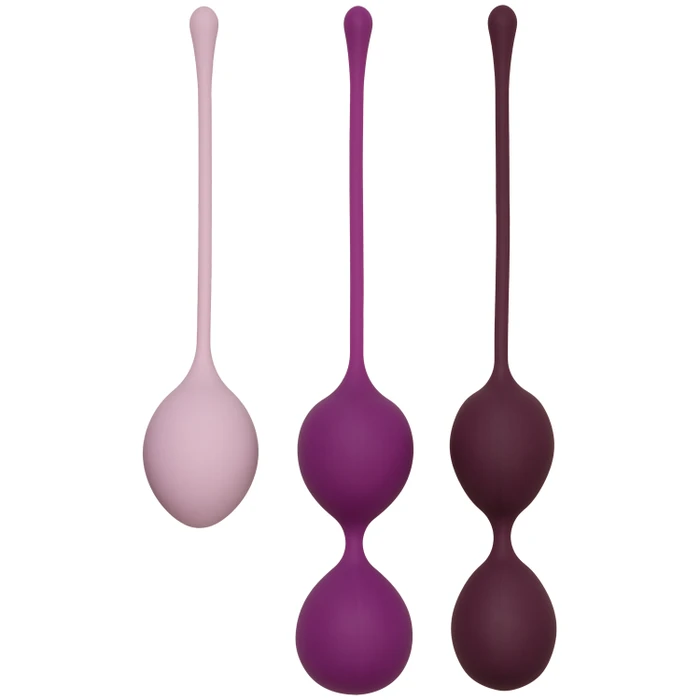 Amaysin Triple Kegel Exerciser Balls Set
In stock
Delivery 3-6 days

Sinful Aqua Water-based Lube 100 ml

Sinful Clean Sex Toy Cleaner 100 ml
Overview
The Triple Kegel Exerciser set from Amaysin is here to take pleasure to another level. Whether you would like a stronger vaginal grip simply for the pleasure of it or to help prevent unwanted leakage, this set is here to help.
Training your pelvic floor increases sensitivity in the vagina, which can intensify orgasms and make sex even better. In addition, strong pelvic muscles are the antidote to incontinence.
Inside each of the balls is a smaller ball that rotates when you move. This keeps the muscles in the pelvis activated and may be a source of delightful sensations.
Each kegel ball in the set has a long cord that allows you to easily remove them, once you are done with training.
This superb set of kegel balls includes a lightweight single ball of 45 g that is ideal for beginners; a slightly heavier double ball of 75 g that is the perfect next step once you feel ready for a slightly bigger challenge; and a heavy double ball of 95 g that is well-suited for the experienced user.
The kegel balls are made of medical silicone with a feather-like, soft feel. Gyneacologists and midwives recommend that women of all ages train their pelvic floor. Use the kegel balls as often as you'd like for more pelvic floor control, a stronger vaginal grip and heightened sensitivity to increase pleasure for both you and your partner.   
Brand
Amaysin
Product Weight (g)
217
Full Length (cm)
14.3 | 19.5
Insertable Length (cm)
4.5 | 8.5
Diameter (cm)
3.2 | 3.3 | 2.9
Primary Material
Silicone
Colour
Rose, Purple, Bordeaux
Recommended Lube
Water based
Language
Danish, English, Norwegian, Swedish, Finnish, French, German, Dutch
SKU
22469
No one has reviewed this product yet.
Benefits