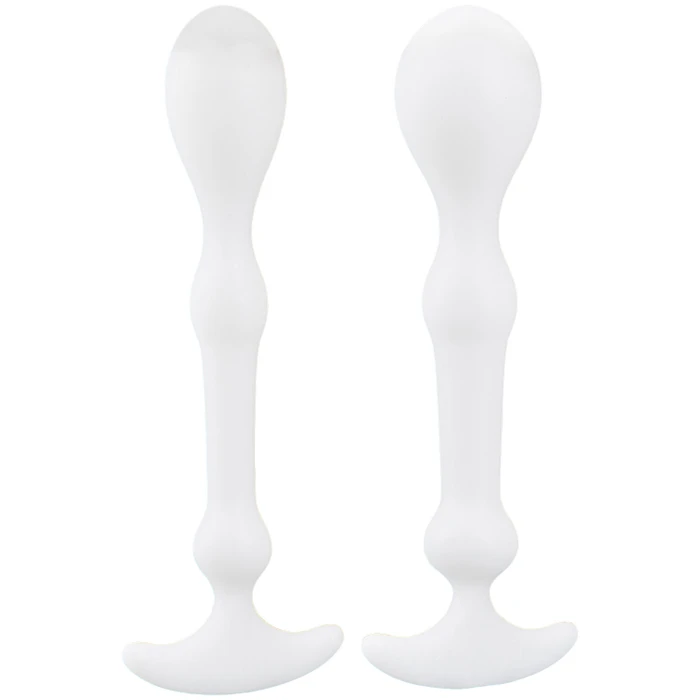 Aneros PERIDISE Anal Stimulator Set of 2
In stock
Delivery 3-6 days

Sinful Clean Sex Toy Cleaner 100 ml

Sinful Anal Water-based Lube 100 ml

Sinful Anal Relax Gel 50 ml

Sinful Soft Comfort Anal Douche
Overview
Aneros PERIDISE Anal Stimulator Set of 2 is the perfect kit for you to achieve even greater orgasm potential by strengthening your pelvic floor. The kit consists of two anal stimulators, each of which has a different size and weight. Thus, gradually challenging your pelvic floor muscles. Both Peridise stimulators have a slight curved form which gives gentle hands-free rear stimulation, when you alternately contract and relax your pelvic floor muscles.
Which of the two anal stimulators you should select, depends on the strength of your muscles. If it is the first time you're trying pelvic floor training with a sex toy, we suggest you try the large Stimulator first. Although it weighs more than the small stimulator, the size makes it easier for the body to hold the stimulator in place and therefore it is easier to train with it. The design makes it easier for you to be able to tell what is happening when training your pelvic floor and it can be of particularly helpful when you have just started, so that you are sure you are doing it correctly. If your muscles are already strong, you can try training with the small stimulator, which is more difficult for the body to keep in place and thus more challenging for your muscles.
How to use the Aneros Peridise Beginner Anal Stimulator Set of 2:
Find the anal stimulator that suits you best, before first time use, and insert it in your anus. Try to insert and hold on to the stimulator with your anal muscles and then thereafter relax. Repeat the exercise for a few minutes, a few times a week and increase the frequency of it if it feels natural for your body.
Note! Peridise should always be used together with a good lubricant, as the lubricant will ensure that the stimulator can glide freely. Lubricant also makes the Peridise more comfortable for insertion, because the body does not naturally produce lubrication in the anus.
Peridise is a unisex product and can therefore be used by both women and men.
Brand
Aneros
Product Weight (g)
32
Full Length (cm)
10
Insertable Length (cm)
9
Diameter (cm)
2.2
Width (cm)
2.2
Primary Material
ABS-plastic
Colour
White
Recommended Lube
Water based
Language
English
SKU
10003
No one has reviewed this product yet.
Benefits