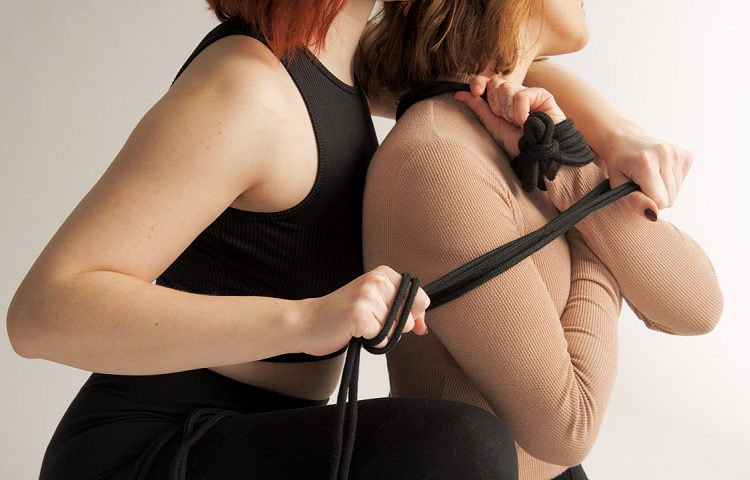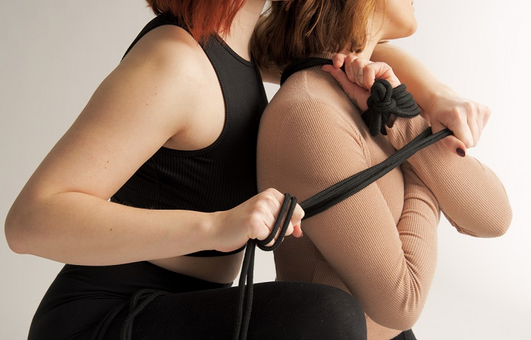 Bondage Rope for Beginners - The Ultimate Guide
The first letter in BDSM stands for bondage, also known as fixation or restraint.
This kind of restraint does not necessarily need to involve pain or dominance, although it might for most bondage enthusiasts - it's important to remember that you and your partner have the freedom to decide what it means for you.
Many bondage ties originate from a 'single column tie', and this is also the first tie that you must learn. You will, of course, receive detailed instructions for this later in the post.
It's the obvious beginner's knot, and in this blog you only need to learn one tie to open the door to many opportunities for great fun…
You will also get inspiration for playing with bondage ropes, even if you are completely green to the practice, and we'll also make sure that you stay safe.
But first, let's start by making you wiser about shibari and where this bondage rope practice comes from. You may have even guessed it already.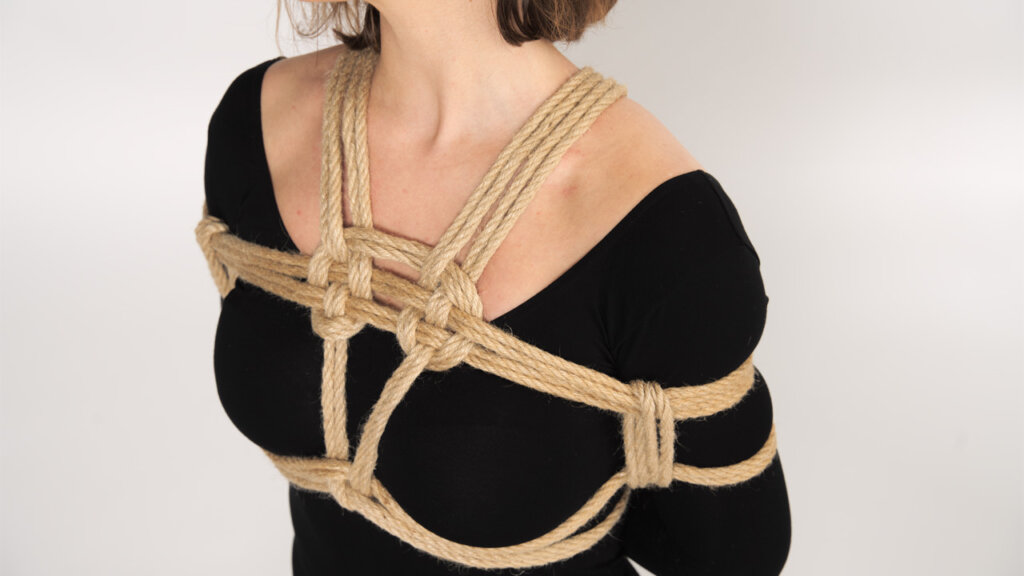 The Story Behind Shibari
One type of bondage that is extremely popular is shibari, also known as Japanese rope bondage. It most closely resembles a form of rope art due to the various knots and the way the rope is fitted snugly around the body.
In short, shibari means 'to bind', and the technique can be traced back to the 17th century, when the samurai used them. The method has since evolved into a more spiritual and sensual direction.
Here, one might be tempted to think that it's all about the bondage rope itself or the loss of control that comes from being bound, but it's actually the mental and spiritual aspect that's in focus. Intimacy, achieved through the loss of control and the feeling of comfort between you and your partner, is central to shibari.
The shibari method is the connection between two or more people. It can be compared to a dance where someone is taking the lead and others let themselves be led. The bondage rope thus becomes a tool creating intimacy, trust and playfulness with each other.
This type of bondage does not have to have a sexual focus. It can be used as a meditative practice. You can easily tie bondage rope over clothing, and there is no need to only focus on sexual satisfaction. You can use it for the purpose that feels right for you.
Now that you've gained a good basic knowledge of the subject, the next questions to be answered are about bondage ropes. But before we get to that, we have a little trick for you.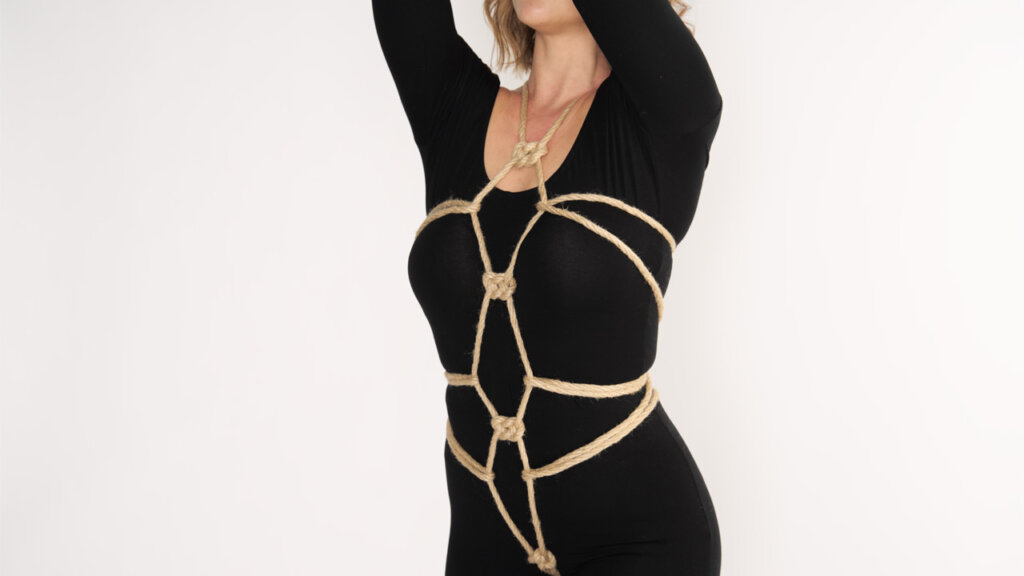 Start With the Bondage Rope Here
Whether you are completely new to BDSM or already have experience, obaie is a really good brand to start with.
You get a large selection of kinky products, which means it's a short distance from fantasy to action.
Obaie also has products made from different materials, so you will definitely find something that fits your needs and your budget.
The products in the pictures of this post are from obaie, so you`ll get an idea of what the scratchy hemp rope or the soft cotton rope can do for you.
Further down, we'll discuss various obaie bondage products that you can experiment with if you want to start with something other than rope.
But for now, let's get back to what this post is really about.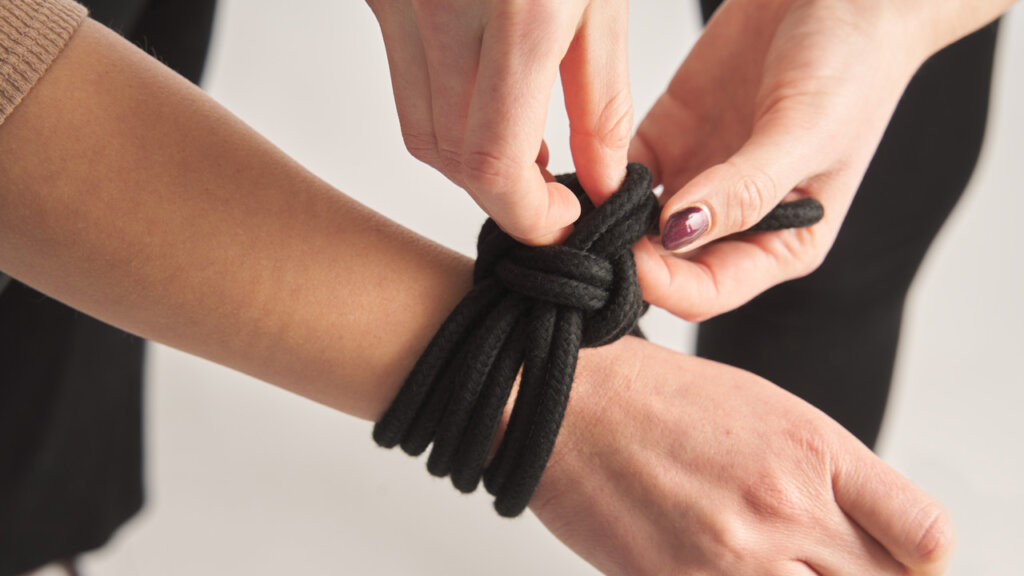 What Can You Use Bondage Rope For?
Even if it's not a rule, bondage play is most often a dance with pain. For many the opportunity to completely give in and surrender blurs the line between pain and pleasure.
That's because a trance-like state can occur in the brain when multiple centres get affected by pain at the same time .
So, how can bondage play improve your relationship?
The Sexual Aspect Between You
Sensually, it can give you a new perspective on intimacy and togetherness.
While it can be a very playful experience, bondage play can develop into something primal and very erotic once you find a rhythm that works for you.
You may experience a rush of endorphins that gives you a euphoric feeling once you completely surrender to the bondage rope. And while pain might be present, it can actually aid you in reaching a sort of meditative mental space once you completely let go.
Trust - Devotion and Play
Look at the bondage rope as an aid in letting your bodies interact in a new way. Play with softness and intimacy, or introduce more assertive movements and tempo changes as you tie the ropes and find new positions.
Play with emotions and explore each other's responses. The rope does not need to be the focus of your play; the main purpose of bondage play is to aid you in stepping into a new dimension of intimacy between you and your partner.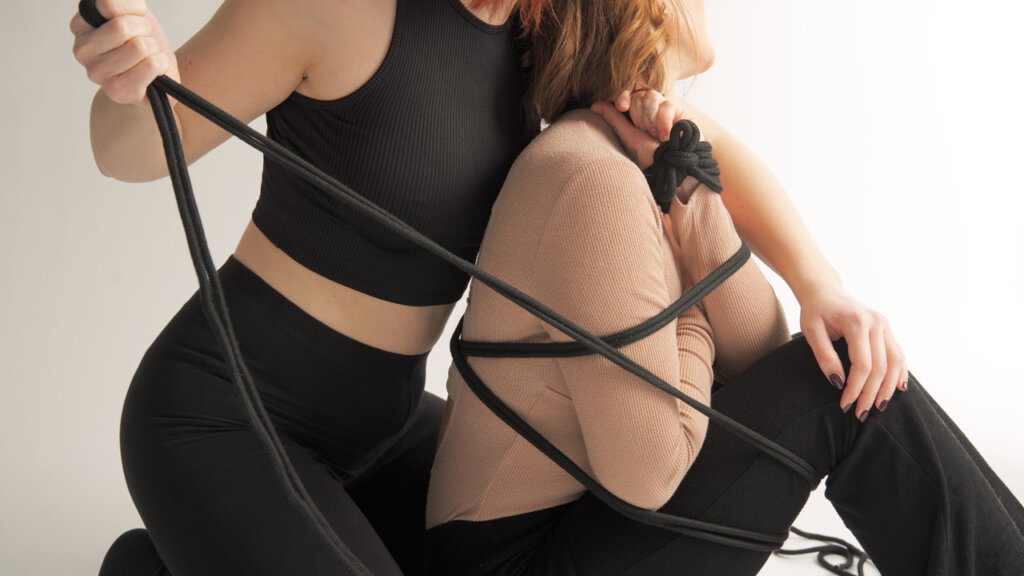 Release Control
Get out of your head and let your body guide you. If you're the one getting tied up, your partner should have your full trust. Allow yourself to only focus on how your body feels. Give up control and surrender yourself. That way, you get the opportunity to experience the endorphin state that we mentioned in the beginning.
Both Trust and Technique Take Time
Although various videos make it look playfully easy to tie advanced knots, this is not truly the case, as most knots take time to learn and perfect. Additionally, it can take time to get used to being bound and to build the amount of confidence it takes to give in. It's important you find your own pace. Don't rush the process as it might push you to not wanting to continue your journey of learning more about bondage.
Which brings us to the next item on your kinky agenda.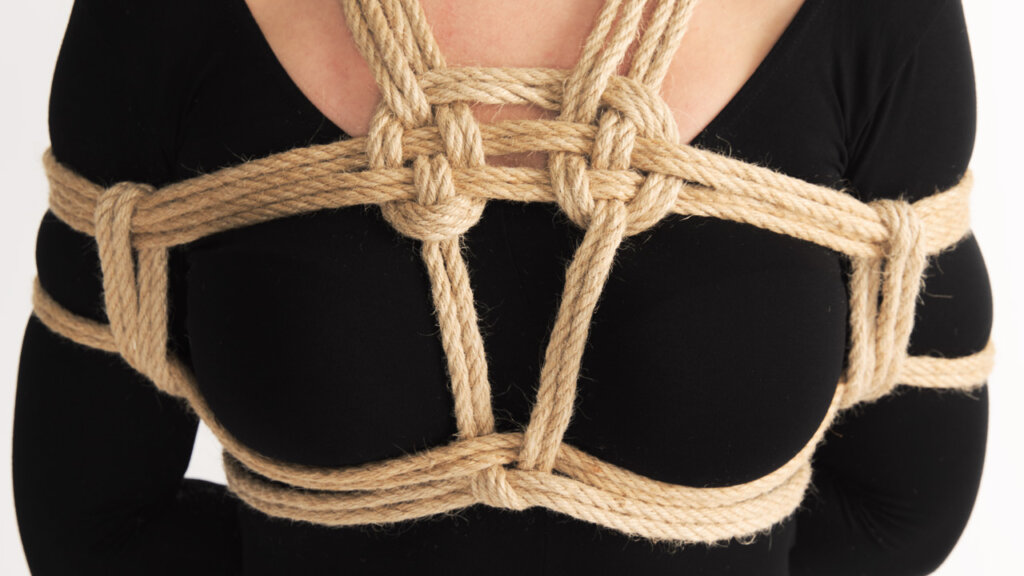 Safety Above All
At any stage of your bondage journey, it is vital that you prioritise safety. Here are 2 pillars of safety that are particularly crucial for the optimal experience.
Communication
Start by being curious about each other and discuss the following questions:
What type of experience do you want to have together?

Do you want to be playful? Or are you feeling the need for deep sensuality and intimacy?

Maybe you want to be deeply sexual?

Is there anything you are not okay with within that framework? Are there any clear boundaries you do not want your partner to overstep?
Reading each other's minds is an impossible task, regardless of how long you've known each other. It's important you feel comfortable clearly and openly communicating with your partner.
When you match expectations beforehand, your experience will get noticeably better. You don't have to agree on everything that needs to happen — it's about finding a common starting point.
As a bonus, creativity and playfulness are easily achieved when you've coordinated with each other, rather than if all options are left open.
Security
You already know it, of course, but we'll say it anyway: Safety first!
Stay on top of the technique and theory behind the product you have in your hands before you live out your BDSM fantasies.
For convenience, we have compiled the 3 most important safety rules when playing with ropes.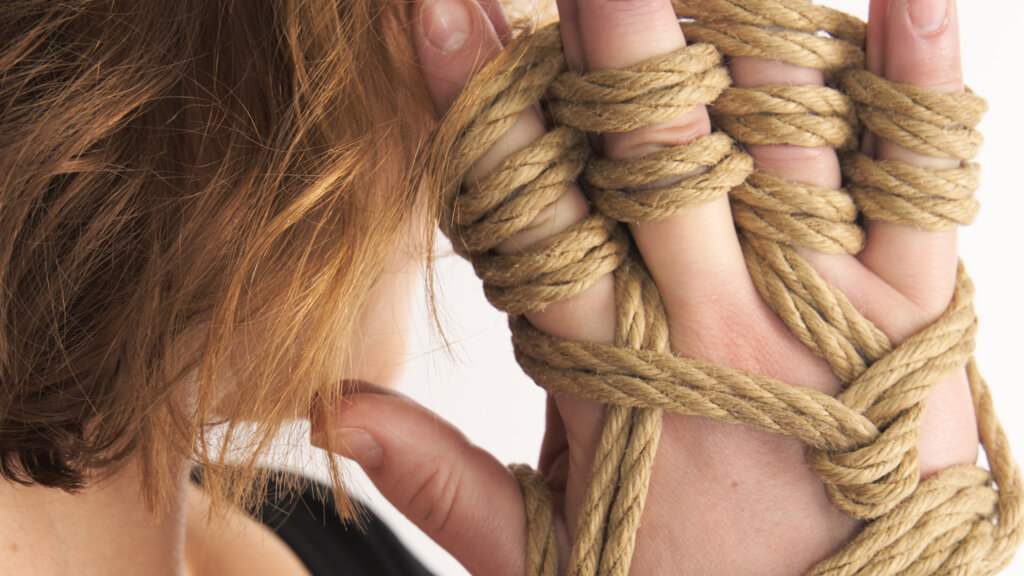 In case of emergency Since bondage is essentially the surrender of one's freedom of movement, it can be an intense experience to let go of such a large amount of control.
Therefore, it's important that you talk to your partner before, during and after the play. It's always a good idea to state how you want to be approached and taken care of if you react negatively to the experience of losing control.
Do you want to be unbound as soon as possible? Do you want to be hugged until you feel better and stay bound by the bondage ropes? Or something completely different?
You should also agree on a safe word or agree that you use the word 'stop' if something feels uncomfortable along the way or if you need a break.
Safety scissors Always have scissors nearby, and preferably in a spot where no-one is going to step on them and get hurt.
Never bind with something you don't want to cut if it becomes necessary.
Beware of the nerve pathways Do not tie too tightly — you should be able to fit two fingers between the skin and the bondage rope.
Even as a beginner, where you're not using super advanced knots, it's necessary to pay attention to the nerve pathways. The pressure of tying the bondage rope very tightly around the wrist for a long period of time can cause nerve damage. For that reason, you should always practice before you start playing.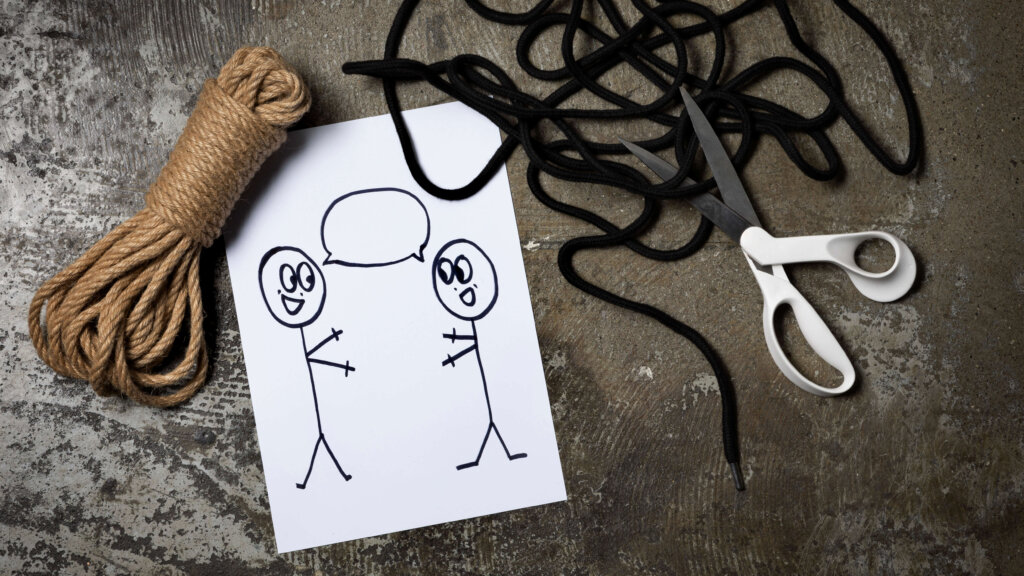 Beginner's Knot
And NOW we've reached the beginner's knot that we promised you at the start of the post: the single column tie—tying the bondage rope around one of the body's major "columns".
Why is this the obvious beginner's knot? That's because it's the tie that most others originate from.
This means that once you have this one nailed down, you have a good foundation for learning more knots.
In addition, there are a number of benefits that you should not cheat yourself of:
The knot is easy to get in and out of once you know the technique behind it. Also, you can quickly upgrade to the double column tie, as it's very similar.

You can practice on your own leg until you memorise it.

Use it on a cylinder-shaped part of the body, such as the upper arm, forearm, thigh, leg, abdomen (except the neck—that body part should be handled only by very advanced shibari practitioners).

The wide piece distributes the pressure on the skin to prevent it from scraping.
Your golden rule of thumb: it's important that you tie the knot the way it's meant to be tied and not invent things yourself. The bondage rope can slide and tighten itself without you noticing and thus cause damage to the nerve pathways.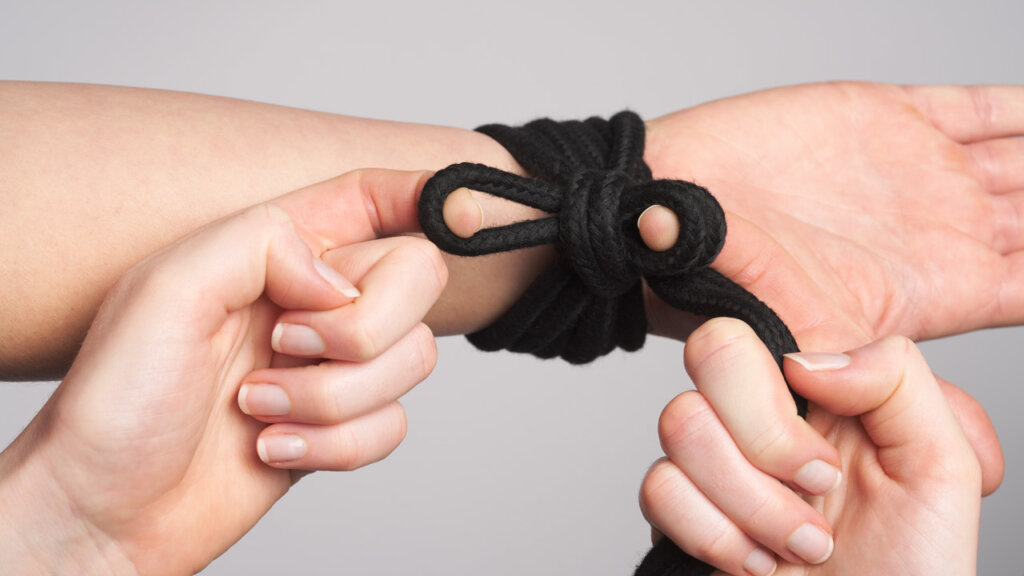 How Do I Tie a Single Column Tie? (Somerville Bowline)?
We have created a guide to make it as easy and accessible for you.
You can use a 5, 8 or 10 metre bondage rope to tie the knot.
1. Find the middle of the bondage rope, also called the bight. You may wish to place a completely ordinary knot here, so it's easy to find the bight a second time. Hold the ends of the rope in one hand and run the length of the rope through your other hand until you reach the bend of the rope - this is the bight.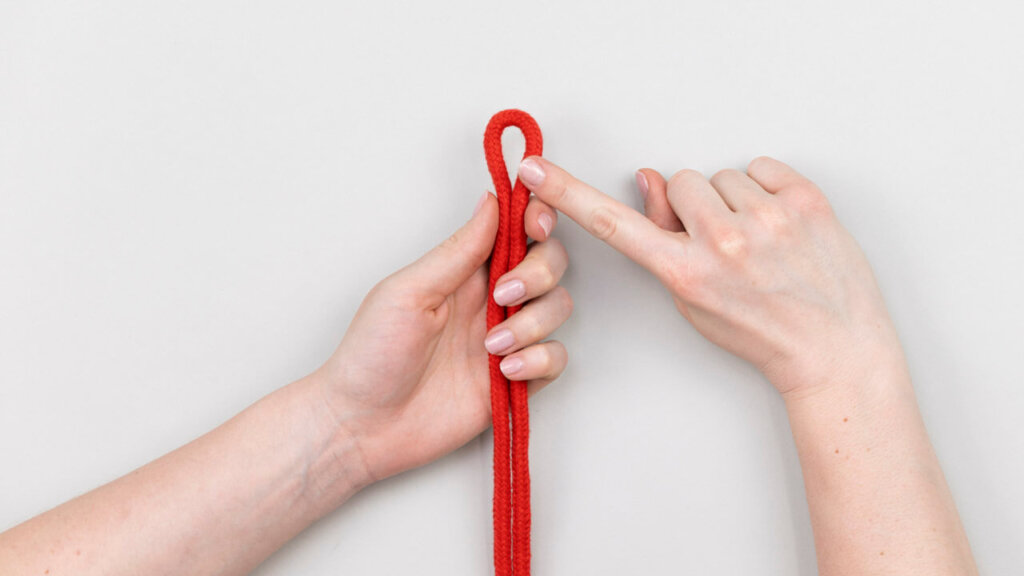 2. Loop the halved rope around your arm or leg three times until you have six straight rows of rope. Make sure you have some rope left to work with on the bight-end. The other end of the rope should be longer.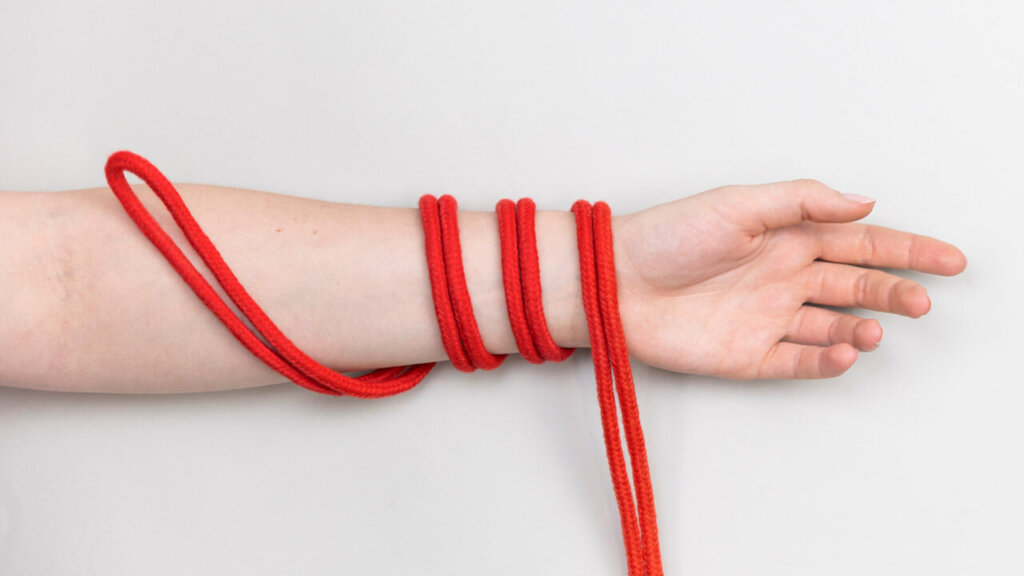 3. Create a loop with the long end of the rope and lay it on top of the rows.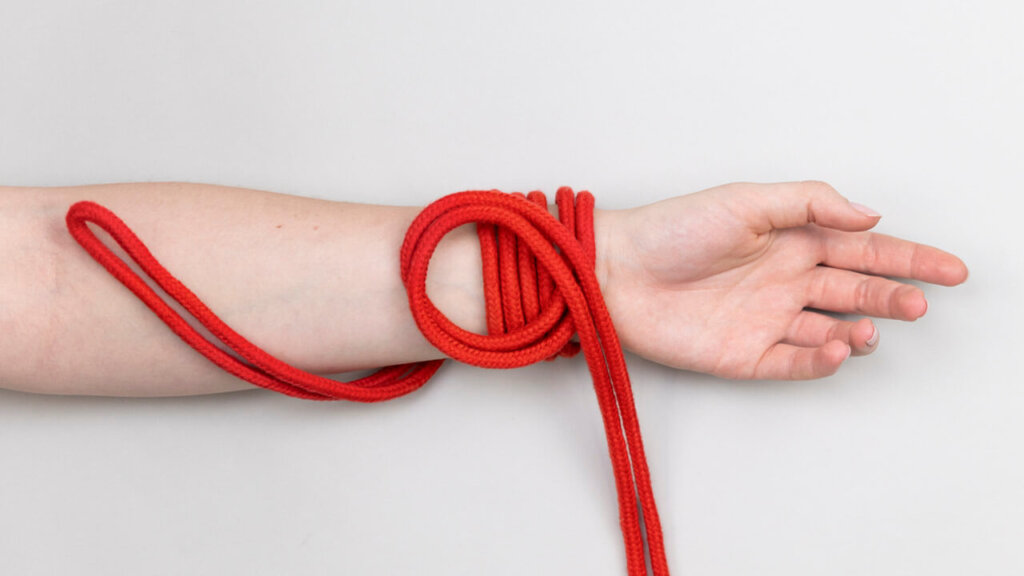 4. Pass the bight-end length through the loop you've just created.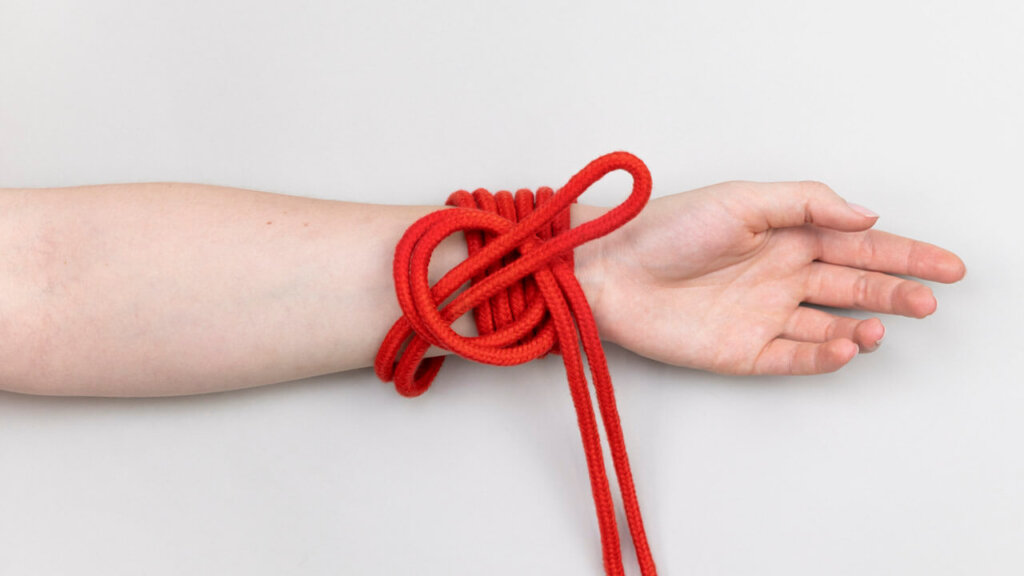 5. Tuck the bight-end behind the rows against your arm or leg (from right to left).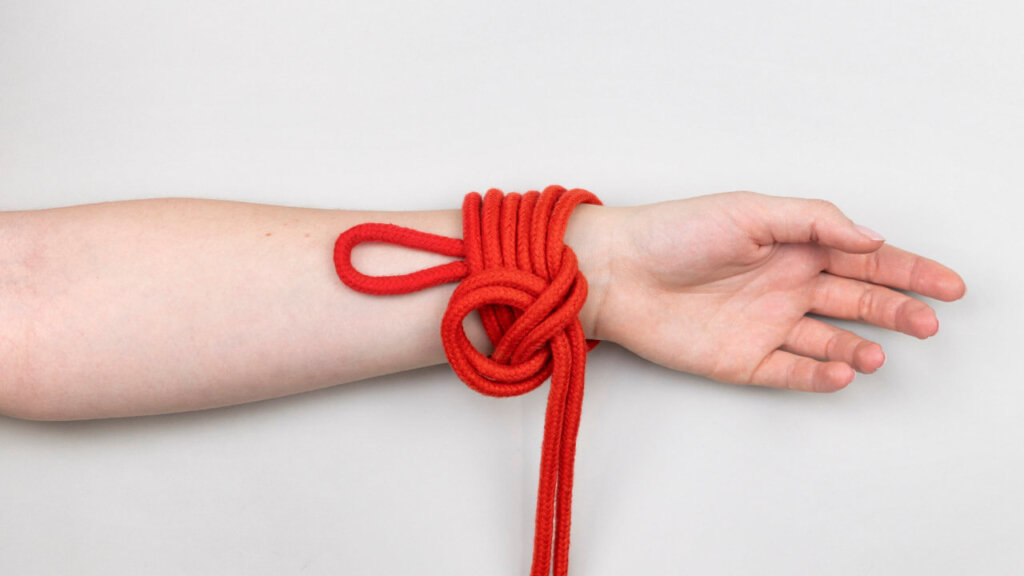 6. Using your fingers, reach through the loop on top of the rows and grab the bight-end of the rope. Pull the bight-end half-way through the loop and keep it secure while simultaneously tightening the long-end of the rope.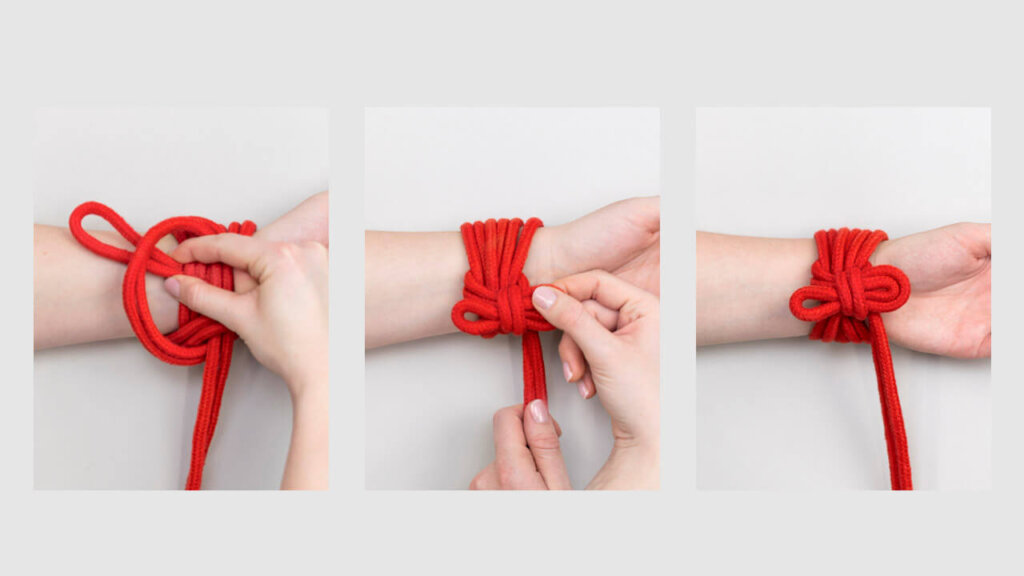 If you pull the bight-end of the rope all the way through the top loop, it will be difficult to untie. By only pulling it through half-way, it's simple to untie: just tug on the knot/top loop.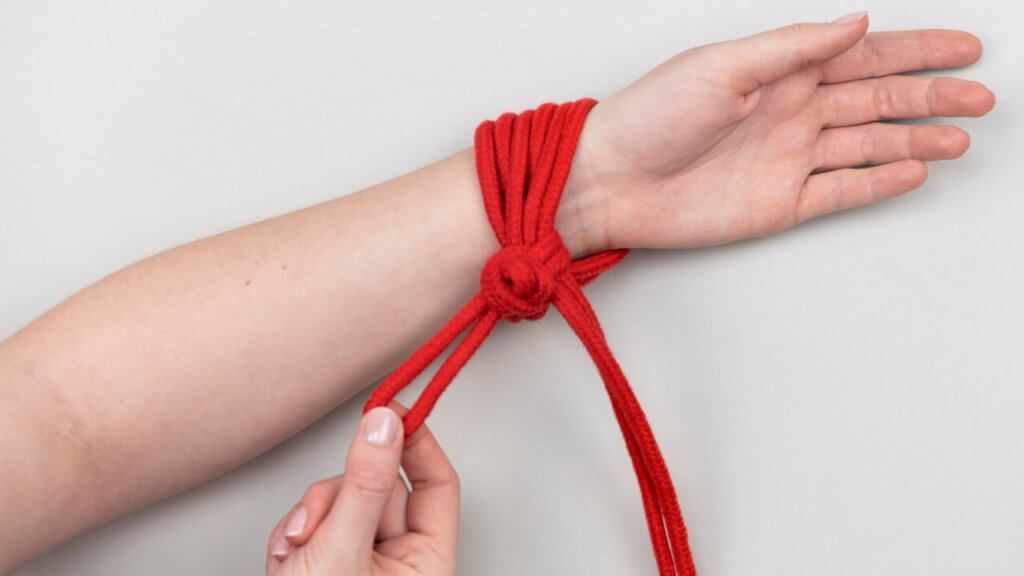 Once you've tied the knot:
Check if all the rounds are roughly parallel and are approximately equally tight/loose.

Check if the binding gets tighter when you pull on the excess rope (otherwise it's wrong).

Check if you can get at least two fingers in between the rope and the skin.
If you can tick all three points, the knot is absolutely perfect!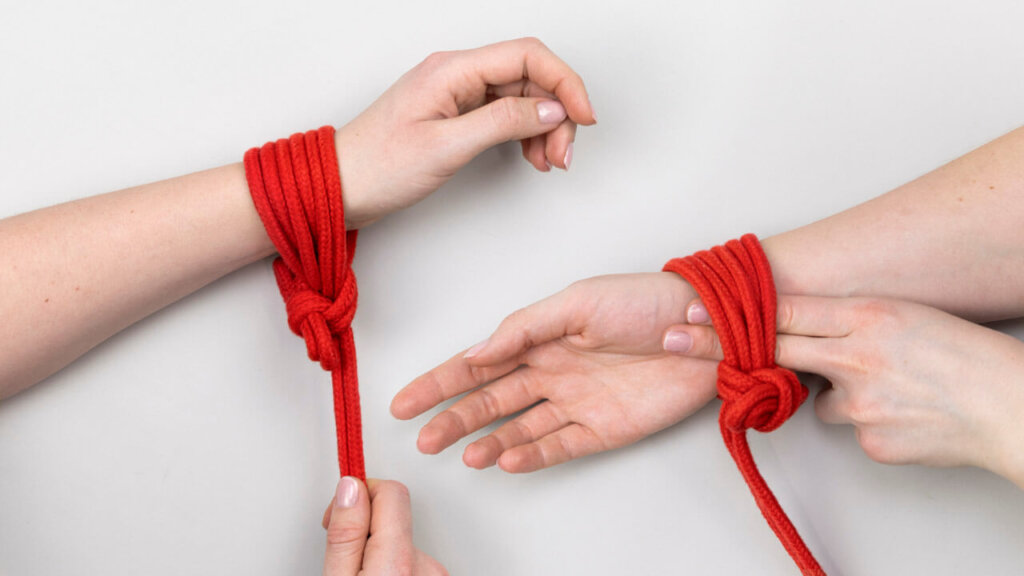 How Can You Use a Single Column Tie?
You know the knot, you know the safety rules, you have communicated clearly and openly with your partner, and now you are ready to play! But how do you use your new abilities with bondage ropes? We'll be happy to tell you.
The play starts when you find the middle of the rope. Yes, as soon as that.
For example, you can put your partner on their knees in front of you while you get a handle on the bondage rope. It creates an atmosphere of submission and anticipation.
You can run the bondage rope slowly through your hands to build tension, or you can do it quickly and assertively to show just how much control you possess in that moment. That way your partner can look forward to being handled exactly like that very soon.
When tying a single column tie, you can advantageously place your partner's hand on their thigh or chest for increased intimacy and presence while tying. That way, the fun of the bondage rope is already underway, even if you haven't tied a single knot yet.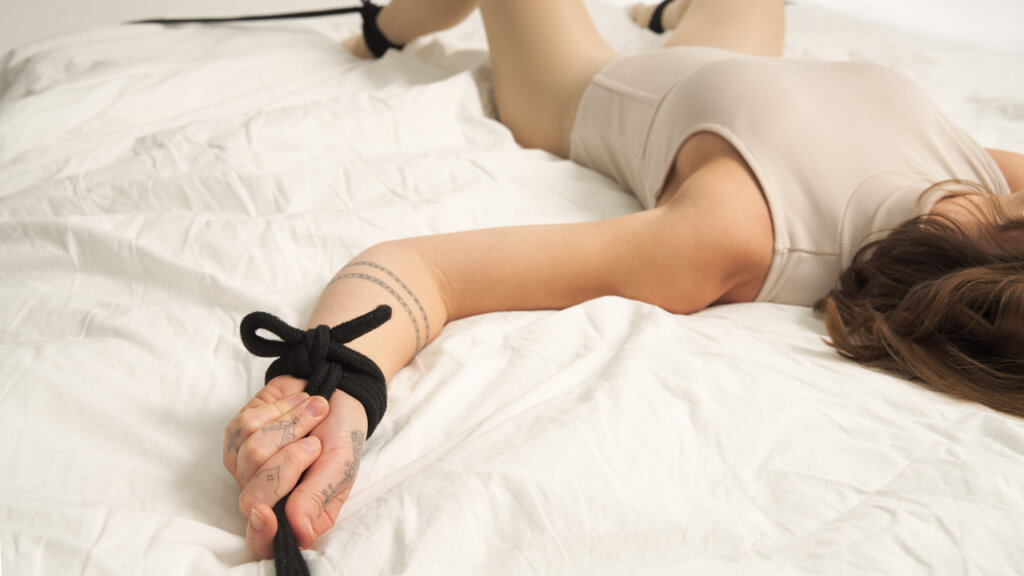 If you have four pieces of bondage rope, you can tie a single column tie on your partner's hands and feet and tie the long end to the bed rail.
It can be tied in a simple way with a quick-release knot (a knot where you don't pull the end all the way through, so that it comes to a loop) on the bed rail. This makes it easy to untie and tie again in a new place.
If you tie a single column tie on each arm, you can attach both hands either to the front or back of the body, all depending on the position.
The hands can also be positioned over the head or attached to the bed or other furniture, depending on where you are.
If you want a more varied flow, you can experiment with:
Tempo
Slow and sensual movements: the feeling of the bondage rope moving slowly across the skin.

Fast and insistent movements: Maybe your partner gets a little shock when you unexpectedly tighten the knot and their senses get heightened.
Distance
Up close: You can physically be so close that you can feel your partner's breath near your ear.

Farther away: How does it feel when your partner is at the end of the bondage rope and just admiring you from a distance?
Closeness
Tight: the feeling of being wrapped up so tightly that you can't do anything but surrender.

Loose: loosely tied ropes can give a tickling sensation on the skin.
Another important characteristic of a good bondage play is how you approach Aftercare. Set aside time and space to reflect on the play when you are done. Talk to each other about how it felt and what you would like for next time.
By doing this, the body and the brain can better follow the new experience. The simpler you keep the play the first few times, the easier it is to build on it later.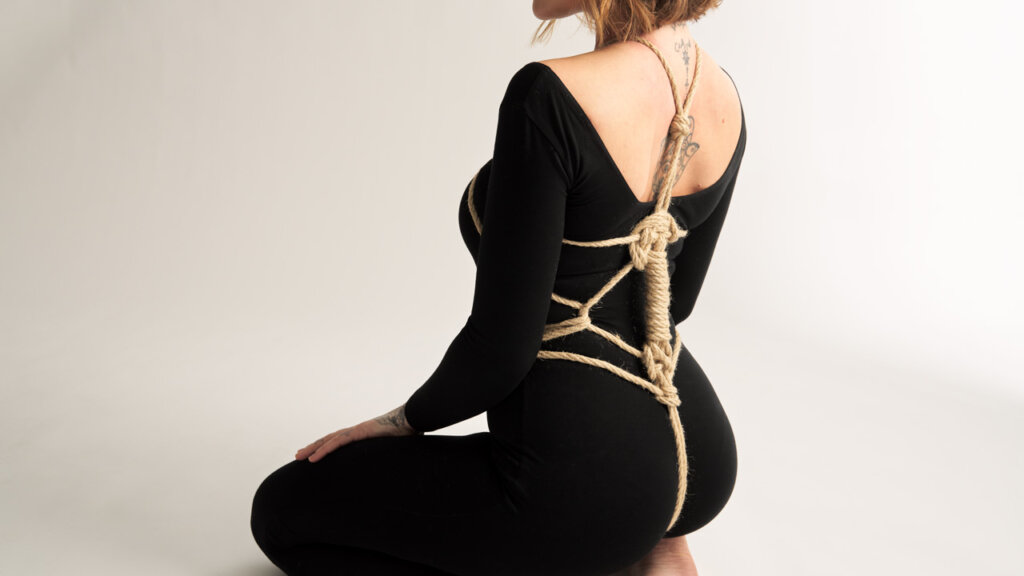 Alternative to Rope
If you're now sitting there thinking, "Stop it, it sounds confusing!", you should know that there are plenty of other ways to tie up your partner than just with bondage ropes.
You can start with cuffs.
While plastic strips, gift ribbons, and other things you find at home may be your first thought, only products specifically made for bondage use can guarantee safe play.
The beauty of cuffs is that they are available in different versions: velcro, buckles, leather, PU leather, fabric, with and without chains, so you can connect them to each other using small carabiners. This way, you can quickly change position along the way without removing the cuffs.
In addition, the wide strap distributes the pressure on the wrist so that permanent marks do not occur.
All cuffs can easily be used by beginners, these hanging cuffs in particular are a great start. Do not be intimidated by the fact that they look a bit kinkier, they are uniquely suitable for standing fixation. They can be used in all positions, and the ergonomic design gives the fixed party easier blood flow to the hands and something to cling on to.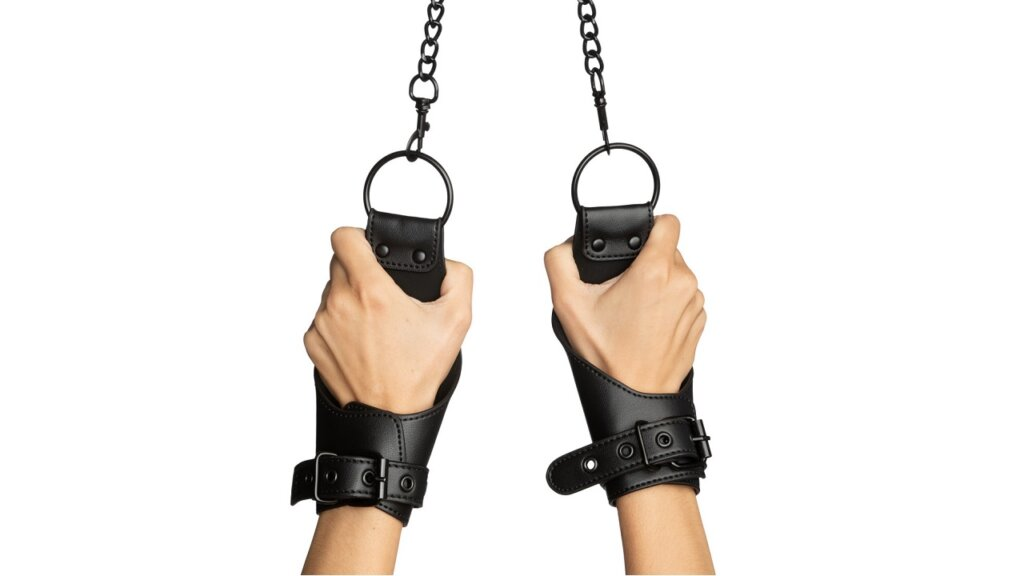 If you have already bought a bondage rope and given up on learning all those knots, you can use the rope with the cuff and tie it to the bed.
Also, there are always bondage kits that make it possible to fix your partner to a bed without a bed rail.
Whether you've already taken out the bondage rope or need to take the plunge, it's first and foremost about the intimacy and trust between you and your partner.
And playing with bondage rope is a great way to explore that.
Enjoy!
Related blog posts