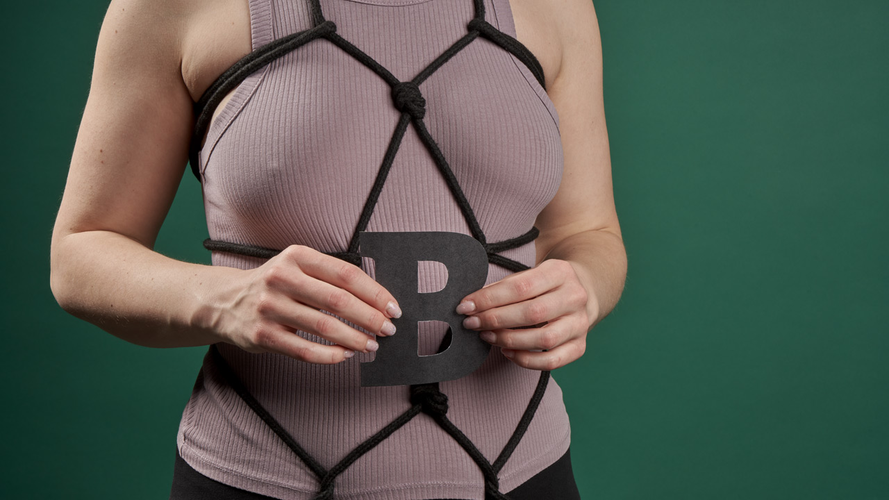 This blog post is the first part of a three-part series where you will get answers and insight into the alluring meaning behind each of the four letters in BDSM. 
The two following parts are already waiting for you right here: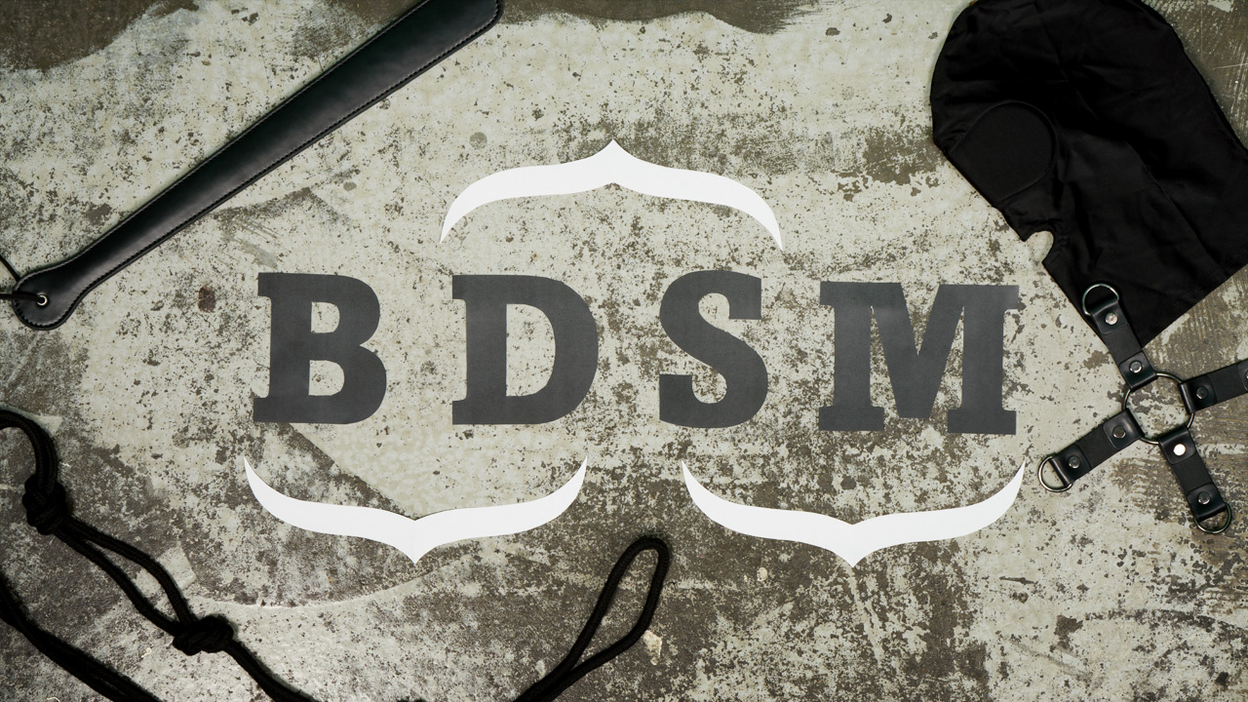 The first letter - B - in BDSM stands for bondage, also known as fixation or restraint.  
It means fixating the body and has nothing to do with pain or dominance.
Bondage can thus be about de-stressing, caring or being present in the moment.
The research unit 'Science of BDSM' at the University of Northern Illinois has investigated what happens in the body during fixation.
They found that during fixation, our fear response is triggered. This means the levels of adrenaline and cortisol in the body increases, the heart rate rises, and you clearly feel that your body is reacting.
At the same time, the subjects experienced a lower stress level—even though the body is actually more stressed.
The researchers believe it has to do with the fact that you know you're in a safe situation and therefore can accommodate the bodily reactions that happen.
Since the body is on high alert, there is no room for you to spend energy on thinking about things that stress you out.
So your memory is worsened, and your ability to think abstractly is impaired. In fact, you're forced by your brain to be present in the moment and in your body in a state of panic and complete calmness—which is otherwise primarily seen in extreme sports.
Now you know what happens in the body once you're fixated. You therefore need to know more about the three types of bondage: rope bondage, cuffs, and full-body fixation.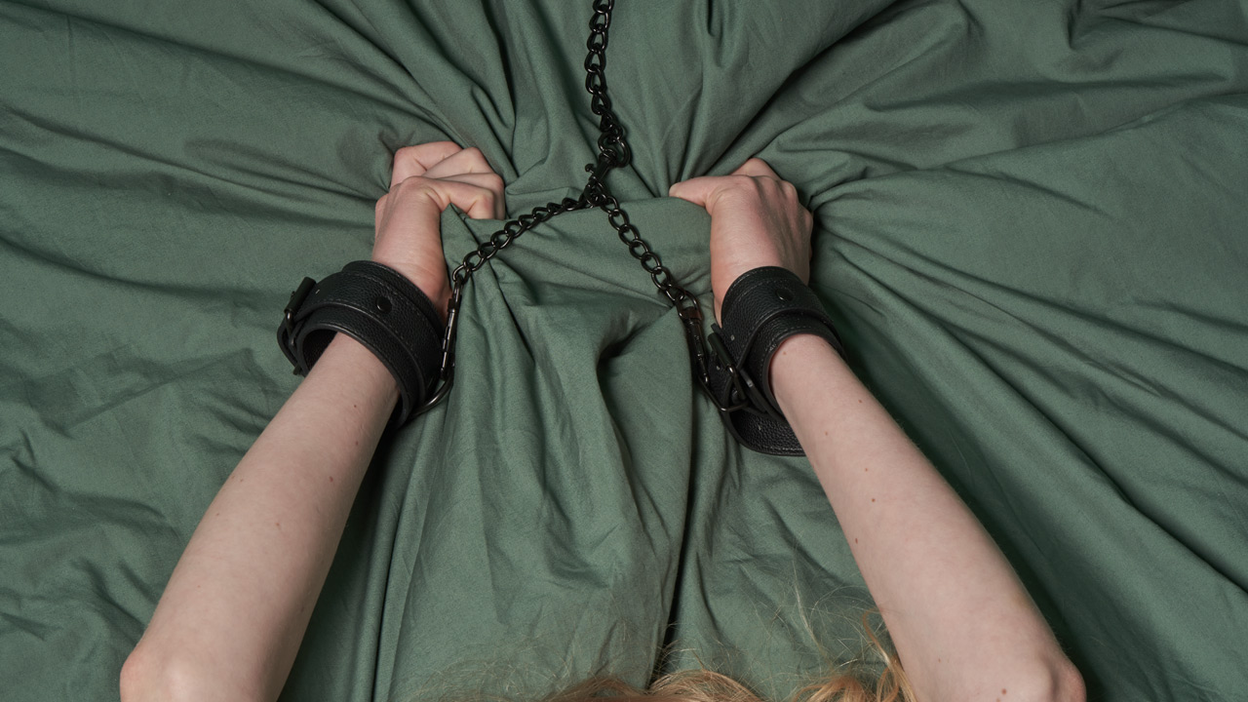 Cuffs
A simple way to play with bondage could be through the fixation of the wrists and ankles. This can be done with everything from handcuffs to silk ribbons, but I start with the most ergonomic type of fixation: cuffs.
Cuffs are a wide piece of material with a buckle that can be fastened around the wrists and/or ankles.
You can make fixation points around the bed, on the wall or in the ceiling, or you can attach the cuffs to each other, to a body harness or to a spreader bar.
Cuffs are often comfortable to wear and practical during play.
They can easily be hooked from one position to another via the included carabiner, so you can achieve diversity in positions without taking the cuffs off your partner.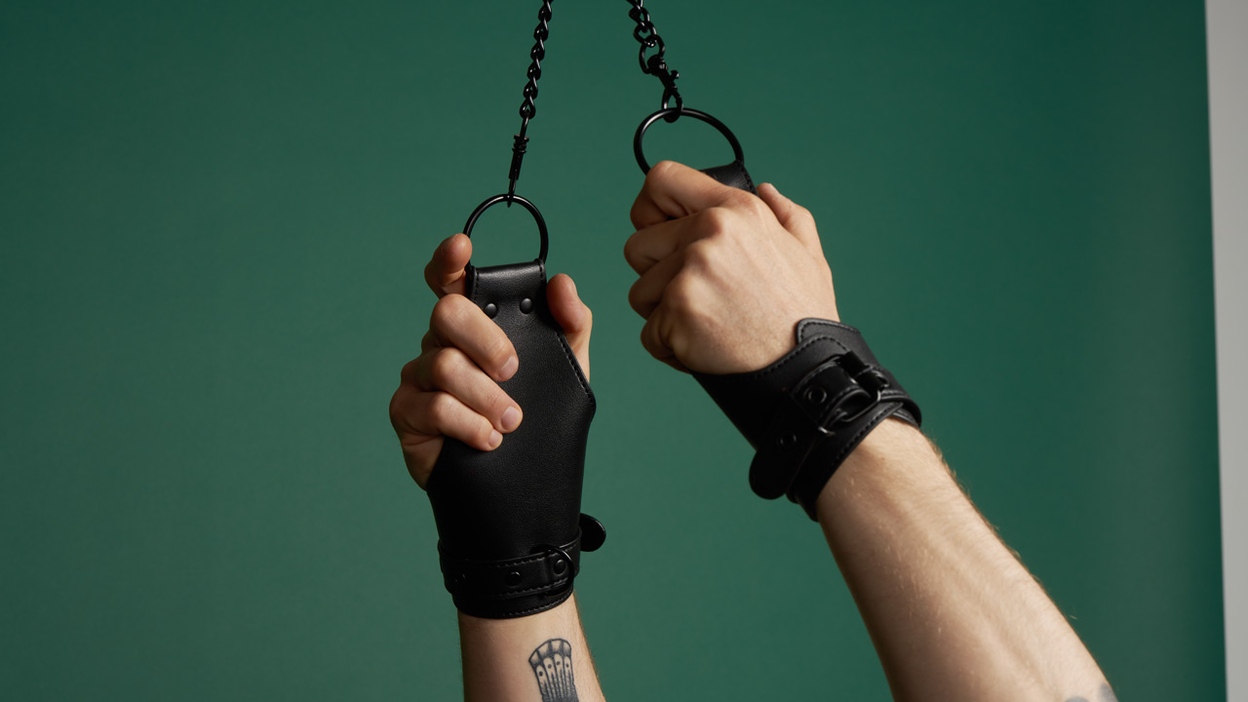 Rope Bondage
Rope bondage is what's called Shibari or Kinbaku—an artistic expression with rope.
Although it may look extremely relaxed, it's most often a dance with pain. Even so, there are many who do it for the sake of enjoyment.
A trance-like state can occur in the brain, which I mentioned earlier, when the body gets fixated. For the same reason, there are also many who use rope play to de-stress or for relaxation.
They experience a rush of endorphins that can provide a euphoric feeling in the body.
You can therefore easily try out tying each other up, even if you're not into spanking, for example, as these are two very different types of pain.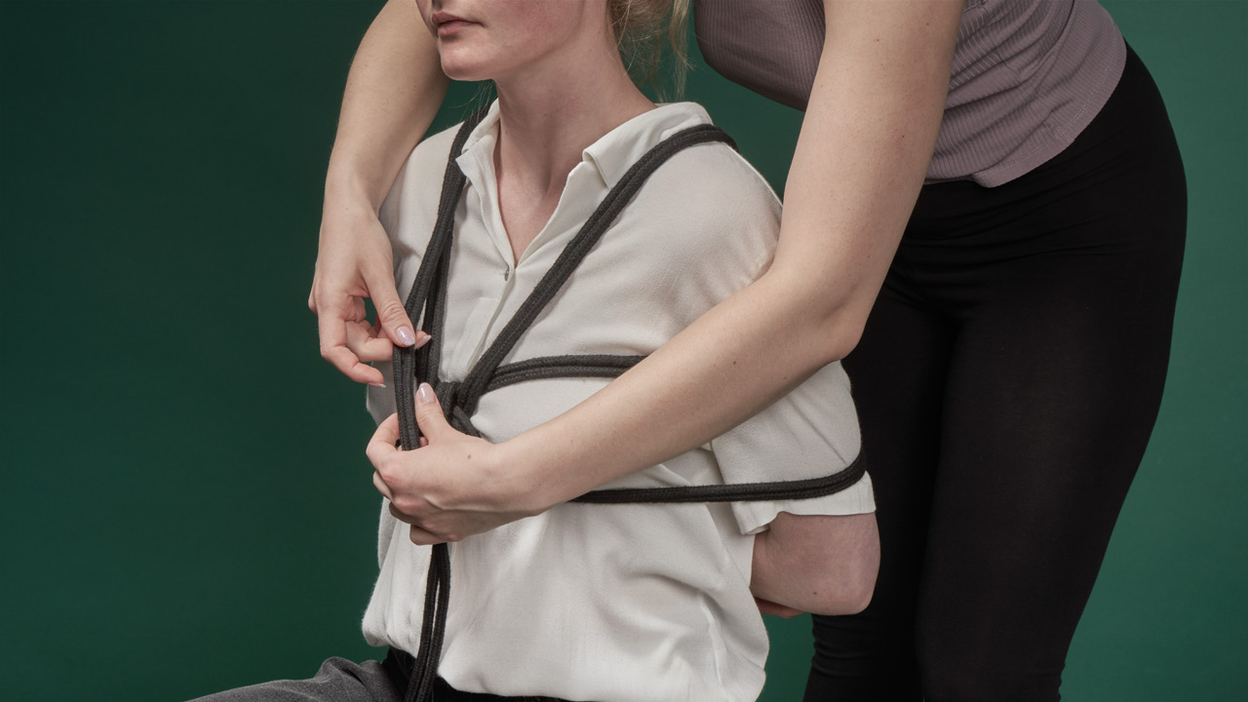 Be aware that it takes technique and awareness of rope safety to venture into that universe. Practise alone using videos, or join a rope course.
An obvious place to start is the ultimate guide to bondage ropes for beginners.
Playing with rope can easily be painless, especially if you don't make a suspension (are hanging in it) and don't tie so tightly.
If you wrap the rope around the body several times, the pressure is better distributed, hurts less and is more reminiscent of a hug. You can use a cotton rope, as it's extra soft. However, it's not suitable for suspension, as it's stretchable.
If you'd rather have painful ropes, then hemp ropes or jute ropes might just be the thing for you. They are also very suitable for suspension.
Remember to have safety scissors ready, and be aware of the nerve pathways in the body.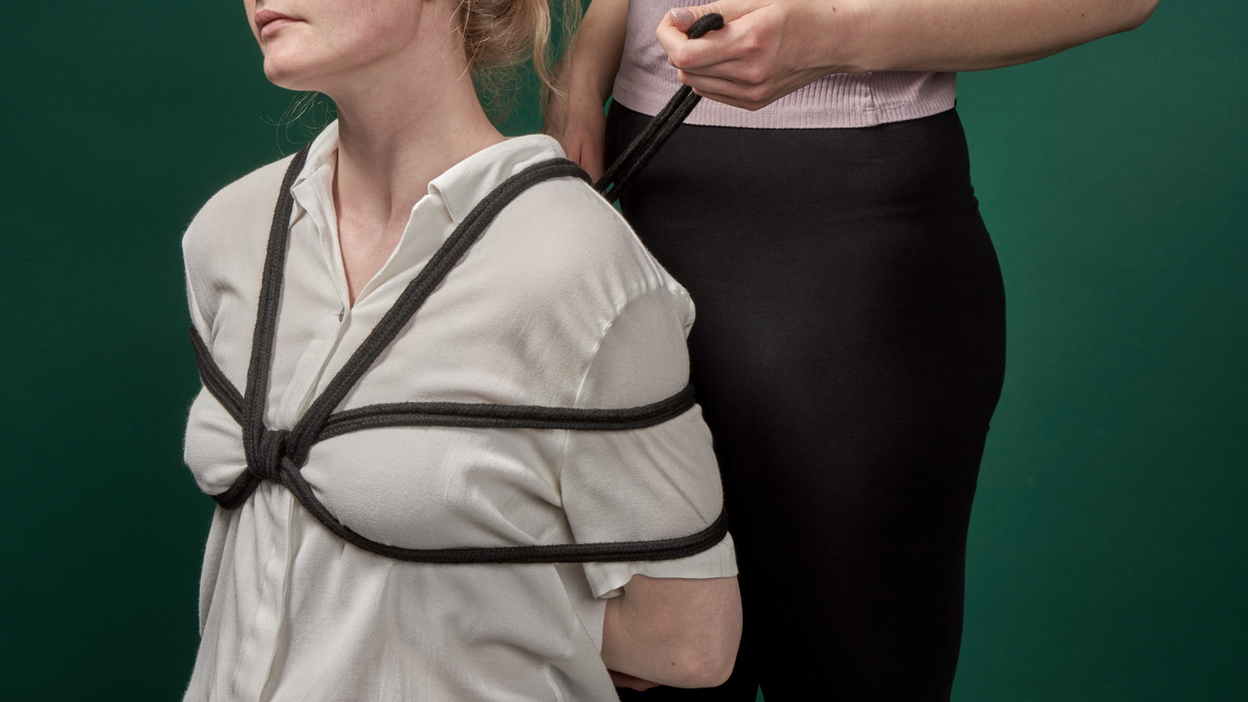 Full Body Fixation
This means that the whole body is fixated. You might have guessed that.
How and what you use to fixate is entirely up to your level of experience. If, for example, you are a beginner, it's a good idea to use wide tensioning straps that can be laid across the whole body, possibly with a blanket around the body beforehand.
It can make it feel like a huge hug, and many experience an increased sense of security by being completely fixated.
A full body fixation can optionally be combined with a blindfold or hearing protection to send the senses on an even deeper journey into the body.
From there, you and your partner can experiment by lying on top of the fixated party for increased pressure, stroking them all over the body, sitting behind them and embracing them, or whatever suits your style of play.
Although it doesn't immediately look particularly sexual, it can feel both wild and sexual to be locked inside oneself and left to mercy of one's partner.
If playtime is to be more sexual, the body's erogenous zones can be stimulated on the outside of the garment, or holes can be made so that there's room to stimulate directly.
Of course, there may be elements of roles, submission and power play during bondage, but it's by no means a necessity in order to play with bondage.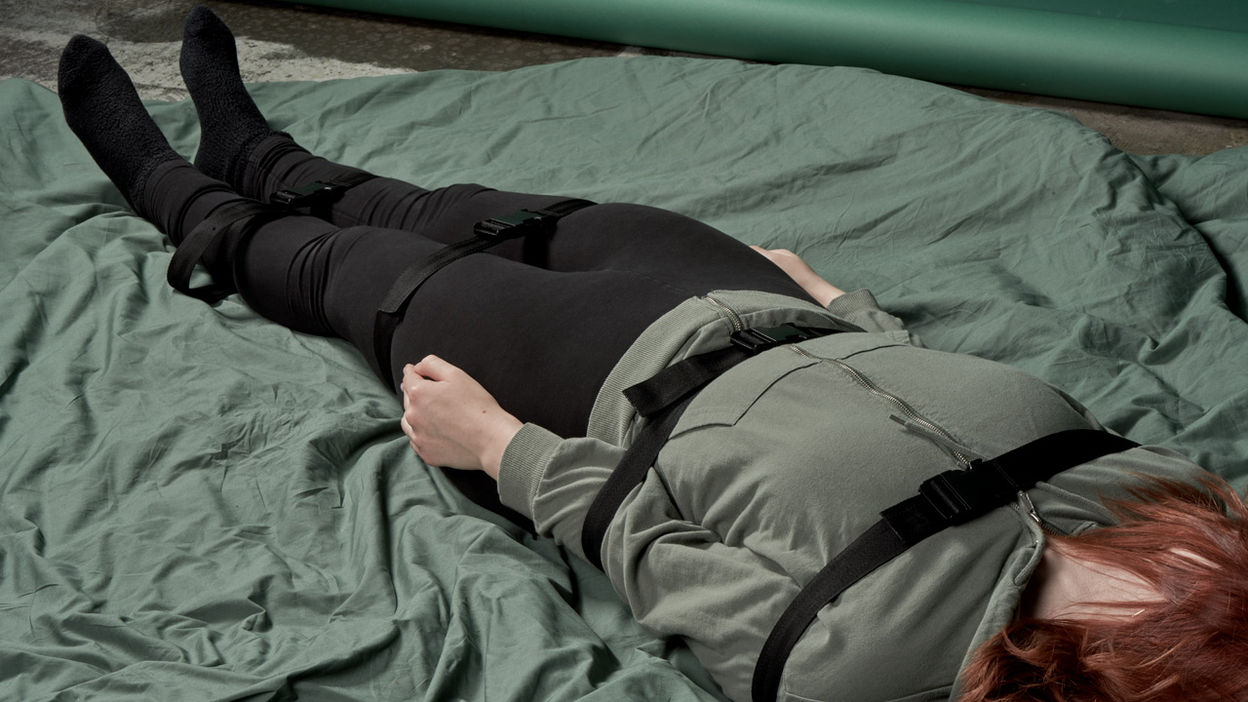 BDSM is a variety of things
Now you know what the first letter represents and how to play within that domain. 
We've also touched upon the fact that bondage is one of the things within the realm of BDSM where penetration doesn't have to be part of the play.
It's actually far from the case that it is part of the fun on a regular basis since the truly satisfying part of bondage often comes from the mental aspect. In many BDSM contexts the genitals are not the primary focus.
If you want to incorporate genitals and penetration sex into the enjoyment, you are of course free to do that.
This also means that just because you say B it doesn't mean you have to say S too. That is completely up to you and your partner which categories within the BDSM-universe you are tempted to explore. 
Related blog posts