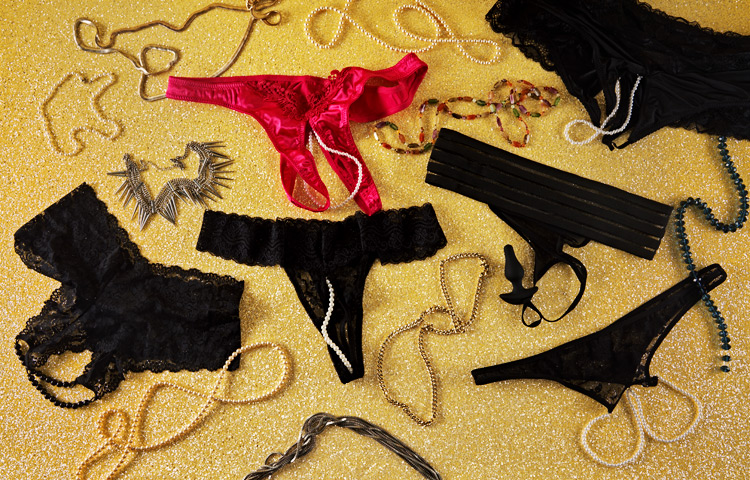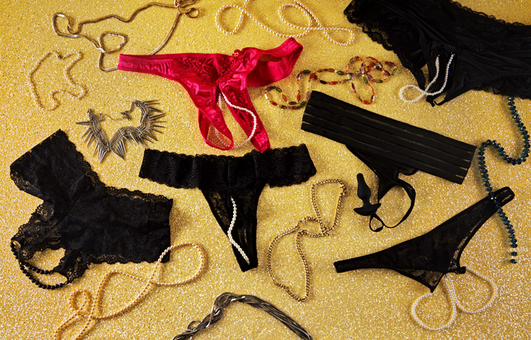 Pearl Panties—The Perfect Accessory
Pearl panties have been a concept for quite a few years by now, and today we'll take a closer look at them in this blog post.
After all, what is their purpose? Why should you buy them? And is it the idea of this type lingerie that is appealing or do they really work as a date night accessory?
I have tried six different styles to find out if it's strictly necessary to have a pair lying in the underwear drawer, and you will get the answer to that later.
First of all, let's set things straight as to what I'm even talking about.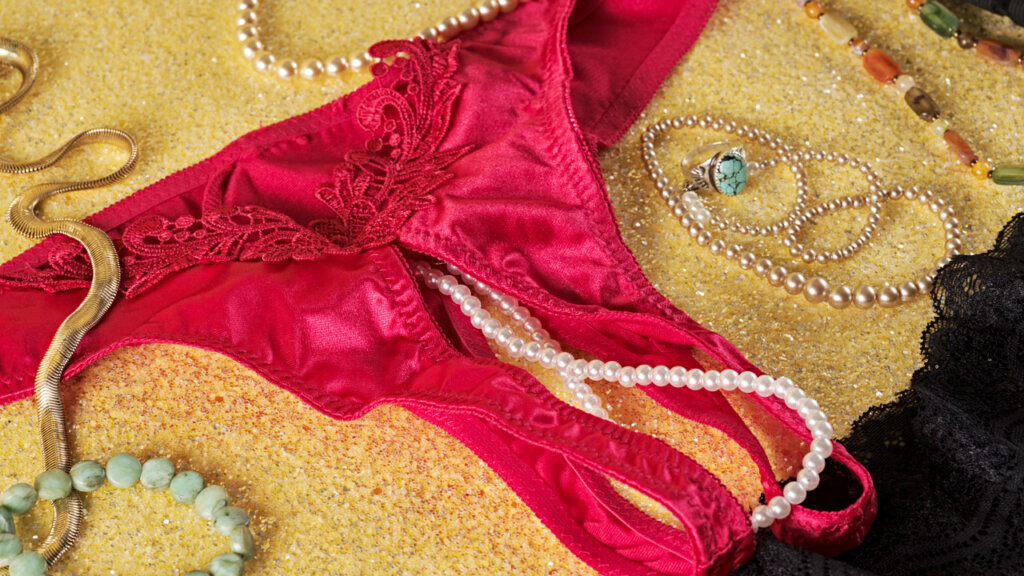 What Are Pearl Panties?
A pearl panty is usually a g-string, but is also found as other types of panties, where the middle piece has been replaced with a pearl string.
The string can either sit on the area in front of the vagina, or it can go all the way from the front to the back.
This may seem obvious, but the first time I wore a pair, I was somewhat surprised that the string went all the way to the back and not just sat in front. Therefore, I do my best to inform you so that you don't end up in the same situation and think 'WHAT is that?!'.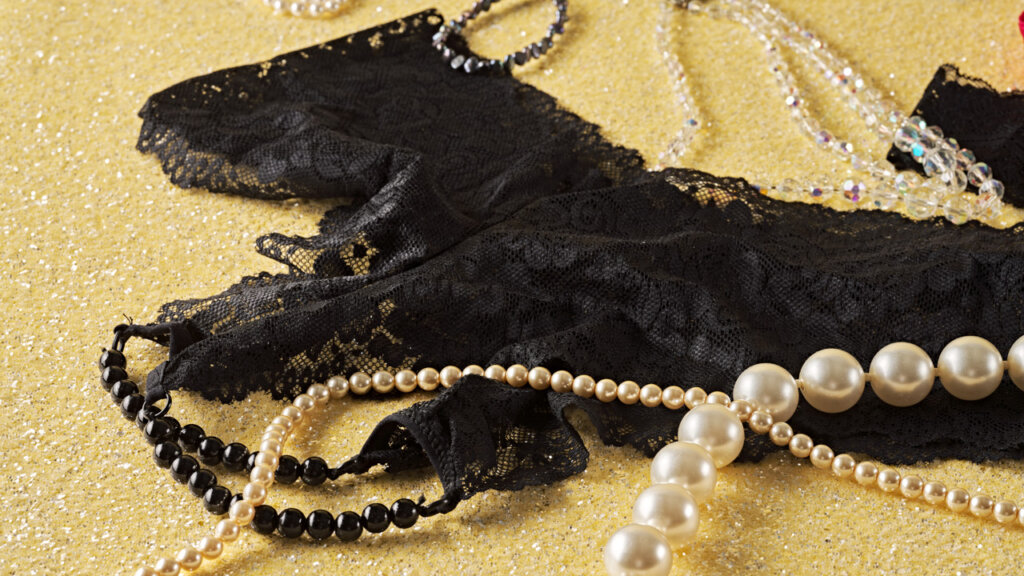 Panties with Built-in Stimulation
When pearl panties were first launched, their purpose, in addition to looking beautiful and seductive, was to stimulate the clitoris while wearing them.
To that I can only say: It really depends on how the fit is and how you're built anatomically.
As with all other underwear, you need to find the style that suits you, and then you need to find the right size.
Once you've found the panties that are best for you, the string itself can be a challenge, as it's elastic and therefore stretches when you put the panties on.
Thankfully, it was no worse than that. But do they fulfil their purpose of stimulating the clitoris?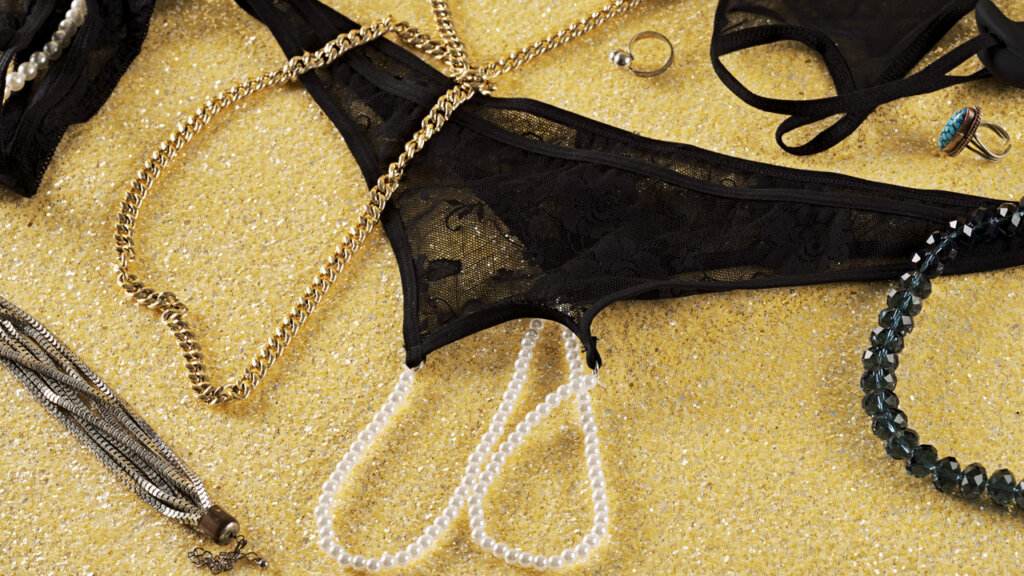 An Evening in a Pearl G-string
Wearing a pair of pearl g-strings for an entire evening did not make me fall over backwards with excitement.
They were perfectly fine to wear, but there was no stimulation—and I would also have been surprised if there had been any.
You should therefore not buy them instead of a clitoral vibrator, but because they can do something completely different:
That type of g-string is the obvious accessory!
Just like you adorn yourself with jewellery, makeup, or any of the clothes that you feel absolutely formidable in, you can add pearl lingerie.
It's your secret, or maybe even a surprise to your partner. It's the thrill of wearing something different.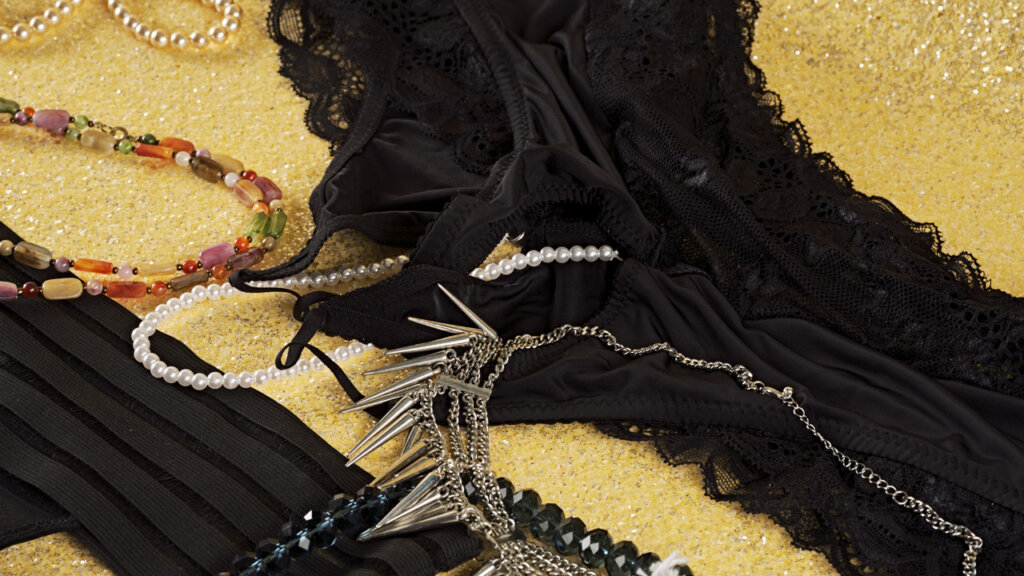 Which Pearl Panties Should I Choose?
There are quite a few different kinds of pearl panties, and I have tested six of them so you have an idea of what to choose.
HookUp Panties from Pipedream
The hipster panties HookUp Panties Pleasure were some of my favourites!
Personally, I feel best in hipster panties, so I had already bet on the fact that I would like them. In addition, there are two strings that are placed along the vagina.
This means that the pearls can sit either on the inside of the labia or on the outside, all depending on what you prefer.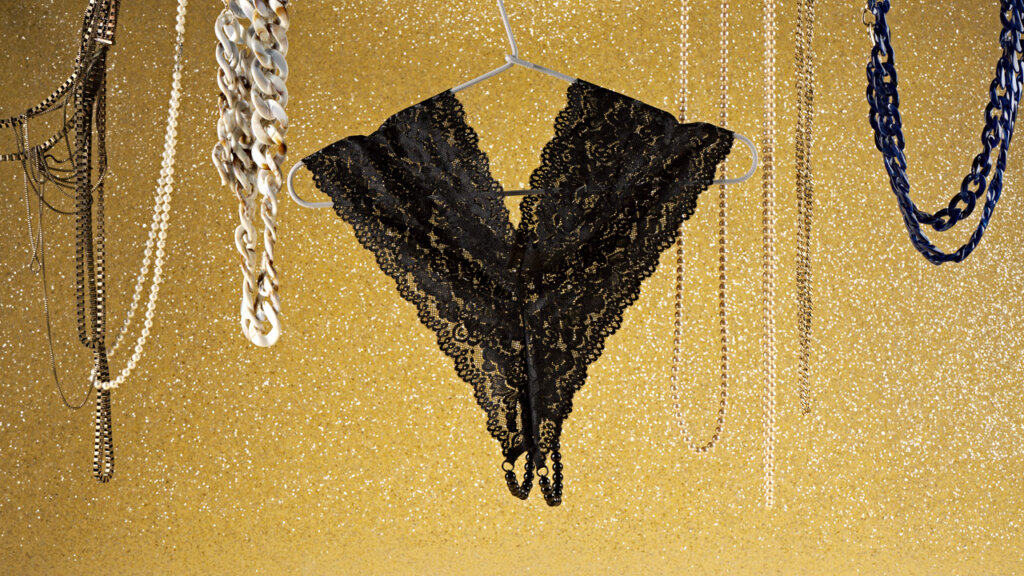 Malin from Nortie Lingerie
With the Malin pearl g-string from Nortie Lingerie, you get the classic piece of underwear.
It sits the way a g-string should, and the pearls are placed at the front.
There are extra pearls on the string, so you can easily decide for yourself whether it should sit close to the clitoris or whether you would rather have it sit on the outside.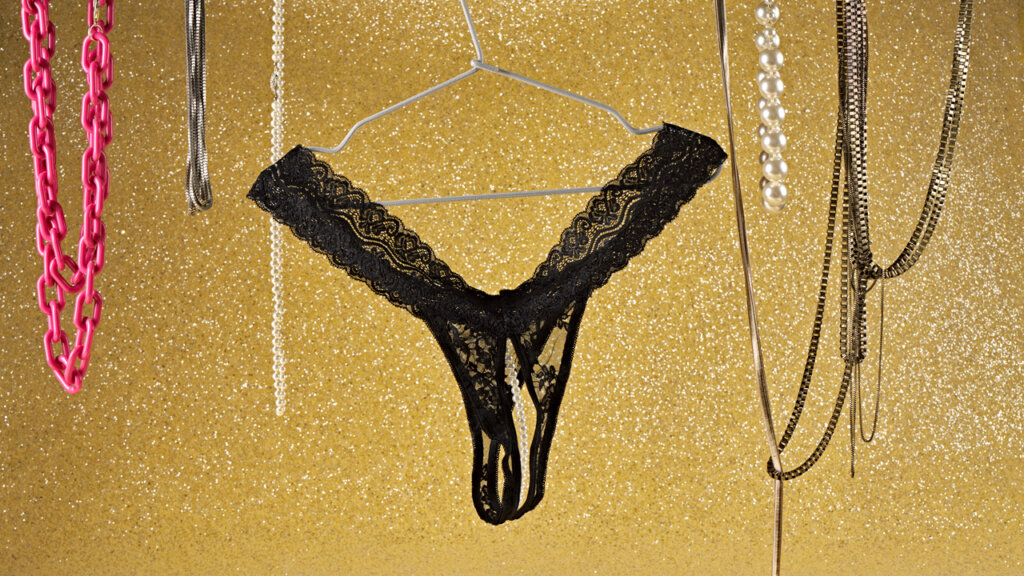 Red Orgasm G-string from Cottelli
The Cottelli pearl orgasm g-string has pearls all the way from start to finish.
You get a g-string with floral embroidery on the front, and glossy, red fabric with a string that sits close from front to back.
The panties themselves are in two parts, so you have fabric along the inside of the groin. It helps to hold the rest of the fabric in place, so that the pearls avoid slipping all the way up.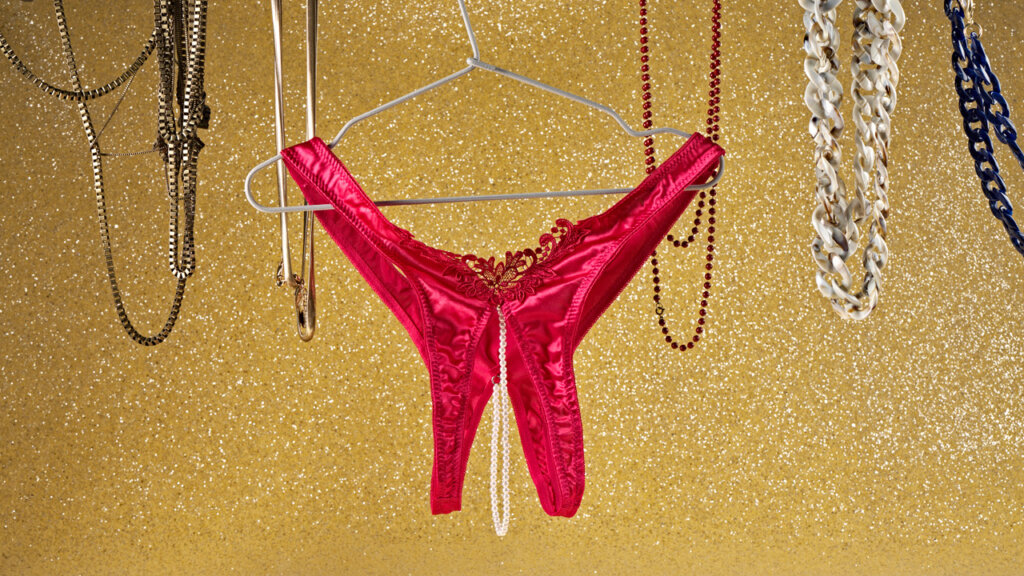 Lace G-string from Cottelli
This lace orgasm pearl g-string from Cottelli is another model where you really get pearls for the money.
The support piece is in lace, and the lower part consists of two strings.
Both rows of pearls are assembled at the back and therefore function as the g-string part, and they divide at the front so that they can sit on opposite sides of the vagina.
They are therefore for those of you who already know that pearl lingerie fits your wardrobe. If you're a beginner, it may feel like a bit of a surprise to wear them.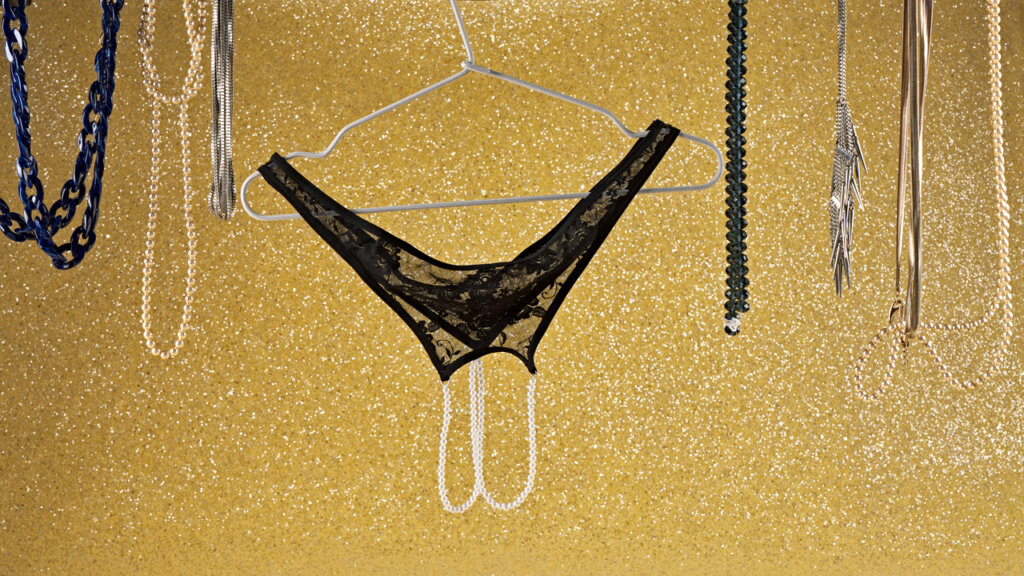 Plus-size Model from Cottelli
If you want panties that cover more than a g-string does, look no further than the Cottelli plus-size pearl panties.
They are high-waisted and have both lace and glossy fabric. Yet they reveal enough that you can easily show off.
There's a full view with an open design and one string that goes from front to back.
They are divided in two at the bottom, so that the panties are held in place, and the string can show itself in the most beautiful way.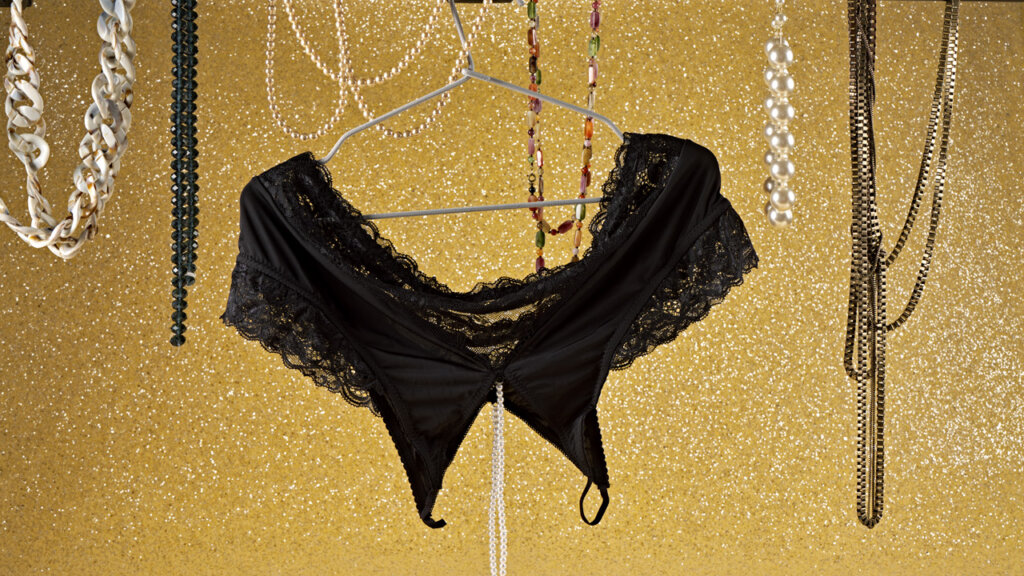 The Hidden Gem from Pipedream
As a hidden gem, I have found the HookUp bottomless panty with butt plug for you.
It's the same concept as with the pearl panties: an extra accessory.
In all its simplicity, you place the support piece around the hip and slip the panty piece with the butt plug in place.
The butt plug itself has an insertable length of 7 cm and a diameter of up to 3 cm. It's therefore also for those who have less experience with plugs.
It's the latest version in stimulating lingerie and definitely worth a click if you're still curious about the concept.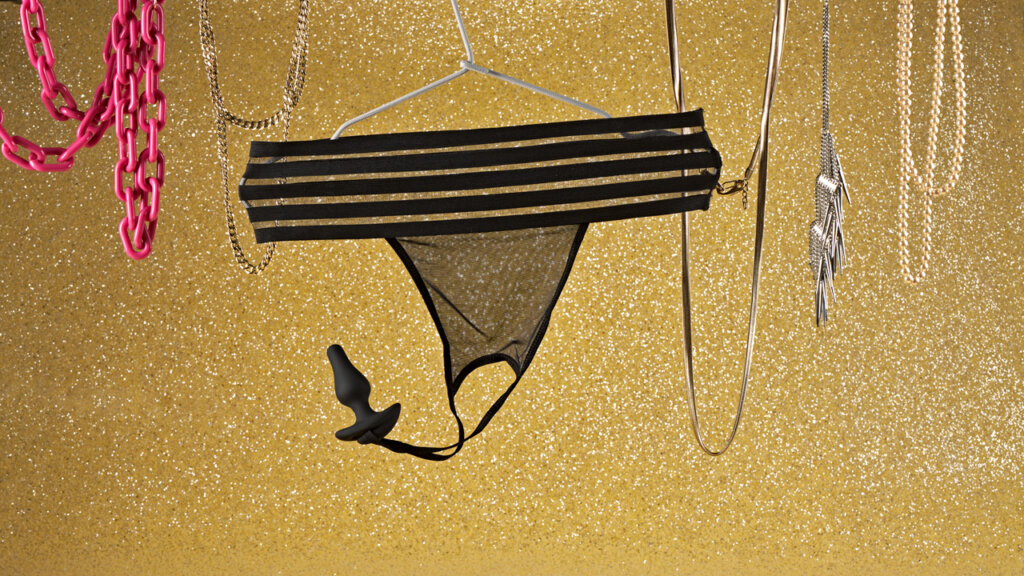 Pearl Panties or Not?
If you're in doubt about whether you should receive a pair of pearl panties in the mail, I have a concluding remark for you:
Stay away from biking in them, and avoid using them for gardening. Rather, let them be a part of an evening where you want to do something extra.
It may be that they fit so well on you that you can easily have them on for an entire date. For others, it's a quick change from the usual lingerie, just before they are to be shown off.
Regardless, they are the hidden accessory that you pull out when the mood is just right.
Enjoy!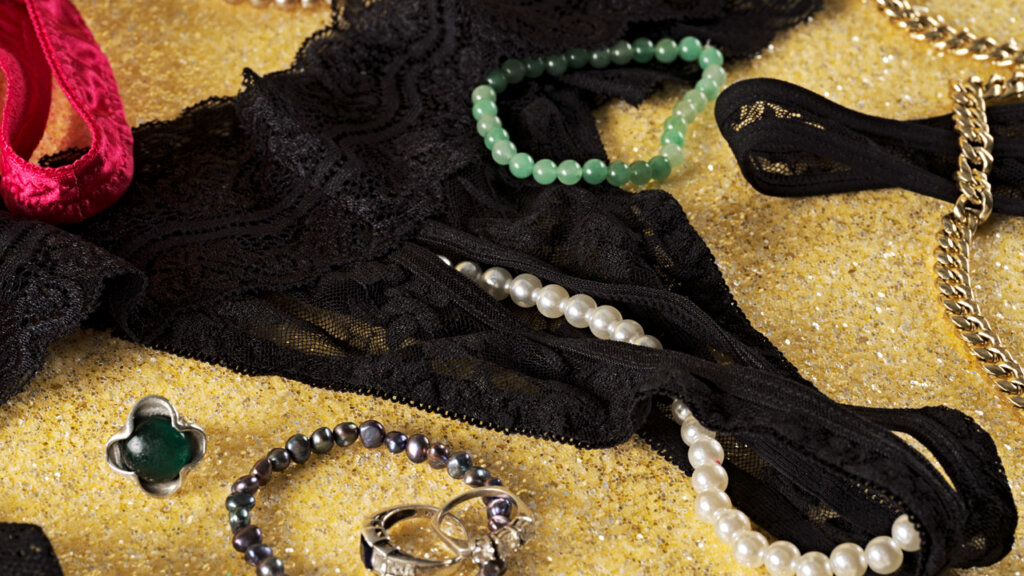 Related blog posts