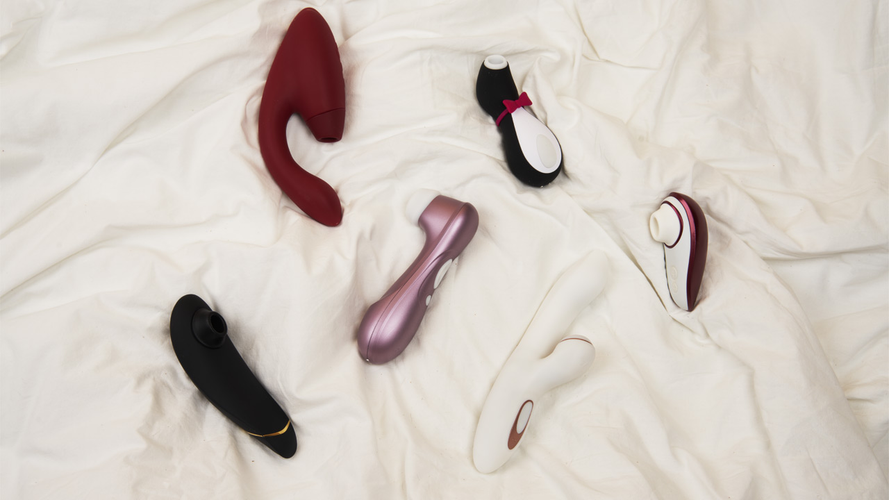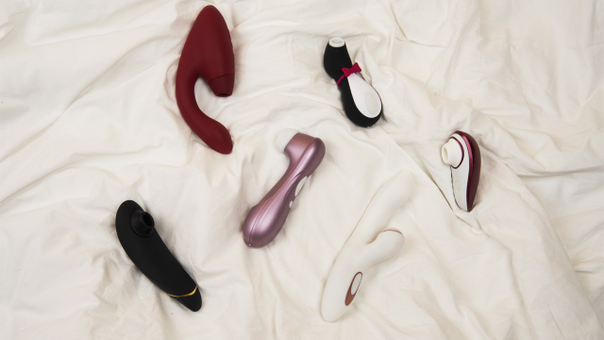 Ditte Jensen
Sexual Wellness Specialist
Womanizer vs Satisfyer - The Ultimate Guide
Clitoral stimulator or air pressure vibrator? This stunner is known far and wide by a variety of names but they all have one thing in common. 
This popular sex toy has taken the women of the world by storm and gained (well-deserved) attention online, from the press and amongst every flock of girlfriends we know throughout the past couple of years. Even though most women can agree that this type of sex toy is an absolute must for your bedside drawer, there is still one thing that will split the camp into two. Are you a Womanizer stan or a Satisfyer fan?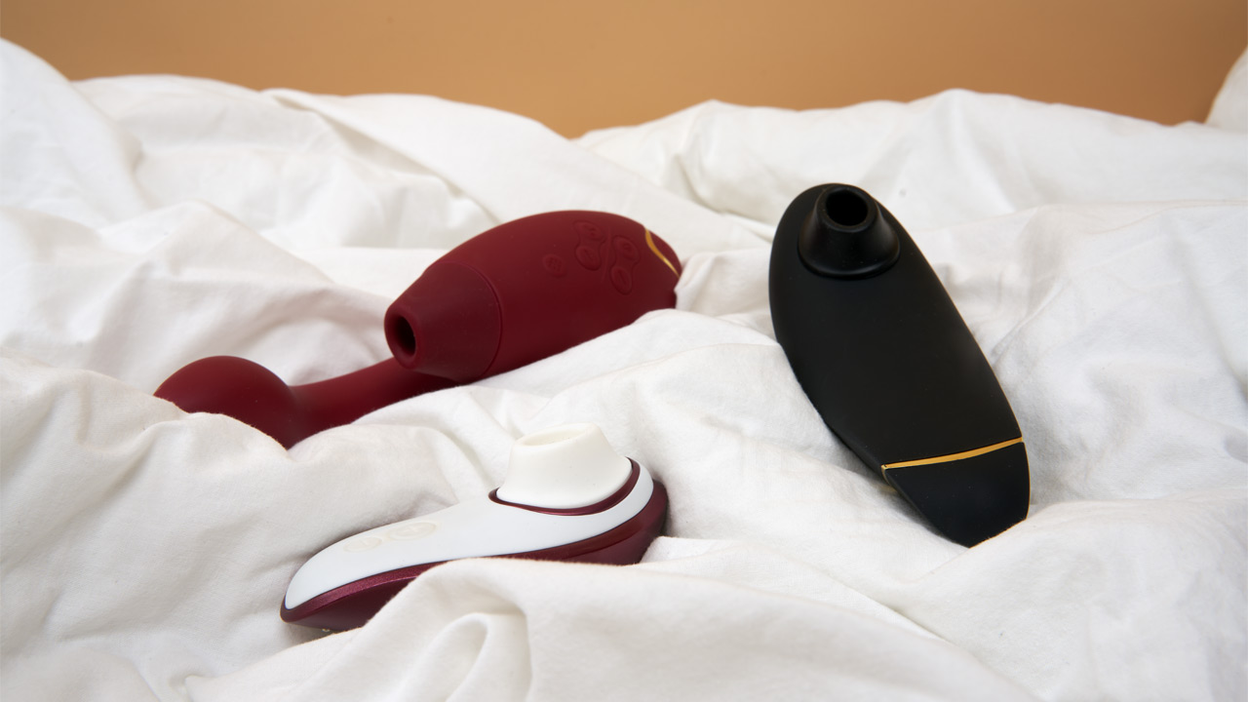 Introduction to Womanizer
Womanizer was invented by the German inventor Michael Lenke and his wife, Brigitte. They knew that countless women all over the world shared the same problem - having difficulty or never reaching orgasm, and they were determined to do something about it.
They revolutionised the market for sex toys with the patented Pleasure Air Technology that stimulates the clitoris without direct touch. 
Today, the brand is part of Wowtech who are behind some of the leading products in sex toys throughout the world. With their vision that orgasms are a human right and that any stigma surrounding female sexuality should be eradicated, Womanizer now exists in more than 30 countries.
Let's take a closer look at the three most popular clitoral stimulators from Womanizer.
Psst! Read our ultimate guide to Womanizer and get a glimpse into the variety of models you can try. 
Womanizer Premium 2
The absolute Rolls Royce of Womanizer is Womanizer Premium 2. It's got an exclusive design, 14 pulsation intensities and innovative features that make the experience even more exquisite.    
The first feature is the Smart Silence function which makes sure the stimulation doesn't start until the suction head is in contact with the skin. This makes for an ultra-discreet and silent experience.
Another feature is the autopilot function which can take over and tailor intensity patterns for you. The only thing you have to do is lean back and enjoy while your orgasm is approaching.
Premium 2 is covered by a layer of silky soft silicone and is also both waterproof and rechargeable.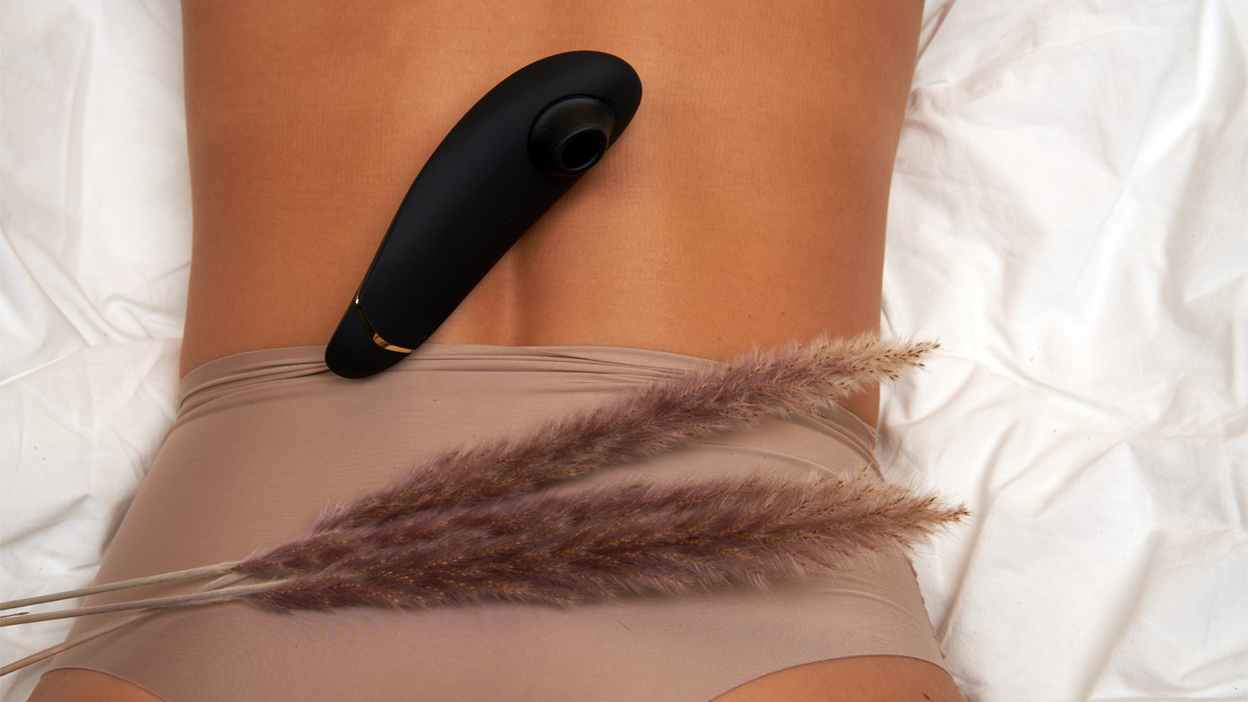 Womanizer Liberty
Liberty is another super popular clitoral stimulator that comes in a more travel-friendly design and is, for most people, easier to manage in terms of price. Womanizer Liberty is smaller than the Premium model and rocks a sturdier body of plastic in a variety of lovely, mellow colours. 
The soft suction head is made of silicone and offers 6 different pulsation intensities. On top of this goodness, you get a practical magnetic lid that makes it easy and discreet to store and bring with you on the road. You get waterproof and rechargeable treats with this model, too.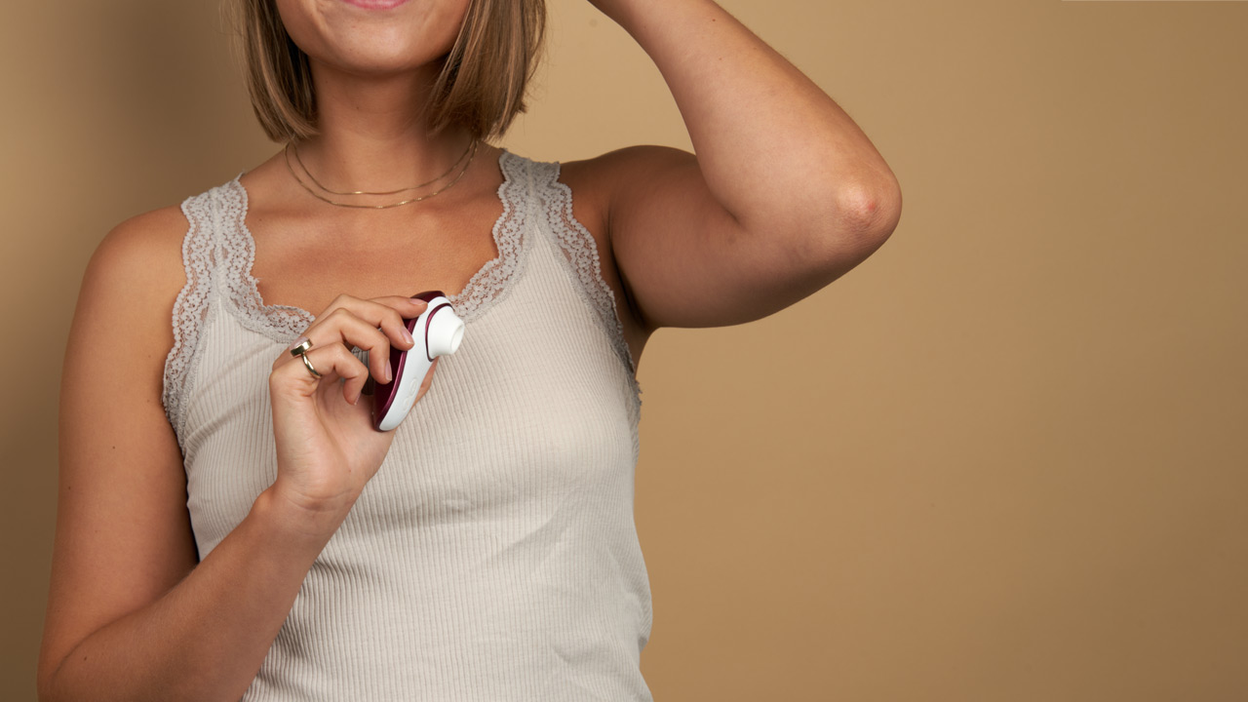 Womanizer Duo
Womanizer has also created a top-shelf product for the ones who enjoy the bliss of internal and external stimulation at the same time. Meet Womanizer Duo - the luxurious clitoral stimulator that rocks the same features we know from the Premium model, which are 12 pulsation intensities, the Smart Silence function and Autopilot.
On top of all of this, it rocks a curvy shaft that caters to your insides with 10 lovely vibration patterns. This very feature is what allows you to experience intense and incredible blended orgasms. Duo is, like the two before-mentioned, both waterproof and rechargeable.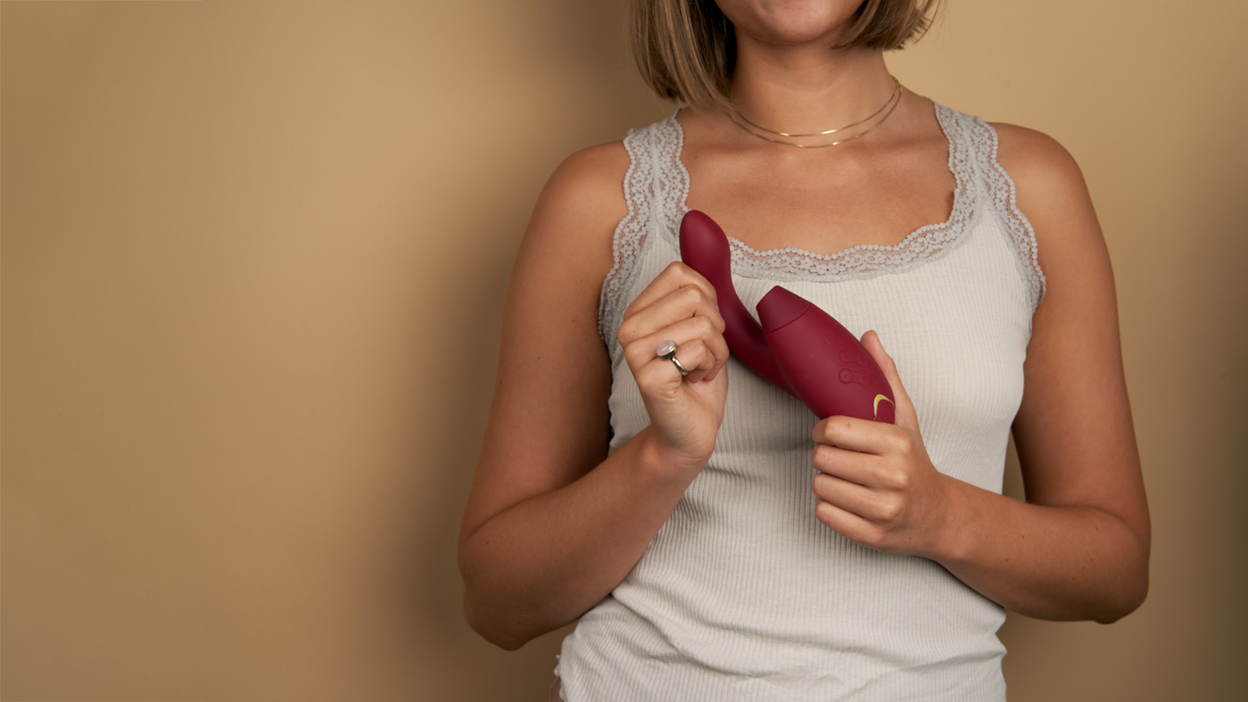 Pros of choosing a Womanizer
Let's have a closer look at the many pros of choosing a clitoral stimulator from Womanizer.
The exquisite design
Maybe you're experiencing being enticed by Womanizer's gorgeous design while still being a bit intimidated by the prices. For loads of us, it's a lot of money to spend on a sex toy. But at the same time, we allow ourselves to spend double on sunglasses and designer bags. We tend to do this because we see it as an investment. A classic. Something we can use for years on end. And you can do the same with a Womanizer. It never goes out of style.
Quality and Durability
Womanizer is known and loved for its exclusive and impeccable quality. A clitoral stimulator from Womanizer will simply last longer than many other sex toys. You can even swap the suction cup out if you want to ensure the level of hygiene throughout the years. At the same time, you can intensify or reduce the level of stimulation by choosing a larger or smaller suction head.
Special features
At Womanizer, they know how to give women orgasms, and they keep on creating new features that make the road to climax both luxurious and extra pleasurable. With features such as Smart Silence and Autopilot function along with waterproof and rechargeable qualities, you can discreetly enjoy yourself wherever you go. The fact that the packaging is discreet, practical and gorgeous is simply icing on the cake.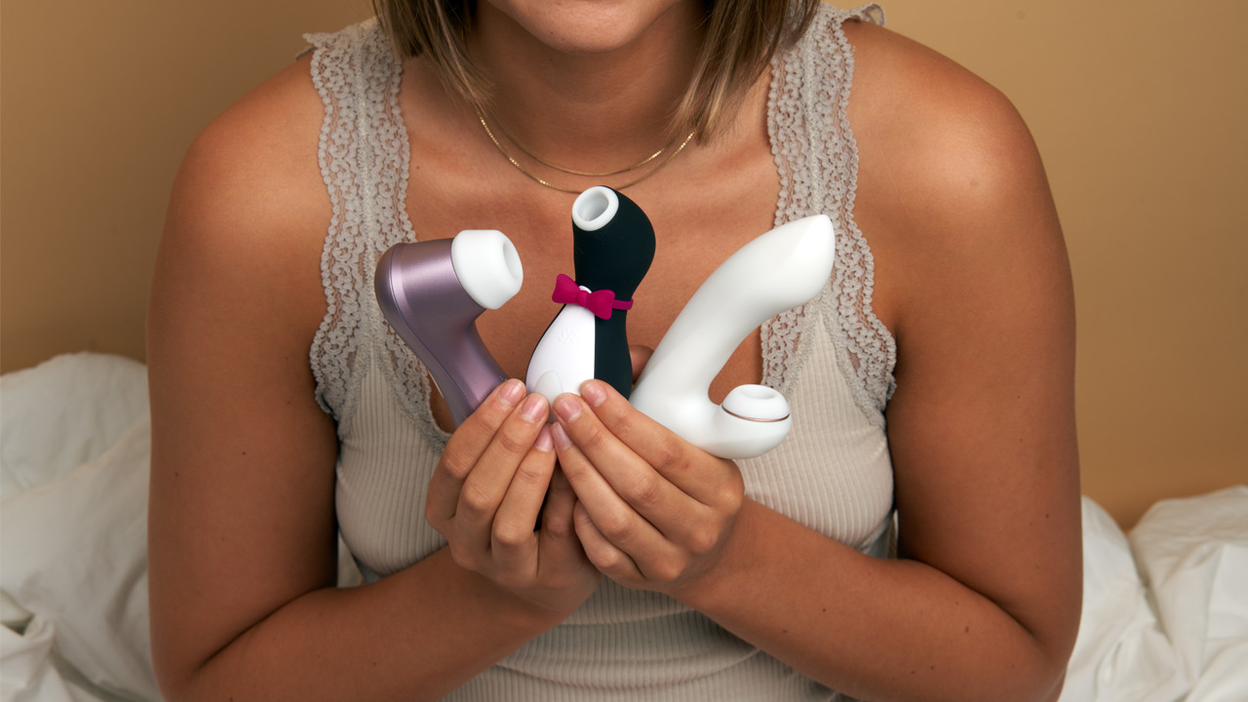 Introduction to Satisfyer
Satisfyer was also invented by the Germans (we've got a lot to thank them for in those regards). Satisfyer stimulates the clitoris thanks to pulsating pressure waves that make sure every nerve-ending is catered to at once.
The invention quickly grabbed hold of the world and is currently adding pleasure to the lives of 25 million people in more than 100 countries.
Let's begin by taking a look at the three most popular clitoral stimulators from Satisfyer.
Satisfyer Pro 2
Satisfyer Pro 2 Next Generation from Satisfyer has been wildly popular since 2016, when it was referred to as one of the most popular sex toys in the world. And for good reason. The little stunner can take credit for millions of orgasms around the world, and it keeps being a big hit. 
The combination of the power of orgasm paired with the non-intimidating price makes it a winner. The golden body of hard plastic fits perfectly into the palm of your hand, and the soft silicone suction head is the perfect deliverer of the 11 pulsation intensities. Satisfyer Pro 2 is rechargeable on top of it all and lets you play for 30 minutes on a simple charge.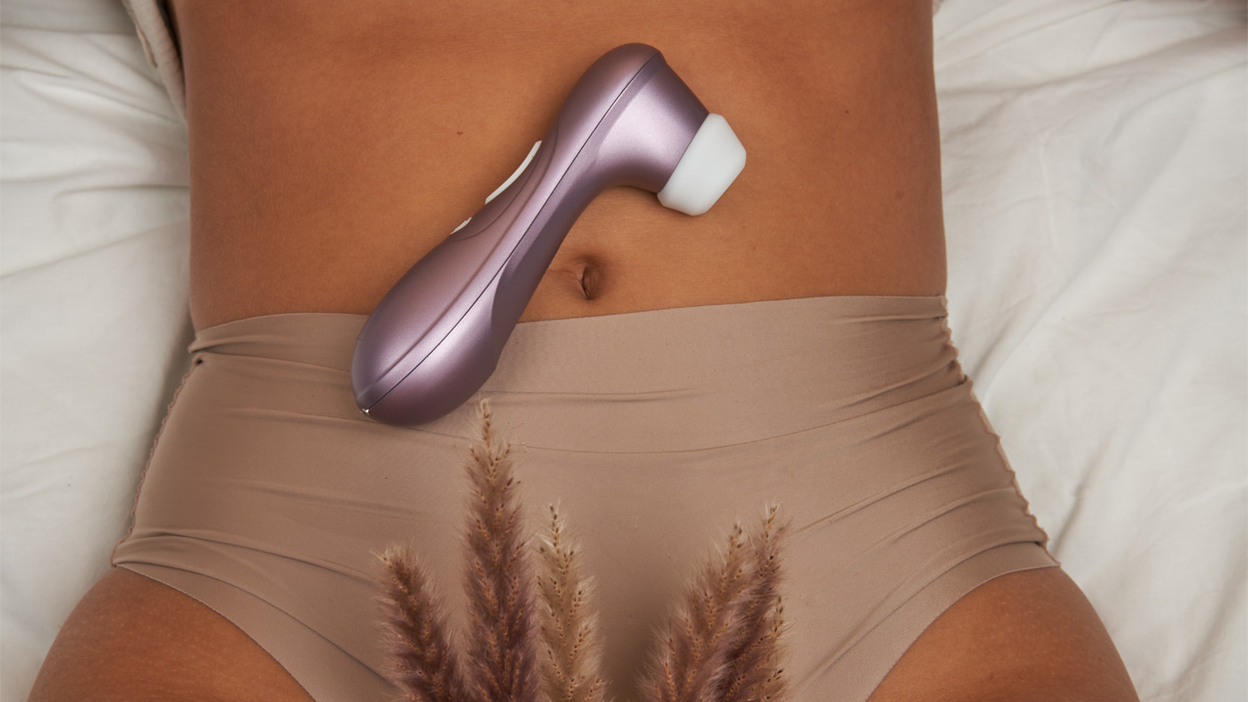 Satisfyer Pro G-Spot Rabbit Vibrator
With the Satisfyer Rabbit you get to enjoy titillating stimulation on the outside while you are being spoiled by delicious vibrations vaginally too. The curvy shaft is crafted to hit the G-spot with 10 vibrations and 11 different levels to cater to the clitoris.
The design is elegant, waterproof and rechargeable, and the entire vibrator is covered in soft silicone that feels divine against the skin - on the inside and the outside.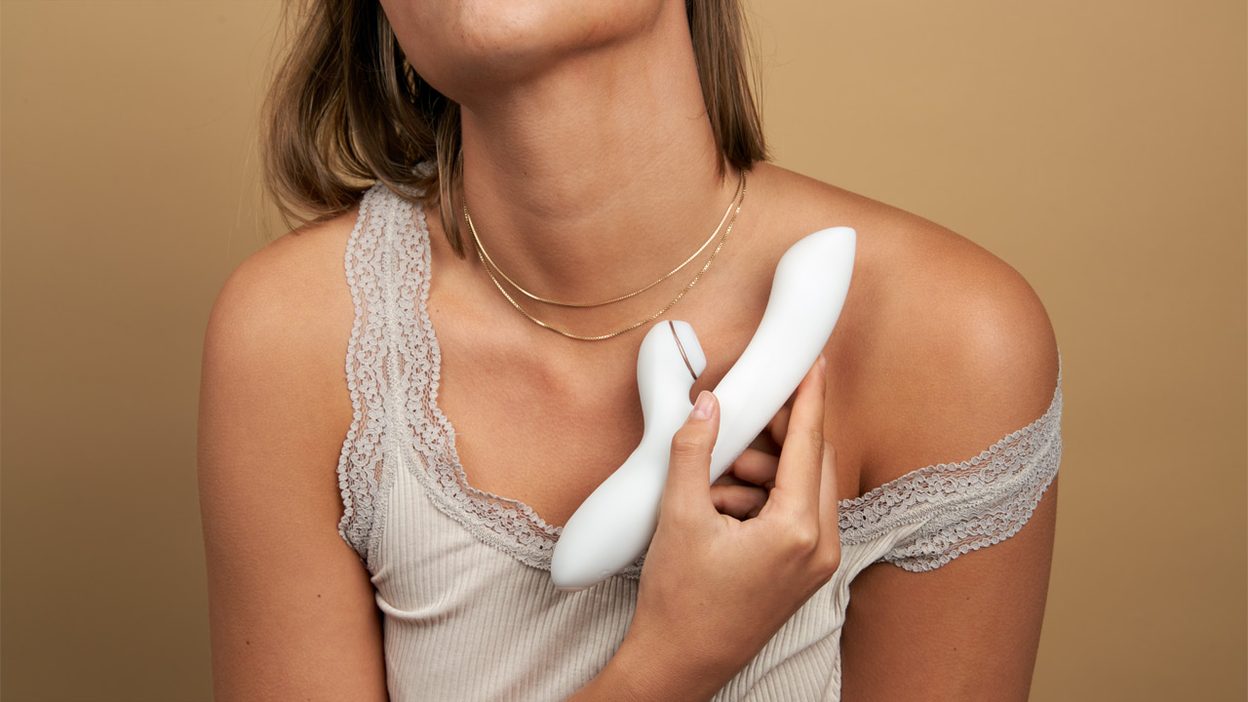 Satisfyer Pro Penguin
If you prefer sex toys with a bit more of a playful personality then you have to meet the Satisfyer Penguin. It caters to your clitoris with the same pulsating Satisfyer technology that gets you addicted, but this time with a suction head designed as your own little pleasure penguin.
This stimulator also rocks 11 intensities and the size and design make it ideal to bring with you in your handbag for a naughty night in or out. You can even enjoy it in wet surroundings, and it's also rechargeable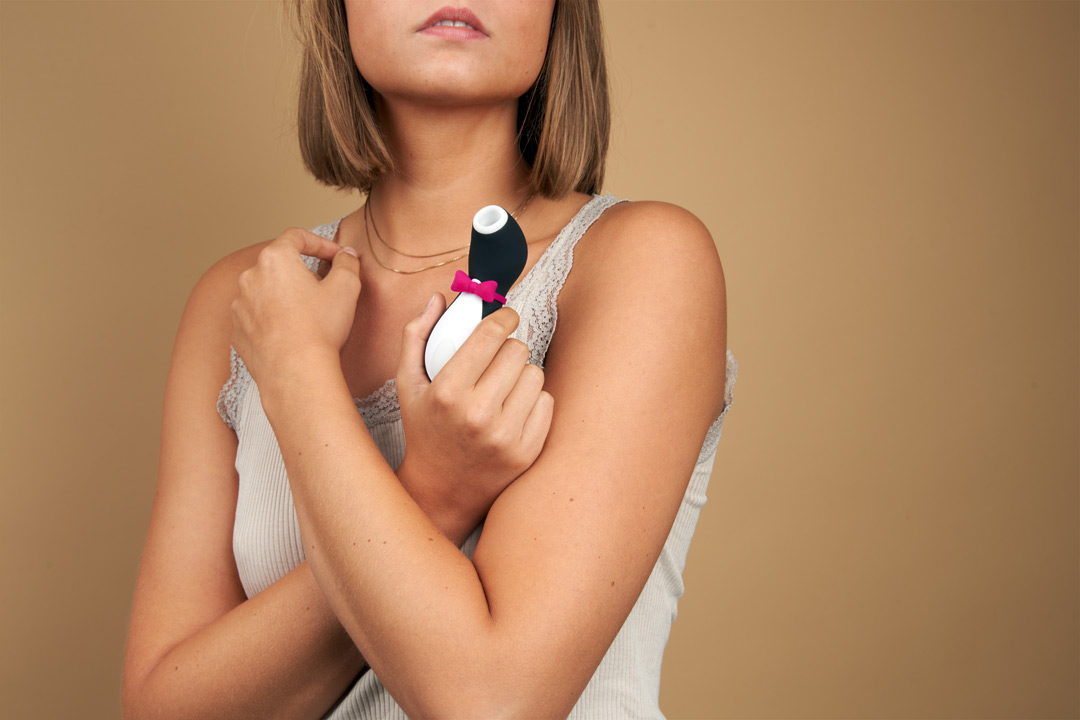 Pros to choosing Satisfyer
Let's take a look at the pros of selecting a clitoral stimulator from Satisfyer. 
Price
The prices of Satisfyer's products are generally at a level where most of us can join the pleasure party. This allows you to get acquainted with this glorious type of stimulation without sacrificing an entire month's budget. 
Large selection
Satsifyer produces sex toys with the same speed as the rest of us change our underwear. And even though it feels amazing with a pair of fresh panties, it feels even better when new goodies enter the market. Satisfyer can deliver on both clitoral stimulators, vibrators and combinations of the two, meaning you really do get something for every taste and every need. If you are the proud owner of a clitoris, a Satisfyer is definitely for you.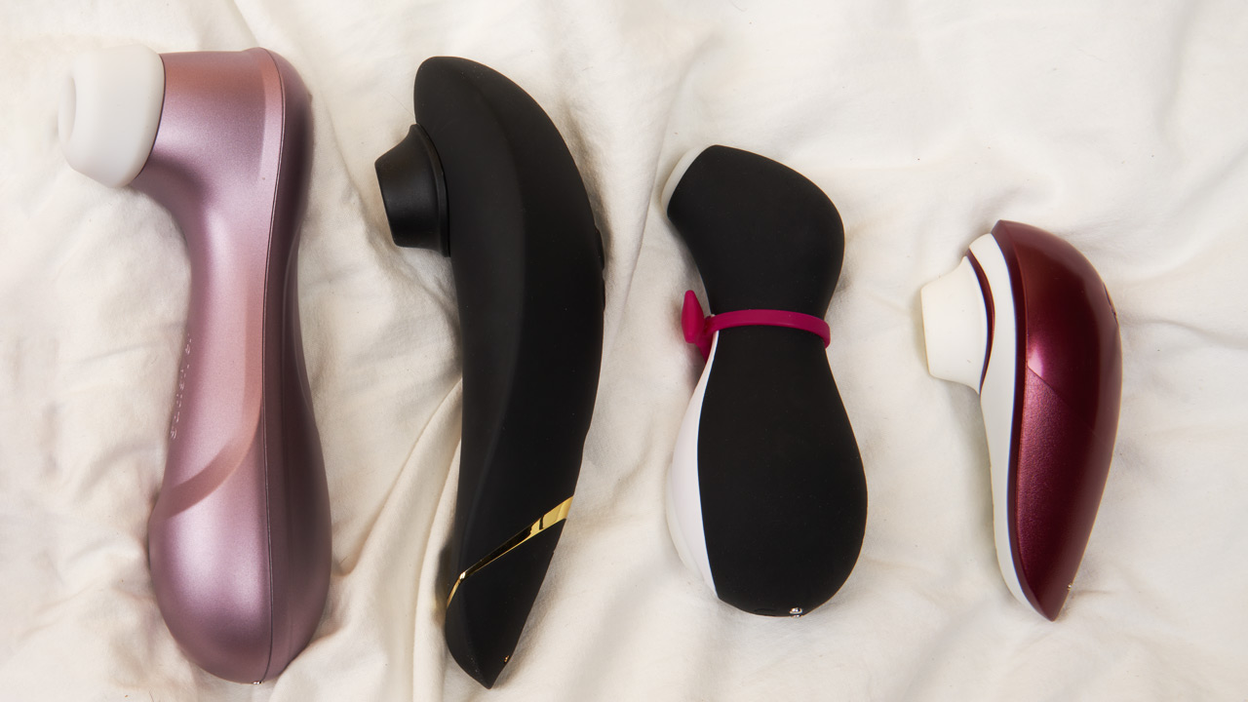 Do I choose Womanizer or Satisfyer?
That's a great question - a question that doesn't really have a right or wrong answer - instead, we want you to consider what matters to you when you're choosing your clitoral stimulator, like…
Quality
Womanizer > Satisfyer
If you wonder why there's a big difference in price, for sex toys that basically do the same, one of the reasons is quality. Womanizer really puts effort into every single detail, from material to design, which is evident in the final result.
The life cycle of the products is long, and you generally get great value for your money when you buy Womanizer.
With Satisfyer, you get the impression that function, more than the overall experience, gets top priority. The life cycle of these products is shorter, and they aren't quite as durable as the products from Womanizer. On the other hand, the cost of changing and trying out different things is not that high.
Design
Womanizer > Satisfyer
Even though you can argue that beauty is in the eye of the beholder, Womanizer objectively still takes the prize when it comes to design. Their products aren't just beautiful, they're functionally smart as well, made with both anatomy and aesthetics in mind. An example of this is the intuitive design like the placement of the buttons. 
Once again, with Satisfyer, it's more obvious that functionality is the priority, even though they've grown more playful and modern in their expression. It's important to note that Satisfyer's products are in no way bad; there simply is a difference in the wholeness of the experience compared to a Womanizer product.  
Price
Womanizer < Satisfyer
Because of the price level, Satisfyer appeals to a lot more women than Womanizer. If you're looking for your first sex toy or simply your first clitoral stimulator, few people are looking to spend a whole lot - because what if it's not the right match?
It can be a good idea to try a few different things to figure out what really rocks your boat, and for that, Satisfyer is a perfect choice. Womanizer is a better match for the ones who already know what they want and are ready to pay for it.
Extras
Womanizer > Satisfyer
With both Womanizer and Satisfyer, you get rechargeable and waterproof products - features that add to an overall great experience. It's an extra dash of oh yeah to be able to bring your vibrator with you into the shower and to clean it without having to worry about making a splash. However, Womanizer still takes the lead for now because of details such as the Smart Silence function, made for optimal noise-reduction, and the extra feature of an Autopilot function.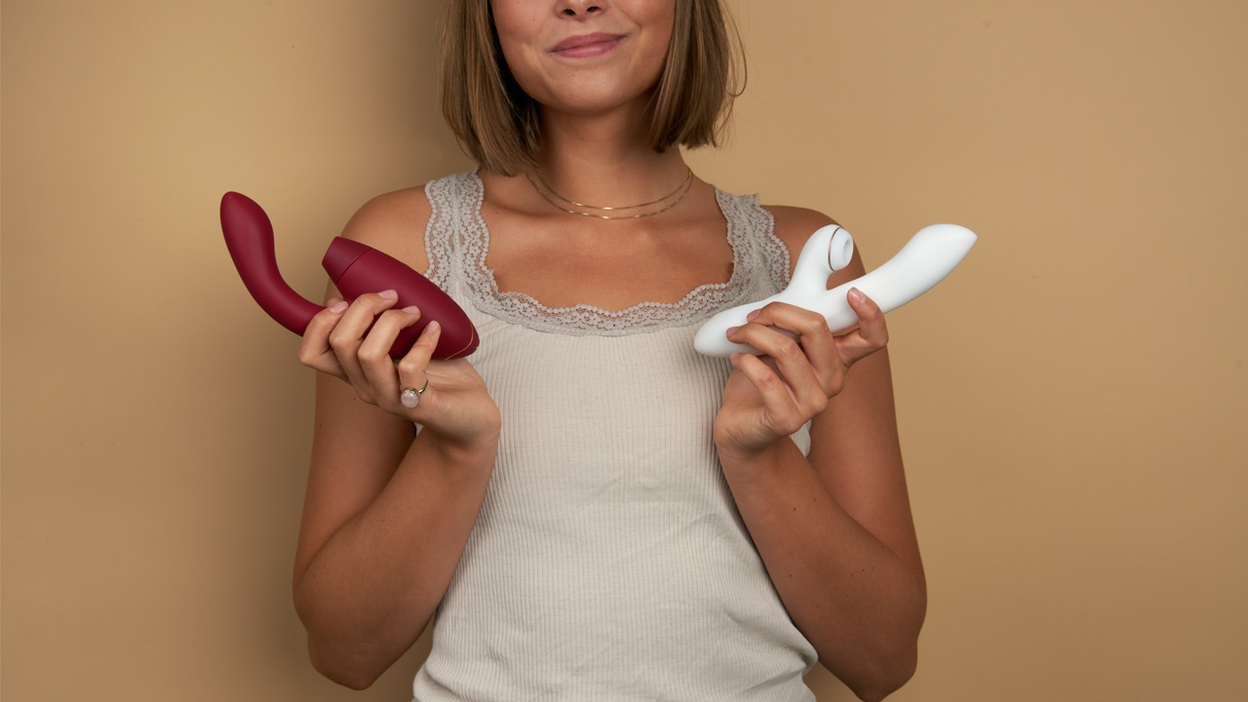 And the winner is… YOU!
Yep, you read that right. At the end of the day, you'll be victorious no matter whether you choose a sex toy from Womanizer or Satisfyer. With an overview of the features mentioned above, Womanizer does take the lead. But whichever way you choose to go, you might as well get up on that winner podium as well - with either one in your hand, you are (almost) guaranteed a different, delicious and ultra-stimulating experience that will result in deep, multi- and/or squirting orgasms. 
So get ready to pop the champagne and take an extra vacation day when you go to celebrate the victory with your new best friend.
Now, go ahead and enjoy!